The Chevy Volt is one of the more interesting plug-in hybrids on the market now. If you're looking to spend as little money on gas as possible, it has few affordable competitors–namely other small hybrids like the Toyota Prius and a handful of dedicated electrics like the Nissan Leaf and Ford Focus Electric. If you have the patience to wait for it, the Tesla Model 3 will be a competitor someday, but it might take a while. The closely-named and all electric Chevy Bolt is also expected to be  a competitor when released. However, until then, the Volt will continue to gain a following among families interested in fuel-efficient transportation that doesn't come in a Prius and has a longer range than a Leaf.
The first generation Volt was an interesting vehicle, but it only had two seats in the second row, which made it impossible to use with more than 3 passengers (one in the front passenger seat and two in the back row). A lot of families passed over it as a result, whether due to already having larger families or wanting to keep the option available of having more kids. Chevy finally fixed this in the second gen Volt, making it a theoretically 3-across-friendly vehicle. I made it my goal to see just how realistic this was.
Before looking at the results of fitting 3 car seats into the Volt, however, let's take a look at some elements of best practices in terms of when and for how long to use infant seats, convertibles combination seats, and booster seats in vehicles.
For me, car seat safety starts with rear-facing your kids as long as you can (ideally until 4!). That's the safest position and is worth doing as long as possible before forward-facing your little ones in harnessed convertible or combination seats (ideally until 8!). Once they outgrow their harnessed seats, I suggest keeping children in high-back boosters until they're physically and psychologically ready to use adult seat belt systems (which typically happens between 10 and 12). The goal is to keep kids as safely restrained for as long as possible, as it's far too late to do anything for your child's safety in the moment before a collision.
Keeping these ideas in mind, I set to work to find which infant, convertible, combination, and booster seats would work best in 3 across combinations in the Chevy Volt. This list is likely to be the most complete on the Internet so far; there just isn't that much information out there on car seats in plug-in hybrids and electric cars yet, though I'm trying hard to change that. If you find the list helpful when shopping for car seats, you can shop through my Amazon link below. I'll add more seats as I test them over time.
You can access the complete 3 across guide for every vehicle here and the complete list of recommended seats here. The Canadian car seat guide is here. 3 across car seat images are courtesy of Wikipedia.
2016, 2017 Chevrolet Volt (picture of 2nd gen coming soon)
Guaranteed 3 across installations:
Clek Fllo (x3).
Clek Foonf (x3).
Diono Radian RXT (x3).
Diono Radian R120 (x3).
Diono Radian R100 (x3).
Chicco KeyFit 30 (x3).
Combi Coccoro (x3).
Clek Fllo, Diono Radian / RXT, Diono Radian / RXT.
Chicco KeyFit 30, Clek Fllo, Chicco KeyFit 30.

The current generation of the Chevy Volt is 180 inches long and just over 71 inches wide, which makes it about typical for a small or compact car in the US. Practically speaking, this means you're going to be able to fit a number of narrow seats, including several convertible seats and a few infant seats. You won't have as many options as you would in a mid-sized car, but 3 across will at least be possible, which is a huge step over the previous generation.
Your biggest limitation will be the center seat, which is quite narrow; you'll only want to use a 17″ seat there (e.g., one of the Dionos or Cleks or KeyFits above). There's a huge hump in front of the seat for the battery, but this won't make a difference for a car seat. However, the relatively short length of the Volt means you'll want to use the angle adjuster to get as much extra room between the car seat and the vehicle's front seats as possible if you're planning on rear-facing with a Diono seat; this will give you extra leg room as a driver or front seat passenger.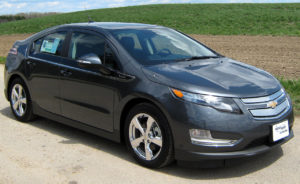 2011, 2012, 2013, 2014, 2015 Chevrolet Volt 
Guaranteed 3 across installations: None!
Clek Fllo (x2).
Clek Foonf (x2).
Diono Radian RXT (x2).
Diono Radian R120 (x2).
Diono Radian R100 (x2).
Chicco KeyFit 30 (x2).
Combi Coccoro (x2).
Because there are only two seats in the second row of the 1st gen Chevy Volt, it's impossible to install 3 car seats across. That said, you've got a lot of freedom when it comes to installing any 2 car seats next to each other.
—
If you find the information on car safety, recommended car seats, and car seat reviews on this car seat blog helpful, you can bookmark and shop through this Amazon link. Canadians can bookmark and shop through this link.