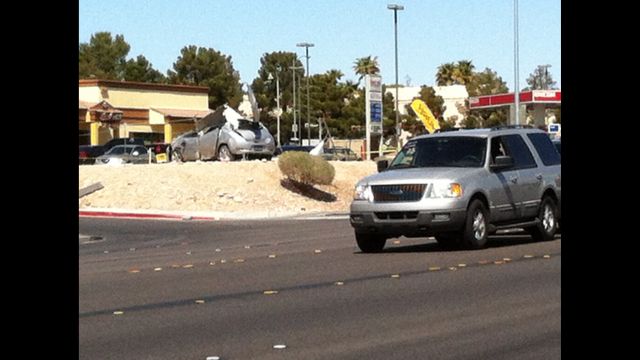 The Who:
Date:
3/22/14, 10:15 AM.
Fatalities:
1, Romaric Profeta Par.
Where:
Durango Drive and Desert Inn Road, Las Vegas, NV.
Vehicles:
2012 Nissan Leaf.
Humanity:
Lots of people saw the accident, including children, as track and soccer practices were occurring nearby. This is the 22nd fatal accident in the area this year.
The How:
Profeta was speeding southbound on Durango. He entered the Desert Inn intersection and could not stay in his lane. The vehicle veered right and left the roadway just south of the intersection, ventured into a landscaping area and rolled over. Profeta was ejected during the rollover and landed in the rock landscaping a number of feet from the Leaf. He was pronounced dead at the scene.
The Why:
Risk factors:
Lack of seat belt use (much, much greater ejection risk in a rollover).
Speeding (implicated in 1/3 fatal crashes).
Protective factors:
Safe vehicle.
Vehicle Analysis:
This crash might certainly have been survivable had Profeta been wearing his seat belt. The
Leaf
, classified as a small car by the IIHS, features good front, side, and roof scores, as well as ESC, ABS, and head/torso air bags. The most relevant elements to this crash were the presence of ESC, the side airbags, and the strong roof score. The ESC likely reduced the severity of the rollover once it was imminent. The side bags would have kept his head and body from suffering fatal trauma against the vehicle during the rollover, while the strong roof would have kept his head from being crushed as the vehicle rolled. At the end of the roll, he might have simply opened his door and walked out of the vehicle, dazed but alive. However, none of these elements were able to protect him, as he flew out the window of the vehicle during the rollover because he wasn't wearing his seat belt. Witness reports indicate citizens at the scene attempted to give him CPR while others directed traffic around the scene. Additional witnesses suggest Profeta was traveling at possibly 70 mph, hit a boulder after leaving the road, and rolled the vehicle four times, flying 50 feet through the air when
ejected
.
---
If you find this information useful, you can
shop through this Amazon link
or buy a "Thank You!" through Paypal.