When it comes to car safety, you can focus on driving safely and you can focus on choosing a safe car. However, if you have children, you also need to focus on choosing a safe car seat. This is one of a series of reviews I'll write on what I consider to be the best car seats currently available in the United States. This review has to do with Peg Perego's Primo Viaggio, the convertible counterpart to their stylish and safe 4-35 infant seat.
Peg Perego Primo Viaggio – What's the big deal?
The Peg Perego Primo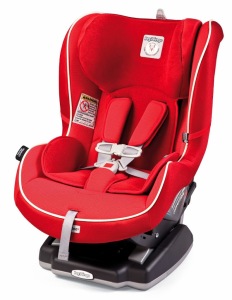 Viaggio SIP 5-70 Convertible has a very long name, but functionality is what's important, and in terms of functionality, this is one of the most impressive seats on the market. It's a convertible car seat, which means it can be used in several configurations, including as a rear-facing infant seat, a forward-facing seat, and of course, as a booster. It's the first convertible available from Peg Perego, and aims to bring a sense of style to the car seat market while enabling parents to rear-face their children longer. Is it worth it? Read on to find out!
Buy the Primo Viaggio on Sale with free shipping at Amazon.
Peg Perego Primo Viaggio Limits for Weight and Height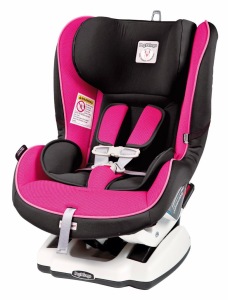 Rear-facing: 5-45 pounds. Your child's head should not reach past 1″ below the top of the headrest. There is no given height limit for the child besides the 1″ rule. I measure the shell height as around 24″, which is slightly shorter than my measurements for the Diono seats it competes with for ERF.
Forward-facing: 22-70 pounds, and under 49″ in height. Your child should be at least 1, and it's recommended that s/he is at least 2. Of course, research into car safety indicates children should remain rear-facing for as long as possible (the average is 4 years in Sweden, which posts the lowest child fatality rate on Earth), and after rear-facing, the child should remain forward-facing as long as possible.
Dimensions of the Peg Perego Primo Viaggio
The seat is 18.5″ wide at its widest point, which is at the torso of the child. The seat weighs 21 pounds, which makes it the lightest seat I've reviewed so far that allows 45 pounds of rear-facing goodness.

Using the Peg Perego Primo Viaggio
Something I like about the Primo Viaggio is that it's a good looking seat. Yes, yes, we're interested in the best car seats because they allow you to rear-face for a long, long time, as our Swedish brethren do, but it's also nice to have style. It's also made in Italy, which might be important to you for political or aesthetic reasons. More practically, the Fresco Jersey fabric is designed to be easily cleaned, although I didn't dare spill anything on it to try it out (who would willingly on a seat that looks this good?). It is also supposed to be breathable and good at absorbing moisture, which will come in handy if you use the seat in a warmer part of the country or don't have air conditioning. Of course, given Peg Perego's general aesthetic, they probably presume you have air conditioning and maybe even leather seats.
Besides all of that, it's also an easy, easy, easy seat to install. You essentially position yourself behind the seat when installing it rear-facing, click the pair of latch straps into position, and then move from one side to the other while you work the straps until they're tight. There's a leveling line on the side that helps you get the recline angle correctly set up. The fact that the seat also only weighs 21 pounds means you won't throw out your back during the years that you use it to ERF, although ideally, you won't be moving it from one place to another frequently since your child will get heavier, even though the seat won't. If you do need to move it, though, it only takes about 2 or 3 minutes to completely transition it from one vehicle to another, which helps.
Buy the Primo Viaggio on Sale with free shipping at Amazon.
Why Buy the Peg Perego Primo Viaggio?

This is the meat and potatoes of this car seat. The Primo Viaggio is one of a handful of seats in the United States that allows you to rear-face a child for up to 45 pounds. This isn't as good as it gets anymore, but it's pretty close. Every pound is precious, as the longer you rear-face, the safer your child is. In the US, parents tend to turn their children around into the line of fire at 1. In Sweden, this typically isn't done until 4. Children in Sweden are far less likely to die in car crashes than children in the US. It makes that much of a difference. This alone is reason enough to buy the Primo Viaggio.
Besides that fact, the Primo Viaggio uses a good amount of EPS foam on the seat's sides to protect your child from side impacts. Per Peg Perego (say that three times fast), it's designed to protect the head, neck, and spine of the child, and the Side Impact Protection system is also adjustable. It even includes a bit of EPP foam (named SAFE, for a shock absorbing foam element) below the seat that is designed to crush during a collision, absorbing forces that would otherwise be transferred to your child's neck and shoulders. I'm also a fan of the headrest, which is 8.5″ wide and practically guaranteed to fit even the largest heads.
Something else that's neat about the Primo Viaggio is that it's one of only a handful of seats in the United States that can currently be tethered while rear-facing as well as while forward-facing. It isn't required to rear-face tether, but it does have its advantages, which I'll discuss in a forthcoming article.
Finally, as noted above, the Primo Viaggio is also simply an easier seat to install than most, due to its narrow width of 18.5 inches. That means it's actually possible to install 3 across in a number of midsized vehicles.
The biggest strike against the Primo Viaggio is the fact that there are seats that allow you to RF slightly longer by weight. However, if the weight of the seat itself and the style of the seat are important to you, the Primo Viaggio will give you both while still helping you ERF.
I recommend the Primo Viaggio wholeheartedly. You can buy the Primo Viaggio in a range of colors here. Canadians can buy the Primo Viaggo here.
—
If you find the information on car safety, recommended car seats, and car seat reviews on this car seat blog helpful, you can shop through this Amazon link for any purchases, car seat-related or not. Canadians can shop through this link for Canadian purchases.