When it comes to car safety, you can focus on driving safely and you can focus on choosing a safe car. However, if you have children, you also need to focus on choosing a safe car seat. This is one of a series of reviews I'll write on what I consider to be the best car seats currently available in the United States.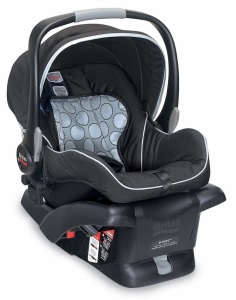 2014 Britax B-Safe – What's the big deal?
The Britax B-Safe isn't the kind of seat I'd typically review, given my preference for convertibles and combination seats, but functionality is what's important, and in terms of functionality, this is one of the most impressive seats on the market. It's an infant car seat, which means it can be used in one configuration: as a rear-facing infant seat. It does not forward face; for that, you'll need a convertible. It's one of the newest infant seats from Britax, and aims to improve child safety by increasing the odds parents have of correctly installing and using car seats from day one. Is it worth it? Read on to find out!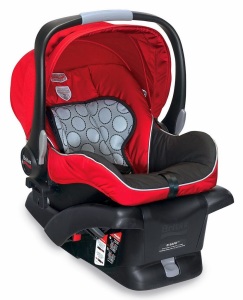 Britax B-Safe Limits for Weight and Height

Rear-facing: 4-30 pounds. Your child's head should not reach past 1″ below the top of the main shell. There is also a 32″ height limit for the child. The shoulder height of the child while seated may range between 6.5″ and 11″.
Of course, as a parent invested in your child's safety, you're not going to stop at 30 lbs, since research into car safety indicates children should remain rear-facing for as long as possible (the average is 4 years in Sweden, which posts the lowest child fatality rate on Earth), and after rear-facing, the child should remain forward-facing as long as possible.
Buy the Britax B-Safe on Sale at Amazon here.
Dimensions of the Britax B-Safe

The seat is 17.5″ wide at its widest point and 24.5″ high when the handle is up. The seat weighs 9.8 pounds, which makes it one of the lightest seats I've reviewed so far. Of course, being an infant seat, it should be much lighter than a convertible or combination seat. The base weighs 6 pounds and is 15″ wide.



Using the Britax B-Safe

There are a number of fun parts to using the B-Safe; here are some that stood out to me rather quickly. First of all, there are four different settings for the harness height and you can adjust how deep the crotch strap sits.
As is typically the case with infant seats, the seat can be detached from its base and attached to Britax strollers, which makes it easy to transport your children while on the go. You can achieve a good install with either the seat belt or with lower LATCH anchors. Don't use both, of course. The seat may be installed with or without the base. I like the base because it makes it a snap (literally) to install and remove the seat, which is crucial for getting a newborn or young infant out of a vehicle or into one without waking him or her. If you need extra bases, you can purchase them separately for installations in multiple vehicles. The base has a recline adjustment with 5 positions as well as indicators for the correct angle on both sides.
The thing I like most about the Britax B-Safe is that it is preemie friendly. There are a lot of seats that require a lot of hoops such as blanket rolling to make work with premature infants, and any mother who has purchased, bought, and returned several car seats to and from the NICU in effort to find a seat that makes a good fit knows how thankless of a task that is. However, the Britax B-Safe fits preemies easily, which is a blessing. A big part of why it will reliably fit 4 pound babies is because the lowest of the four harness slots is only 5.5″. Along with the Keyfit 30, this is a great choice for a preemie-friendly infant seat. Remember that not every infant seat actually makes a good fit when you try to use it at the lowest advertised weight, so this is important information.
The Britax B-Safe features a newborn insert to make fitting premature and smaller infants an easier affair. It is designed to be moved from the baby's bottom to behind him or her to keep a good fit as the child grows. It can be used or removed at any weight or height under the condition that the child is seated securely in the seat with or without the insert. Finally, I'm also a fan of the fact that Britax made two positions for the crotch buckle; little touches like these make all the difference in comfort for small infants.
Buy the Britax B-Safe on Sale at Amazon here.
Why Buy the Britax B-Safe?

This is the part parents are most interested in. The Britax B-Safe is not designed to help you rear-face a child until the cows come home. What it does well is provide parents with a convenient and nearly fool-proof method of getting their child safely from the hospital and around for the first few months of life. After that, I'd recommend replacing it with a convertible seat with the highest RF limits you can find. In other words, look for these seats. Remember, every pound is precious, as the longer you rear-face, the safer your child is. In the US, parents tend to turn their children around into the line of fire at 1. In Sweden, this typically isn't done until 4. Children in Sweden are far less likely to die in car crashes than children in the US. It makes that much of a difference.
If ERF is what's most important, then you might wonder why I'd suggest a seat that doesn't come anywhere close to the best ERF limits. That's because infant seats aren't designed to RF forever. They're for convenience! A class A convertible like a Foonf weighs more than 30 pounds; add the 7 pounds of a newborn and there's no way you're going to take that seat and child anywhere if it's all you have as a child seat.
In contrast, with a seat like the Britax B-Safe, you buy it packaged with a stroller, such as with the B-Safe Travel System, and use the seat and stroller to transport your child when walking, and move the seat with your newborn about without waking up your child. Later, as your child gains in weight, you'll naturally stop using the infant seat and start using the stroller or a good baby carrier to transport him or her, and when s/he's in the car, you'll use a high quality convertible car seat, and then later a combination seat. That's the easiest way to navigate the practicalities of weight, children, car seats, and transportation. Start with the infant seat and stroller, or infant seat and carrier, and transition to the stroller or carrier and convertible seat.
I recommend the Britax B-Safe wholeheartedly. You can buy the B-Safe in a range of colors here. You can buy the B-Safe packaged with a stroller here or buy a separate compatible regular stroller here or a compatible high end stroller here. Here's an example of a great baby carrier that we use on a daily basis when walking with our kids. You can buy the B-Safe base separately here. And last but not least, Canadians can buy the B-Safe and additional bases here.
—
If you find the information on car safety, recommended car seats, and car seat reviews on this car seat blog helpful, you can bookmark and shop through this Amazon link. Canadians can bookmark and shop through this link.