When it comes to car safety, you can focus on driving safely and you can focus on choosing a safe car. However, if you have children, you also need to focus on choosing a safe car seat. This is one of a series of reviews I'll write on what I consider to be the best car seats currently available in the United States. The full set of recommended car seats is here.
Cybex Aton 2 – What's the big deal?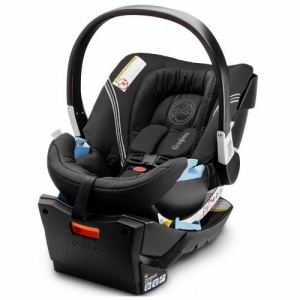 The Cybex Aton 2 isn't the kind of seat I'd typically review, given my preference for convertibles and combination seats, but functionality is what's important, and in terms of functionality, this is one of the most impressive seats on the market. It's an infant car seat, which means it can be used in one configuration: as a rear-facing infant seat. It does not forward face; for that, you'll need a convertible. It's one of the newest infant seats from Cybex, and aims to improve child safety by adding various side protection features to their already popular Aton seat. Is it worth it? Read on to find out!
Cybex Aton 2 Limits for Weight and Height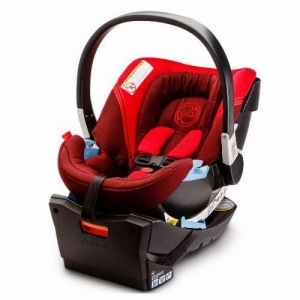 Rear-facing: 4-32 pounds. Your child's head should not reach past 1″ below the top of the main shell. There is also a 30″ height limit for the child.
Of course, as a good parent, you're not going to stop at 32 lbs, since research into car safety indicates children should remain rear-facing for as long as possible (the average is 4 years in Sweden, which posts the lowest child fatality rate on Earth), and after rear-facing, the child should remain forward-facing as long as possible.
Buy the Cybex Aton 2 on Sale with Free Shipping at Amazon here.
Dimensions of the Cybex Aton 2
The seat is 17.25″ wide at its widest point and up to 21″ high. The seat weighs 9 pounds, which makes it the lightest seat I've reviewed so far. Of course, being an infant seat, it should be much lighter than a convertible. It weighs 21.2 pounds when attached to the base.
Using the Cybex Aton 2
The Aton is an ever-growing line from Cybex that features the Aton, Aton 2, and the Aton Q. Between the Aton and the Aton 2, which is the topic of this review, many features are similar, but the Aton 2 adds a load leg to the base, as well as a LSP, or Linear Side-Impact Protection system, which is located on the handle.
What's a load leg, you ask?
Well, they're all the rage in Europe, as they're designed to reduce the amount of downward rotation experienced by a car seat (and the child inside it, of course), during a collision. Downward rotation is a fancy term for the seat's continuing to move forward and downward (due to inertia) in a frontal collision where the vehicle suddenly comes to a stop. Because downward rotation is reduced, rebound, or the rearward movement of the seat after the initial instance of downward rotation, is also reduced. It is essentially a foot, or leg, that sticks out like a tripod and locks once you squeeze a lever. Remember that the leg needs to be flat on the vehicle's floor and that it shouldn't extend to the point that it pushes the seat base above the vehicle seat. You can adjust the leg up and down to compensate for differences in length across vehicles.
The Linear Side-Impact Protection system is essentially a wing-looking device on the Aton 2's handle that you turn outward when the seat is installed in an outboard position; the purpose of it is to reduce the side impact forces that the child experiences in a side impact. From reading this blog, you know that it doesn't take much for the forces in a side impact to quickly add up to life-threatening levels, so anything that helps here is worth looking at. You don't use it when you install the seat in the center. Essentially, all you do is turn the LSP upward toward the door it's closest to, and that's it.
Being an infant seat, the Aton 2 can be detached from its base and attached to strollers by Cybex, Baby Jogger (e.g., the City Mini), and several other companies, which makes it easy to transport your children while on the go. You simply need the Maxi-Cosi adapters for the strollers you're interested in combining with the Cybex.
If you want to buy extra bases so you can install them in other vehicles, you can buy extra bases for the original Aton here or bases for the Aton 2 here. Note that the Aton & Aton 2 are both backward and forward compatible with the Aton and Aton 2 bases, which is quite the money-saver if you've already invested in one.
The seat may be installed with or without the base
Keep in mind the seat belt installation when the base is in the European style. To do that, you essentially wind the shoulder belt behind the seat itself while the lap belt threads through the seat arms as typical in baseless installations. This makes the baseless installation quite easy to do and also very stable, which is great if you need to move the seat into a new vehicle and don't have a base available.
I like the base because it makes it a snap (literally) to install and remove the seat, which is crucial for getting a newborn or young infant out of a vehicle or into one without waking him or her. I particularly love the process of releasing the seat from the base; you push in part of the button on the base, and from there you push the button. Trust me; it's awesome. The entire installation is easy, even compared with that on a Chicco Keyfit, which is saying something when you think about how easy it is to install a Keyfit.
The Aton 2 is preemie friendly
There are a lot of seats that require a lot of hoops such as blanket rolling to make work with premature infants, and any mother who has purchased, bought, and returned several car seats to and from the NICU in effort to find a seat that makes a good fit knows how thankless of a task that is. However, the Aton 2 fits preemies easily (as long as they weigh at least 4 pounds), which is a blessing. Three harness slot heights are included with the Aton 2; they range from 7″ to 10.5."
Buy the Cybex Aton 2 on Sale with Free Shipping at Amazon here.
Why Buy the Cybex Aton 2?
This is the meat and potatoes of this car seat. The Cybex Aton 2 is not designed to help you rear-face a child until the cows come home. What it does well is provide parents with a convenient and nearly fool-proof method of getting their child safely from the hospital and around for the first few months of life. After that, I'd recommend replacing it with a convertible seat with the highest RF limits you can find. In other words, look for these seats. Remember, every pound is precious, as the longer you rear-face, the safer your child is. In the US, parents tend to turn their children around into the line of fire at 1. In Sweden, this typically isn't done until 4. Children in Sweden are far less likely to die in car crashes than children in the US. It makes that much of a difference.
If ERF is what's most important, then you might wonder why I'd suggest a seat that doesn't come anywhere close to the best ERF limits. That's because infant seats aren't designed to RF forever. They're for convenience! A class A convertible like a Foonf weighs more than 30 pounds; add the 7 pounds of a newborn and there's no way you're going to take that seat and child anywhere if it's all you have as a child seat.
In contrast, with a seat like the Aton 2, you buy it, package it with a stroller, such as with the City Mini, and use the seat and stroller to transport your child when walking, and move the seat with your newborn about without waking up your child. Later, as your child gains in weight, you'll naturally stop using the infant seat and start using the stroller or a good baby carrier to transport him or her, and when s/he's in the car, you'll use a high quality convertible car seat, and then later a combination seat. That's the easiest way to navigate the practicalities of weight, children, car seats, and transportation. Start with the infant seat and stroller, or infant seat and carrier, and transition to the stroller or carrier and convertible seat.
Besides the general conveniences, I'm a big fan of the LSP and load leg systems, and these are the two reasons why I'd consider this seat over the Keyfit, or any other infant seat I've had the pleasure of reviewing so far.
I do wish the Cybex Aton 2 came with more than a 6-year product life. However, for a seat that's simply designed to get you going as a safe way of transporting an infant, it can easily be used for multiple children within a family. I also like that it's FAA approved for aircraft use and that the canopy provides SPF 50 protection against UV rays.
I recommend the Cybex Aton 2 wholeheartedly. You can buy the Aton 2 in a range of colors here. Unfortunately, it's not yet available in Canada, but the closest Canadian equivalent I'd recommend is the KeyFit 30, available here.
Finally, here's an example of a great baby carrier, the Pognae, that my wife and I use on a daily basis.
—
If you find the information on car safety, recommended car seats, and car seat reviews on this car seat blog helpful, you can shop through this Amazon link for any purchases, car seat-related or not. Canadians can shop through this link for Canadian purchases.