The Graco Size4Me 65 is perhaps my favorite budget convertible car seat of all time, simply due to the amazing value it offers families interested in an affordable entry to extended rear-facing. This is a review of the Size4Me 65, which you can buy at Amazon, and why it should either be the first car seat you ever buy for your children or the first seat you buy after they outgrow their infant seat. It's easily one of the best car seats currently available in the United States; let's take a closer look at how and why that's the case.
Graco Size4Me 65 – What's the big deal?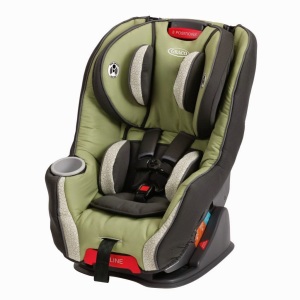 The Graco Size4Me 65 sounds a bit like a Fisher Price toy, but functionality is what's important, and in terms of functionality, this is one of the most impressive budget-minded seats on the market from one of the most established names in the field. It's a convertible car seat, which means it can be used in several configurations, including as a rear-facing infant seat, a forward-facing seat, and of course, as a booster. It has a number of aliases (the Fit4Me, the My Size 65, and the Headwise 65 and Headwise 70), each of which are almost identical, and is designed to enable parents to rear-face their children longer on a smaller budget. Is it worth it? Read on to find out!
Buy the Graco Size4Me 65 on Sale with Free Shipping at Amazon.
Graco Size4Me 65 Limits for Weight and Height
Rear-facing: 5-40 pounds. Your child's head should not reach past 1″ below the top of the headrest. There is no given height limit for the child besides the 1″ rule. The shell height is around 27.5″ tall, which means there's a lot of room for growth before children will outgrow it by height.
Forward-facing: 20-65 pounds, and under 52″ in height. The tips of your child's ears need to be below the top end of the head rest. Your child should be at least 1, and it's recommended that s/he is at least 2. Of course, research into car safety indicates children should remain rear-facing for as long as possible (the average is 4 years in Sweden, which posts the lowest child fatality rate on Earth), and after rear-facing, the child should remain forward-facing as long as possible.
Keep in mind that the Graco Size4Me 70 and Headwise70 are essentially the same seat but give you 5 extra pounds of forward-facing goodness.
Dimensions of the Graco Size4Me 65
The seat is 18.5″ wide at its widest point and 23.5″ high. It is around 22″ long. The bottom harness height is 8″ and slightly less when the infant insert is present, while the top harness height is at 17.5″. It has a 7-year product life.
Using the Graco Size4Me 65
Something I like about the Graco Size4Me 65 is that it's incredibly easy to adjust harness height. There are a number of seats that make this process ridiculous, usually by having you rethread harness straps like a tailor or uninstall the seat over and over again. The Size4Me does away with that nonsense with a Simply Safe Adjust system of harness adjustment that lets you simply squeeze a lever to move the harness up and down. This alone is worth the price of admission (which, as you'll see below, is among the most reasonable on the ERF market). You can even adjust it from the front of the seat! It ranges from 7″ to close to 17″ in terms of the torso height when a child is sitting in the seat.
Something I've become more impressed about over the years are car seats that do well with smaller infants, as the best car seat is useless if your children can't sit safely in it. The Size4Me is rated down to 4 pounds. I can verify that it works well with 7 pound newborns, but it might be a bit tricky with preemies; it'll depend on the child. Keep in mind that a number of convertible car seats don't work well with newborns, so this is something to be lauded in the Size4Me.
There's also a lever in the front designed to make it easy for you to set the recline of the seat. This doesn't sound like a big deal, but it's a nice comfort. There's one rear-facing setting and two forward-facing settings. If you need to make the adjustment, double check your installation afterward. I also like the inclusion of a ball level indicator to help you make sure you're reclining the seat properly when rear-facing.
In general, the installation of the seat is pretty straightforward, and I didn't have any trouble achieving a good fit. Keep in mind that it's not the smallest convertible out there, but that's part of the price you pay for having one that has such great height limits. It's still shorter than a Diono, and not much wider than one, either.
Buy the Graco Size4Me 65 on Sale with Free Shipping at Amazon.
Why Buy the Graco Size4Me 65?
This is the meat and potatoes of this car seat. The Graco Size4Me 65 is one of several seats in the United States that allow you to rear-face a child for up to 40 pounds. This isn't as good as it gets anymore, but it's still decent. Every pound is precious, as the longer you rear-face, the safer your child is. In the US, parents tend to turn their children around into the line of fire at 1. In Sweden, this typically isn't done until 4. Children in Sweden are far less likely to die in car crashes than children in the US. It makes that much of a difference. This alone is reason enough to buy the Size4Me 65.
Besides that, the real show stopper for the Size4Me 65 is that it has an amazing, amazing height limit. I measure it as even higher than those in the Foonf and Diono seats! Most children outgrow their seats by height instead of by weight, which sends parents scrambling to find alternative solutions as they nervously watch their children's heads approaching the tops of their head rests. However, with the Size4Me, you're almost guaranteed to run out of weight first, which means that you're almost guaranteed to get 4 years of rear-facing goodness from this seat.
That is beautiful–especially considering the price of this seat. It's a very democratic car seat by this measure.
The picture isn't quite as optimistic when forward-facing, as there your children will almost certainly outgrow it by height before weight, but with 52″ of room, it's likely you'll get up to 60 pounds of use out of it, which is good. Only a few seats like the Dionos will do better here.
Let's be honest: the Graco Size4Me 65 is not going to win any awards for uber-long RF weight among its fellow convertibles. However, it's designed to fill a niche, and in that respect, it does so well. It's a great seat for parents interested in rear-facing who don't have the budget for the highest weight seats. It's also a great seat for parents of tall, skinny kids, and it also works well if you don't have a child who's high in the weight percentiles, yet still want him or her to rear-face until kindergarten. It's also reasonably skinny, so you will be able to fit three across, whether with this or with other car seats, in most vehicles that are mid-sized or larger.
The biggest strike against the Graco Size4Me 65 is the fact that there are seats that allow you to RF significantly longer by weight. I also wish it had more than a 7-year product life. However, if price and height flexibility are important to you, the Graco Size4Me 65 will give you both while still helping you ERF. This is a sleeper seat that shows you don't need to break the bank in order to keep your child rear-facing for a good amount of time. In that sense, it's the best seat I've reviewed.
I recommend the Graco Size4Me 65 wholeheartedly. You can buy the Graco Size4Me 65 in a range of colors here.
—
If you find the information on car safety, recommended car seats, and car seat reviews on this car seat blog helpful, you can shop through this Amazon link for any purchases, car seat-related or not. Canadians can shop through this link for Canadian purchases.