Evenflo has been selling various versions of its Triumph convertible for a number of years. It's a good budget convertible seat that can meet the needs of a number of parents without breaking the budget. The seat can be installed easily, used correctly, and is comfortable for children. As a result, when I had the opportunity to borrow one for a weekend from a friend, I decided it was well worth reviewing as a budget option.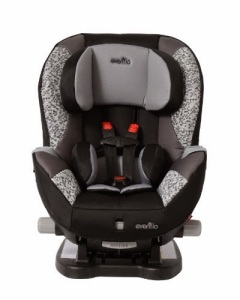 Evenflo Triumph LX – What's the big deal?
The Ev
enflo Triumph LX is a good example of a low-priced convertible seat. Being a convertible seat means that the seat can be used in both rear-facing and forward-facing configurations, which means it can be used straight from the hospital until several years later. The Evenflo Triumph is available from several stores, including at Target, where an exclusive "Procomfort" version is sold, and at Amazon, where the regular, and just as good, LX version is sold. A quick way to tell the newest versions of the Evenflo Triumph from older versions is that the newest all come with a pair of cup holders on each armrest, as you can see in the two print patterns of the seat.
Buy the Evenflo Triumph LX on Sale with Free Shipping at Amazon here.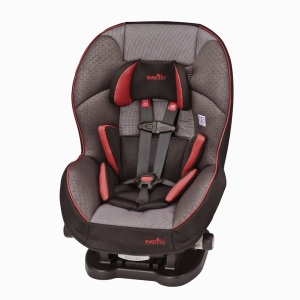 Evenflo Triumph LX Limits for Weight and Height

Rear-facing: 5 to 40 pounds. Children should be between 19″ and 37″ tall and the tops of their heads must not be within 1″ of the top of the car seat.
Forward-facing: 22 to 65 pounds. Children should be between 28″ and 50″ tall and at least 1 year old. Being a fan of the Car Crash Detective, however, you know that we're not going to stop at the minimum limits required by the law, but will aim for best practices as they're shown in Sweden, where parents rear-face until age 4, or at least for as long as possible. As a result, very few children die from car collisions in Sweden.
Dimensions of the Evenflo Triumph LX
The Evenflo Triumph has harness heights that range from 7″ at the lower end to 16″ at the higher end. There are two crotch strap positions to choose from at 7″ and at 9″, while the seat weighs 18 pounds according to my fancy car seat scale and is 20″ wide at its widest point and 23″ tall on the inside. The base itself is narrower at 15."
Using the Evenflo Triumph LX
Installing the Triumph is rather straightforward; the LATCH lower anchor connectors are the typical hook kind. As with most seats, the tether strap is meant to be attached to a tether anchor only when the seat is used in a forward-facing configuration. Remember that it's always a good idea to use the tether while forward-facing.
The LATCH limits for the seat are 45 pounds by child weight. At that point, you'll need to stop using LATCH and start using the seat belt. This is a big part of why I prefer using seat belt installations from the start; it gets rid of the need to switch back and forth with LATCH, and it also gives you more room for 3 across installations.
The seat belt installation is also relatively simple, but since there isn't a device in the car seat to lockoff the seatbelt, your seat belt will need to be a belt that locks. Every vehicle made after 1996 has a locking seat belt, so if you have a car made in the last 18 years, you won't need to worry about this. If you're not sure how to lock your seat belt, send me an email and I'll be glad to help you.
There are 3 recline positions to choose from on the base. When the seat is used  while rear-facing, the 1st recline position, which is the full recline, must be used. There is an indicator of your recline indicator in the shell beneath the rear-facing beltpath opening. I don't like it much because it's hard to see, but it's there. You can use a rolled up towel to help you get an appropriate recline if you can't do it normally with your seat.
The second and third (semi and fully-upright) recline positions are available for forward-facing, but you'll want to make up your mind in advance, as you'll need to reinstall the seat in order to choose between the positions.
The Triumph fits nicely front-to-back in vehicles, which means that parents won't need to move their front seats up clown-car style in order to make room for the seat. It's a bit wider than some seats, which might make things a bit more tricky for 3 across installations, but you can always check the 3 across guide here to learn about the kinds of seats that are guaranteed to fit well in your vehicle.
Newborns who are average-sized should not have trouble fitting in the seat from day one, which means you'll be able to take it with you from the hospital. I'm not a fan of the 37″ rear-facing height limit, as that limits a 50th percentile child to 3 years in the seat per CDC growth charts. If you ignore the height limit and just use the 1″ rule, which is what I do when using a seat, then you can get significantly more time in the seat, as long as you observe the 40 pound limit, which I never break. When forward-facing, the seat's limits are more reasonable, as 50″ in height leaves more room for children. However, it's worth keeping in mind that the vast majority of kids are going to reach the height limit of the seat before they reach the weight limit at 65 pounds.
Maintenance on the Triumph is rather straightforward; the cover can be removed easily and can be machine washed in the delicate cycle in cold water. It should be tumble dried for only 10 minutes on low heat and promptly removed.
Buy the Evenflo Triumph LX on Sale with Free Shipping at Amazon here.
Why buy the Evenflo Triumph LX?
We could spend all day talking about machine wash settings, but what are the real reasons to buy a seat like the Evenflo Triumph? For me, the real reasons center around how it allows you to rear-face until your child weighs 40 pounds, which is huge in the United States, since we forward-face our children too early as a rule. In contrast, the longer we can rear-face, the safer our children are, and seats with higher weight and height limits allow us to spend more time rear-facing, which is safer.
For a blueprint on best practices, look to Sweden, where the standard is to rear-face until 4. As a result, children are much safer when riding in cars there, as they're more likely to be protected by being in the rear-facing position, which is the safest position for children (and adults!).  A seat like the Triumph lets you rear-face until 40 pounds, which will get children to at least 3 and perhaps longer. Keep in mind, though, that there are many seats that will let you rear-face past 40 pounds.
Other factors that I like about the Triumph is that the installation can be achieved rather simply in the majority of vehicles, and that it doesn't take up much space in front-to-back installations. I also like how well it fits average-sized newborns, and that it's FAA certified for airplane use. I also like that it's made locally in the United States, which uses fewer resources. I wish it had longer than a 6 year product life and I wish that it had a higher rear-facing height limit; 37″ is a disservice both to the seat and to the children who will be sitting in it.
All that said, I think the Evenflo Triumph is a great budget car seat for parents who are interested in keeping their children safe without having to spend a ton of money or break out the credit cards. I recommend the Evenflo Triumph LX heartily. You can buy it in multiple colors here. Canadians can buy it here.
—
If you find the information on car safety, recommended car seats, and car seat reviews on this car seat blog helpful, you can bookmark and shop through this Amazon link. Canadians can bookmark and shop through this link.