It's no secret that I'm a fan of a number of Graco car seats, including the 4Ever, Milestone, and Size4Me 65. The last seat, in particular, might be my favorite car seat of all time, simply because of how good of a deal it is as a way to keep kids rear-facing for a long, long time. Sure, the Fllo will give you more time by weight, but it costs twice as much. The Size4Me, however, is easily the best convertible under $200. It also comes in a number of clones, including the My Size 65. What I'm most interested in, however, is its slightly higher end twin, the Head Wise 70 (and its clone, the Size4Me 70). This review is about the Head Wise 70 and why it's my "take anywhere" seat.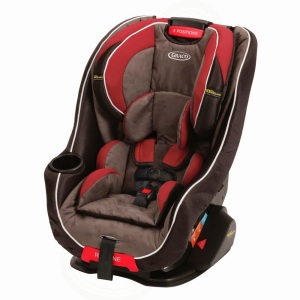 2015 Graco Head Wise 70 – What's the big deal?
The Graco Head Wise 70 comes with what Graco describes as "Safety Surround" technology, which is what makes the biggest difference between it and, say, the Size4Me 65. The technology is designed to increase levels of side impact protection if the seat is involved in a collision. Given how quickly side impact crashes can turn fatal, if I've got a way to buy additional coverage, I'm going to do it.
Besides that, the Head Wise 70 is a convertible seat with a generous amount of head room (hence the name? ha!) for rear-facing, which means children can stay rear-facing longer in the seat. It's a convertible seat, which basically means it works in both rear-facing configurations and forward-facing configurations, and it also fits children from birth, which means that you can buy the Head Wise 70 from Target, install it in your vehicle of choice, and use it to take your newborn baby right out of the hospital. And as your precious one grows, s/he will be able to continue using this seat for another 7 years, receiving excellent protection every step of the way.
That, to me, is a pretty big deal.
Graco Head Wise 70 Limits for Weight and Height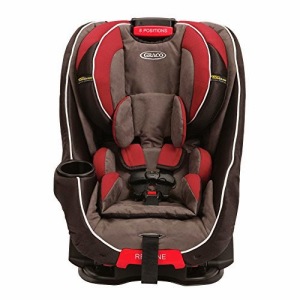 Rear-facing: 4 to 40 pounds. You'll want to max out all 40 pounds before forward-facing, as that will provide your child with the greatest amount of safety in a car collision. There is a 1″ rule that states that your child's head needs to stay below 1″ of the head rest when the head rest is extended to its maximum position. Because the shell height is close to 28″ tall, virtually every child on Earth will be able to reach 40 pounds in weight before outgrowing the seat rear-facing by height. That is awesome.
Forward-facing: 20 to 70 pounds. There is a 52″ height limit for children when forward-facing. The minimum age for forward-facing is 1. Of course, readers of The Car Crash Detective aren't going to forward-face at 1; we're going to aim for delaying forward-facing as long as the seat will allow us, and then forward-facing as long as possible. The fact that we receive 5 extra pounds to forward-face in with the Head Wise 70 means there's a bit more forward-facing time built into the seat than there is in the Size4Me, which is another reason I love the Head Wise 70.
Buy the Graco Head Wise 70 on Sale at Amazon here.
Dimensions of the Graco Head Wise 70
The shell width is 18.5″, the height of the seat is around 23.5″, and the depth, or length, is just about 22." There is a 7 year lifespan for the seat and the harness height ranges from 7″ if the included infant insert is used all the way to 17.5″ on the top end.
Using the Graco Head Wise 70

One of my favorite things about the Head Wise 70 is how easy it is to use with newborns. Generally, convertibles marketed with minimum weights of 5 pounds may fit average-sized newborns, but they might need a bit of additional padding to do so well. However, only seats that are rated for 4 pounds or below can be expected to do a good job with regular newborns, preemies and smaller-than-average newborns. The Head Wise 70 does a great job with all three, and I love it for that.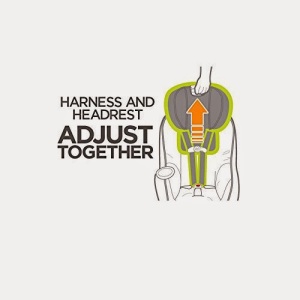 I like the presence of Graco's InRight LATCH system. That's a fancy name for their LATCH connectors that are designed to be easy to install by being push-in connectors. They're nicer than the basic hook-style LATCH system you find on cheaper car seats. I also like that a pair of LATCH connectors are included for rear-facing and another pair are included for forward-facing, as it means you don't need to reroute your straps when you plan to switch the direction of the seat. There are built-in attachment points for storing the connectors when you aren't using them. The weight limit for the LATCH system is 48 pounds.
The no-rethread harness present in the Head Wise 70 is another part of the seat I love. There are a number of car seats out there, particularly in the budget range, that make you rethread your harness straps whenever you need to raise or lower your harness height. In the Head Wise, you have a bar in the top front part of the seat that you can adjust with one hand. There are 8 positions to choose from, ranging from 8″ to 17.5″ at the top of the shell in terms of seated torso height. If you use the infant body support, the lowest harness setting drops to 7."
There is a built in level indicator in the side of the Head Wise 70 that lets you make sure you've got the correct recline set up. It's a ball level indicator, which is much more obvious than lines or obtuse markings that resemble hieroglyphics.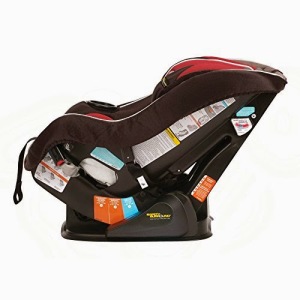 Since we're on the topic of reclines, something else I like is the fact that there's a lever in the front to let you adjust your recline in 3 positions; one setting is for rear-facing while the other two are for forward-facing. The rear-facing recline is marked brightly in blue while the forward-facing reclines are marked in orange. The upright settings are for 20-40 pounds and 20-70 pound children. I personally found the recline a bit hard to adjust by hand, but with a bit of force it moves.
Maintenance-wise, the pads on the seat are machine-washable as long as the wash is with cold water on the delicate cycle. Bleach should not be used.
Buy the Graco Head Wise 70 on Sale at Amazon here.
Why Buy the Graco Head Wise 70?
Now we're on to the real reason I write any car seat review–why exactly is the seat a good idea to have? Yes, I like the ball recline and so on, but the real reasons, in my opinion, to pick up the Graco Head Wise 70 are because it lets you rear-face to 40 pounds by weight and gives you the room in height to actually reach 40 pounds. First of all, the vast majority of kids in the US are turned forward-facing much too early. Part of this is because parents don't know better, but part of it is simply because many seats run out of height room too quickly.
Because there's a generous amount of headroom in the Head Wise 70, the likelihood of pretty much every child reaching the 40 pound rear-facing limit is very high. And rear-facing is absolutely safer than forward-facing, which is why the Swedes, who have the best child safety record in the world, don't forward-face their kids until they turn 4. Let's learn from the folks who use best practices.
Keep in mind that there are several seats that will let you rear-face beyond 40 pounds. However, 40 is much better than 35 or 30 pounds, which are your limits in the vast majority of infant seats on the market. And the Head Wise 70 offers the advantage of greater side impact protection and a higher forward-facing weight limit than the Size4Me.
Overall, the Graco Head Wise 70 is a quality, well-thought out seat that offers parents the opportunity to practice extended rear-facing without breaking the bank. If you can choose between it and the Size4Me, I'd choose the Head Wise 70. You can buy the Head Wise 70 here in Marok, Lowell, or Cora.
Unfortunately, it's not yet available in Canada, but Canadians can buy a similar seat, the Boulevard ClickTight, here.
—
If you find the information on car safety, recommended car seats, and car seat reviews on this car seat blog helpful, you can shop through this Amazon link for any purchases, car seat-related or not. Canadians can shop through this link for Canadian purchases.