Recaro has been making a number of quality car seats for adults for years, and have also shown a commitment toward bringing their technology o the field of child car seat safety. I recently took a look at one of their newest offerings with my review of the Recaro Performance Coupe infant seat, and liked it so much that I had to find another one of their seats. It arrived from Amazon a couple of days later, and I've spent the last week getting to know the seat. My thoughts? It's a pretty good one.
2017 update: The Recaro ProRIDE remains unchanged, aside from a few fabric tweaks. The rear-and forward-facing height and weight limits are the same.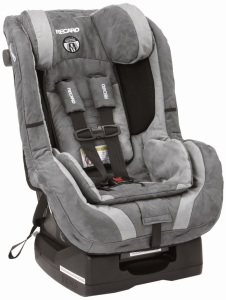 Recaro ProRIDE – What's the big deal?
The Recaro ProRIDE makes use of a number of racing technologies that Recaro has been using for years in their adult racing car seats, but the most significant of these for me are those that have to do with side impact protection. Side impact collisions are the most likely to be deadly out of front, side, and rear collisions, and technology that helps keep children safer in such collisions is technology I want in my car seats.
The Recaro ProRIDE is a convertible seat, which means that it can be used both rear-facing and forward-facing, which is a fancy way of saying it's a seat you can take with you to the hospital when your baby is due and keep him or her safe in it until he or she is ready to start elementary school. This, in a nutshell, is one of the reasons why I prefer convertible car seats to infant seats if you can afford to choose between the two. They last longer, which makes them easier on the wallet for parents.
Buy the Recaro ProRIDE on Sale with Free Shipping at Amazon here.
Recaro ProRIDE Limits for Weight and Height

Rear-facing: 5 to 40 pounds. Children must be below 49″ tall and their heads must not be within 1″ of the top of the Recaro's car seat shell in order to remain rear-facing. In the interests of best practices, you'll want to keep your child rear-facing until he or she doesn't fit the seat anymore in that configuration by height or by weight, as it's the safest position in a collision. The internal shell height is 22.5″, which increases the odds of children actually making it to the 40 pound weight limit rear-facing. However, it's not nearly as generous as the shell height in the NextFit or Head Wise 70.
Forward-facing: 20 to 65 pounds. Children must be under 49″ tall. Best practices indicates children should not be turned forward-facing until absolutely necessary as defined by the seat's height and weight limits, so don't mind the lower 20 pound range for forward-facing; focus on getting as close as you can to the 40 pound RF limit and then forward-facing until your child won't fit in the seat any longer.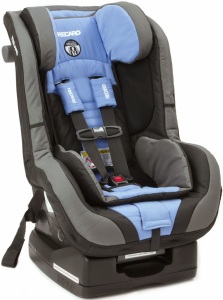 Dimensions of the Recaro ProRIDE
The ProRIDE is 19 inches wide, 11 inches deep, and between 27 and 29 inches high, depending on the extent to which the head restraint has been extended. Its relatively narrow width means that fitting a 3 across installation shouldn't take too much work, although it's not going to be as easy of a seat as a convertible like a Fllo, of course. The harness positions range from 10″ when the infant insert is used up to the highest position of 18."
Using the Recaro ProRIDE

The ProRIDE is a solid-looking and solid-feeling seat when used. The installation is easy with both a LATCH and a seat belt installation, even though it's important to note that you'll have an easier time achieving a 3 across installation if you use the seat belt than if you use the LATCH setup. You also won't have to deal with a LATCH weight limit if you choose a seat belt installation. That said, the LATCH system is easy to use and has a push-button adjustment system.
There are a range of features I'm a fan of in the ProRIDE, including the presence of its extensive side impact protection system. Recaro states the system has been tested to meet standards overseas, including protection for the 5 most vulnerable areas of the body in a side collision: the head, the pelvis, the neck, the torso, and the face. EPS foam is generously used throughout the seat to reduce the amount of forces children experience in collisions.
Additionally, I always love no-rethread harnesses when they're present, and the ProRIDE includes one along with a head restraint that is designed to be easily adjustable and a Safety Stripe system. The system is designed to keep parents informed about potential harness twists in order to reduce the risks of safety hazards related to the harness. To adjust the harness, you simply turn a knob. That's it!
The fabric present in the ProRIDE is designed to vent air easily to reduce sweating and increase breathability for children, which also results in an increase in comfort for our little travelers. The harness system is also padded and PUR foam is used in the head restraint. The mesh fabric is easily washable and comes in several different colors.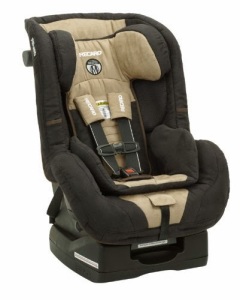 When rear-facing, the ProRIDE has a lower weight  limit of 5 pounds. Unfortunately, it's not practical to try to fit a 5, 7, or even 7 pound newborn in the ProRIDE even with the infant insert, simply because of the height of the harness straps. Remember that the straps need to be below or at the shoulders of a rear-facing child, and that's not practical with most newborns in the ProRIDE unless they're larger.
When it comes to older children, the ProRIDE works much better. However, there isn't as much room as I'd like to see in the legs for rear-facing children. They'll be perfectly safe, but it can make things a bit less comfortable for larger children, and a bit more tricky for parents to buckle in and unload their children.
Buy the Recaro ProRIDE on Sale with Free Shipping at Amazon here.
Why Buy the Recaro ProRIDE?
Personally, I'd buy the ProRIDE because it allows you to rear-face children for a number of years. Ideally, you'll want to max out the seat by rear-facing until 40 pounds or as close to it as possible, since every year you can rear-face significantly increases your child's safety. The biggest cons of the ProRIDE are the higher harness straps that make it hard to fit newborns in the seat and the limited leg room when rear-facing. I'd also personally like to see higher rear-facing weight and height limits, as there are many seats that can do better today. That said, the seat is constructed extremely solidly and offers some of the most tested side impact protection you can buy today. I'm also a fan of the no-rethread harness and additional safety systems built into the seat for parents.
I recommend the Recaro ProRIDE. You can buy it here in Aspen, Blaze, Blue Opal, Misty, Sable, and Riley.
Unfortunately, it's not yet available in Canada, but Canadians can buy a similar seat, the Boulevard ClickTight, here.
—
If you find the information on car safety, recommended car seats, and car seat reviews on this car seat blog helpful, you can bookmark and shop through this Amazon link. Canadians can bookmark and shop through this link.