Britax has been on a roll lately with their convertible seat line, with the recent releases of the Advocate ClickTight, Boulevard ClickTight, and Marathon ClickTight, all of which I've reviewed and recommended. However, as great as the ClickTight line is, parents searching for cheaper alternatives that still carry the high quality side impact protection Britax has been focusing on for the last several years would do well to look into the Britax Advocate G4.1, Boulevard G4.1, and Marathon G4.1, which are all updates to the G4 convertible line that the ClickTight seats are derived from, such as the Britax Advocate G4. I picked up an Adocate G4.1 on sale from Amazon this weekend and set about to see what it had to offer.
2015 Britax Advocate G4.1 – Quick Review
The Britax Advocate G4.1 is the latest version of Britax's highly popular Advocate convertible car seat, which Britax most recently released as the Advocate ClickTight, and which they previously released as the Advocate G4. As the name implies, the G4.1 is more of a refresh or an update to the Advocate G4 than an entirely new system within the seat, as is the case with the Advocate ClickTight.
Being a convertible car seat, you can use and install it both in rear-facing configurations to transport infants, toddlers, and preschool-aged children, and as a forward-facing car seat to transport older, elementary-school aged children.
Along with the Boulevard G4.1, Marathon G4.1, Advocate ClickTight, Boulevard ClickTight, and Marathon ClickTight, it's one of the newest convertible car seats available from Britax, and essentially offers many of the features of its ClickTight equivalent, particularly with respect to side impact protection, at a significantly lower price. Britax calls it innovative and one of its safest car seats yet. Does it deliver on its promises? Let's dig into it together and find out!
Buy the Britax Advocate G4.1 on Sale at Amazon here.
Britax Advocate G4.1 Weight and Height Limits
Rear-facing: 5 to 40 pounds. There is a 49″ height limit for the child that's based on the top of the shell, rather than to the top of the head wings, as is the case with the Advocate ClickTight. This means you'll get more seat life out of the ClickTight version, but you still get a decent amount from the G4.1. The seated shoulder height of the child can range from 9″ at the low end to 16.75″ at the high end. The harness settings range from 8.5″ at the low end to 17.5″ at the high end.
Forward-facing: 20 to 65 pounds. The top harness height at 17.5″ is lower than that of the Advocate ClickTight, which means you won't get as much time forward-facing either in this version of the Advocate as you would in the ClickTight version. The lowest available harness height is 8.5″ and you can raise it in 1″ increments. While forward-facing, your child's seated shoulder height can range between 12″ and 16.75."
While Britax states you can forward-face your child once s/he's a year old and at least 20 pounds, this is still much too early to forward-face. Ideally, you'll want to rear-face as long as possible, such as until 4 or even later if you can. Children who rear-face are less likely to suffer serious or fatal injuries in car collisions, and you'll want to forward-face as long as possible in a harness before switching to a booster afterward.

Dimensions of the Britax Advocate G4.1
The seat is 20.5″ wide at its widest point, 26″ tall, and 21″ long front-to-back. Width-wise, it's identical to the ClickTight version, which means you're going to need to work for it if you want to achieve a 3 across installation with 3 of these seats, although it's definitely possible. You can review the full 3 across guide to see which kinds of car seats are guaranteed to fit well in your car, minivan, SUV, or pickup truck. The G4.1 weighs 21.5 pounds, which isn't nearly as much as the ClickTight version, which comes in at 30 pounds.
Using the Britax Advocate G4.1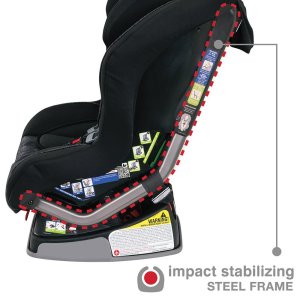 Installation, rear-and forward-facing
Out of the box, the Advocate G4.1 is an impressive, and frankly, a bit of an intimidating seat. It's large and hefty, even though it doesn't weigh nearly as much as its ClickTight counterpart, and has a solid feel when you put it on the ground or when you get ready to install it. The frame is made from steel that's designed to add stability to the seat and act like a metallic spine inside the car seat. This essentially means that the seat takes up some of the energy in a collision so it doesn't go into your child. This kind of tech is sprinkled throughout the seat, since it's the flagship model for Britax.
Installation is smooth and straightforward, whether you're doing it with a LATCH installation or through a good old-fashioned seat belt setup. I prefer the seat belt setup for 3 across installations since it gives me much more space, but I like using LATCH when I've only got one or two seats to deal with since it takes much less effort to get a tight installation. The LATCH connectors are "Easy-on, easy-off" connectors, which means they're even easier to connect and disconnect, and they also have the great feature of clicking audibly once they're securely locked, which adds to peace of mind by letting you know the seat's not going anywhere in a collision.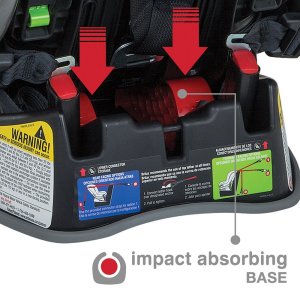 The base of the Advocate G4.1 is designed to absorb impacts in collisions by compressing, which means less crash energy goes into your child, which is a very good thing. The base is also designed to act a bit like an anti-rebound bar by reducing forward movement, which helps reduce the likelihood that your child will collide with the seat in front of him or her. These are the kinds of details that make Britax seats worth buying over those from just about any other manufacturer, with the exceptions of Clek and Diono, with seats like the Fllo, Foonf, Rainier, and Pacifica.
There are 3 recline positions available for the Advocate G4.1, and each is clearly marked with a level indicator to help you get the right rear- and forward-facing angles. The belt paths for rear- and forward-facing installations by seat belt and by LATCH are also indicated clearly, reducing the chances of an incorrect installation. Remember that when you're forward-facing, you should always use a top tether for safety, even though it's sadly not yet a legal requirement in the United States.
Harness, Fit, Safety
There's a 10-position no-rethread harness in the Advocate G4.1 that makes it a snap to find the right harness height setting for your child. Remember that you'll need the straps to be at or below your child's shoulders when rear-facing and at or above them when forward-facing. There's a 2-position buckle strap as well to help provide a comfortable and snug experience for your little ones.
And speaking of comfort, it's a luxurious, padded seat. There's padding practically everywhere–in the shoulder pads, in the buckle pad, in the cover, and in other locations. There's also an infant positioning pillow available to help both keep your youngest ones comfortable while also helping them properly fit the harness at lower settings.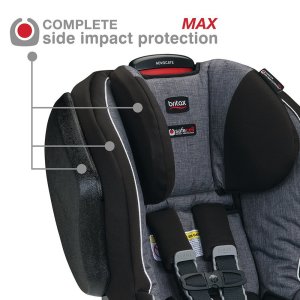 The harness itself includes impact-absorbing materials to increase the chances that the chest clip will stay in its right position were a crash to occur, and as with the frame and base, it's designed to take some energy in a crash. There's also an easy-buckle system that's designed to keep straps and buckles away from your child so you can get him or her into the seat without fighting the straps along the way. I've got to admit that while I've always been skeptical of the system, it works quite well. The harness is your standard 5-point harness and it feels good against the fingers. The cover of the seat can be removed quickly and machine washed.
The shell of the Advocate G4.1 is the show-stopper, as far as I'm concerned, when looking over the seat. It's thick and filled with energy-absorbing foam to keep your child shielded from the tremendous forces that occur in collisions. The wings and sides are also designed to keep your child shielded from debris while keeping the head and neck in secure positions during a collision. There are even external cushions, which are only present in the Advocate and Pinnacle 90 (i.e., the best booster seat on Earth), that are designed to not only reduce energy that would otherwise harm your child, but also protect nearby passengers (including other children) from these forces. That's good design.
Buy the Britax Advocate G4.1 on Sale at Amazon here.
Why Buy the Britax Advocate G4.1?
When it comes to car seats, we buy them to protect our children, and when it comes to protecting our children, it's best to start with the basics, which means rear-facing as long as possible. With the G4.1, you can rear-face your son or daughter until 40 pounds. Keep in mind that there are a number of other seats that will allow you to rear-face significantly longer by weight, but even if this seat isn't at the top of that list, it's still pretty good. What we want to do is to keep our children out of the line of fire, which means we aren't going to turn them forward-acing at 1, or 2, or even 3. We hold off until 4 if possible, which is the norm in Sweden. It's no coincidence that nearly no children die each year in car accidents in Sweden; they're using best practices, and we can too.
Besides the fact that the Advocate G4.1 allows you to rear-face until 40 pounds, I love, love, love the various safety features built into the seat, as they show just how much attention Britax places on reducing injuries and fatalities in the children they protect–the children we love. The side impact protection in particular is my favorite, as side impact collisions are the most likely to be fatal among front-, side-, and rear-impact collisions, simply due to the lack of protective structures in vehicles between our most precious passengers and the outside world. Seats that can increase our childrens' odds of walking away from crashes are worth buying.
More broadly, I'm also a fan of the fact that the seat is already approved by the FAA for aircraft travel, as well as of the fact that it's more or less made locally in the United States and has a long product life.
In conclusion, to answer the question of whether the Advocate G4.1 can serve as a good ClickTight alternative to the Advocate ClickTight, I'd say yes, and yes in spades. It's a quality convertible with great side impact protection. You can buy it here in Broadway and Silver Diamonds. Canadians can buy it here.
—
If you find the information on car safety, recommended car seats, and car seat reviews on this car seat blog helpful, you can bookmark and shop through this Amazon link. Canadians can bookmark and shop through this link.