Kiddy has been in the car seat industry for a number of years, and the Kiddy Evolution Pro, which is the topic of this review, has just raised the bar to become the best infant seat available today in the United States. It's been sold in Europe for more than a year now, but it's only just crossed the Atlantic to become available here in the US via Amazon.  This seat follows on the heels of the Kiddy Cruiserfix Pro, which I've reviewed here, and a number of high quality infant seats like the UPPABaby MESA, and is poised to become a strong competitor in the world of rear-facing car seats. When Kiddy notified me about the Evolution Pro, I put in my order on Amazon, and it arrived this weekend, which meant I had to test it out. What do I think?
I am impressed. Very impressed. Let's find out why!
2015 Kiddy Evolution Pro – What's the big deal?
The Kiddy Evolution Pro has a number of features that simply aren't available in any other infant car seat in the United States today. First of all, it's the only infant car seat available in the United States with a 37″ height limit. The majority of infant car seats currently available top out at 30 inches, which means that despite the fact that some of them have higher weight limits, all of them are likely to be outgrown by height before they're outgrown by weight. Thanks to the 37″ height limit, the 35 pound weight limit is far more likely to be reached by the average child. It also means that a child of average height would be able to rear-face until 3! This is simply unheard of in an infant seat.
Secondly, the Evolution Pro is the only infant seat in the US today that allows your child to sleep in a completely flat position when the seat is flat on the floor and not installed in a vehicle. We'll talk about more details in a moment, but these are the two biggest reasons to pick up the Evolution Pro.
What kind of car seat is the Kiddy Evolution Pro? Broadly, the Evolution Pro is an infant car seat. That means it's only designed to be used rear-facing when installed in a car. To forward-face, you'll need a different kind of car seat, like a convertible or combination car seat. However, as long as you have the appropriate insert, you can use the Evolution Pro straight from the hospital to bring your baby home on his or her first car ride, and the Evolution Pro will be much lighter and easier to use than any convertible car seat that currently exists.
Buy the Kiddy Evolution Pro on Sale at Amazon here.
Kiddy Evolution Pro Limits for Weight and Height
Rear-facing: 3 to 35 pounds. It comes with a preemie insert that takes the minimum weight limit down to 3 pounds. The insert is essentially a headrest with body support and a crotch support to keep the child from slumping. Children can be up to 37″ tall (wow!), which blows away the competition from every single other infant seat currently on the US market. There is a 1″ height limit relative to the highest part of the seat shell ass well.
Legally in most states, children can forward face at 1, but as readers of The Car Crash Detective, you know that's way too early, and I recommend extended-rear facing until at least 4, just as the Swedes do, in order to keep your little one as safe as possible. You're going to need a convertible seat to continue to rear-face after your child outgrows the Evolution Pro, but there are plenty of great ones to choose from here.
Dimensions of the Kiddy Evolution Pro
The Kiddy Evolution Pro is around 18″ wide, 27″ high, and "26" tall. The seat itself weighs 11 pounds and the base adds another 9 pounds when you use it. The width of the Evolution Pro means that you shouldn't have much trouble installing it in 3 across configurations in cars, trucks, minivans, or SUVs. If you'd like to learn more about which kinds of car seats are likely to work well in your vehicle or beside the Evolution Pro, you'll want to have a look at the 3 across car seat guide I update here.
Using the Kiddy Evolution Pro
Install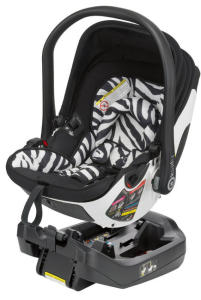 ation
Out of the box, the Kiddy Evolution Pro is a gorgeous, gorgeous seat. It resembles an egg in its shape, with smooth curved lines and an appealing shell in a variety of colors. Structurally, it feels solid, with molded plastic and steel throughout the shell and substructure, while various plush fabrics are used in the canopy. The fabric seat cover only takes a few seconds to remove and is machine-washable. The canopy itself, or sun roof, as Kiddy calls it, is infinitely adjustable, and gives a good amount of shade. There's also a rain and mosquito cover that helps keep kids dry and bug free.
The Evolution Pro is designed to offer secure installations, as are most infant seats, through the seat belt or through LATCH anchors. In general, I like the standard lap and shoulder belt installation, especially when I'm trying to figure out 3 across installations or working with older vehicles that didn't necessarily come with LATCH anchors. However, when dealing with infant seats, I really like LATCH setups whenever I can use them simply because they let me attach the base and then attach and disconnect the infant seat without waking a sleeping baby.
Something neat about the Evolution Pro is that it allows for European belt-routing (behind the shell of the seat) in addition to traditional belt-routing (on top of the seat) when installing it with a seat belt and without the base. Euro-belt routing helps protect against rebound, so it's nice to have that option when you don't have the base handy.

Base, Harness, and Fit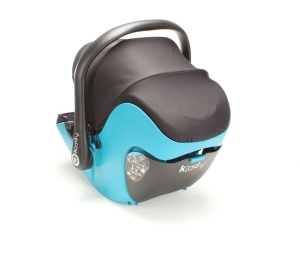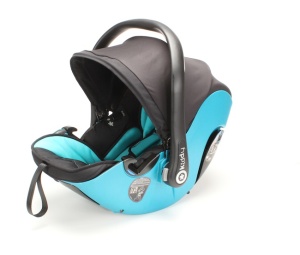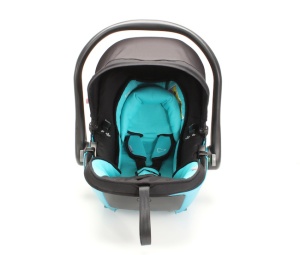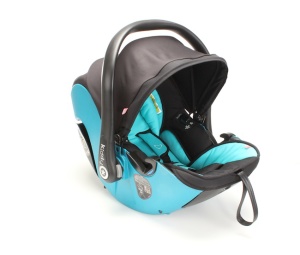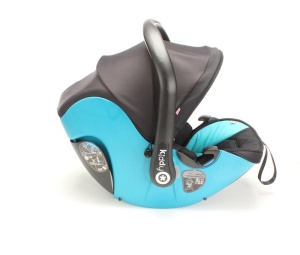 Something I'm a fan of when it comes to installing through LATCH anchors is the "One-hand-secure system", which is Kiddy's terminology for what amounts to a really easy installation of the Evolution Pro base. I tried myself and was able to get a secure installation of the base in as little as 6 seconds after a few minutes of getting used to it, so 5 doesn't seem far off the mark.
The Evolution Pro base looks beefy and feels solid and comes with 7 different adjustment angles to help you achieve the best recline for your baby as well as a highly visible position indicator. You can buy as many additional bases as you would like to in order to be able to move your Evolution Pro easily from one car to the next without needing to handle a baseless seat belt installation, which takes more time and is likely to rouse a sleeping baby. The process to install the base, as I noted above, is a quick one and the Evolution Pro clicks in and out of the base without any fuss.
The harness of the Evolution Pro is a no-rethread harness, which is always nice for speed in adjustability, and you have five different harness heights to choose from. Something else that's unique about the Evolution Pro is that you get a 3-point harness instead of a 5-point one. It's just as safe and is actually the default harness configuration in Europe. The reason why a 3-point harness is used is because it allows the Evolution Pro internal seat to lie flat when it's not in the vehicle, which is the next point of discussion.
You can use the Evolution Pro to achieve a completely flat recline for a child when the seat isn't installed in a vehicle! This is pretty incredible, as a flat position is what's best for newborns, but it's not possible in any other infant car seat currently on  the market. You can either lie the seat flat when using it on the ground or when using it in a stroller. There are safeguards built into the seat to keep people from being able to install it in a vehicle while the seat is flat. For example, the Pro will not click into its base unless the internal seat has been adjusted into a reclined position. Similarly, once the seat has been reclined into a flat position, tabs pop up to keep the belt path on the seat from being usable.
Besides that, just keep in mind that your harness straps must either be below your child's shoulders or at her shoulders in order to use the seat. Thanks to the 37″ height limit, you're going to be able to get a lot of time in the seat.
Fit wise, the Evolution Pro will fit regular-sized newborns as well as premature infants, which means it can be used, as is the case with every infant seat sold in the US, to take your baby home straight from the hospital.
Safety
Safety-wise, the Evolution Pro passes all applicable US safety tests, as well as the relevant European ones. European car seats are tested to higher standards than American ones, including with side impact and additional force tests that we could really use here to give us a better picture of how different car seats compare to each other.
Buy the Kiddy Evolution Pro on Sale at Amazon here.
Why Buy the Kiddy Evolution Pro?
There are several reasons why the Kiddy Evolution Pro is worth buying. The first and biggest one is that it's officially the best infant seat for extended-rear facing in the United States, simply due to the height limit that blows away every other infant seat out there. According to CDC growth charts, a 50th percentile child by height won't reach 37″ until age 3, at which point he or she would weigh 30 pounds if also 50th percentile by weight. This means that you could literally rear-face an average child in this infant seat until he or she turned 3! That's as good as it gets for an infant seat right now.
The high weight limit of 35 pounds combined with the high height limit of 37″ makes this seat an excellent value for parents who are interested in continuing to rear-face for as long as possible. This is particularly important since the most important factor about car seats for children under around 4 or 5 is their ability to keep our children rear-facing as long as possible.
This means that you shouldn't stop with the Kiddy Evolution Pro once your child eventually outgrows it, even though it'll take longer for your child to do so. While 35 pounds and 37″ are great compared to what's currently available in the infant seat market, it's not going to get your kids to age 4, and that's where I think we need to aim for when it comes to rear-facing. And if that's your goal, you'll want to look at convertible seats like the Advocate ClickTight, Marathon ClickTight, or Boulevard ClickTight, which are among the best convertibles that rear-face until 40 pounds, or the Fllo, Foonf, Rainier, or Pacifica, which all rear-face until 50 pounds.  These seats are, in my opinion, the safest convertible car seats young children can use.
Beyond the ability to practice extended-rear facing in an infant seat, I also like that the Evolution Pro allows you to fully recline an infant for sleeping while the seat is in a stroller or on the ground, as this is truly what's best for babies at this age. Ideally, you don't want them in car seats at all when you can help it, but when you can't, if you can have them flat, that's as good as it gets. Oh, and the Evolution Pro is approved for aircraft travel by the FAA.
There is no better infant seat available today in the United States than the Kiddy Evolution Pro. It's raised the bar in what we should expect from an infant seat, and is officially the best infant seat I have ever reviewed. You can buy it here in Lavender, Walnut, Zebra, Hawaii, or Racing Black. Unfortunately, it's not yet available in Canada, but a good Canadian infant seat I'd recommend is the KeyFit 30, available here.
—
If you find the information on car safety, recommended car seats, and car seat reviews on this car seat blog helpful, you can bookmark and shop through this Amazon link. Canadians can bookmark and shop through this link.