Britax has been releasing one excellent convertible after another over the last few years, which has given me plenty to review and recommend. I've already reviewed and recommended the Advocate ClickTight, Boulevard ClickTight, and Marathon ClickTight, and was also a fan of both the Advocate G4.1 and the Boulevard G4.1, which I also reviewed. The Marathon G4.1, the non-ClickTight version of the Marathon, was next on my list to review, but I had a number of 3 across tests to run first. After those, I ordered a Marathon G4.1 with free shipping from Amazon a few days ago and took a detailed look at it when it arrived at my doorstep. Here's what I found!
Britax Marathon G4.1 – Quick Review
The Britax Marathon G4.1 is sure to please parents and caretakers interested in keeping up with the newest Britax convertibles while sticking to a budget. It's the newest version of Britax's popular Marathon convertible line, which Britax recently refreshed with the Marathon ClickTight, and which also featured the still-good Marathon G4. The Marathon G4.1 is an update to the G4, and a good one.
Since the Marathon G4.1 is a convertible seat, you can use it in both rear-facing and forward-facing arrangements. When it's rear-facing, you can use it to keep your infants, toddlers, and preschool-aged children safe, while when you use it in a forward-facing setup, it's suitable for elementary school-aged children.
The Marathon G4.1, like the Advocate G4.1, Boulevard G4.1, Advocate ClickTight, Boulevard ClickTight, and Marathon ClickTight, is one of the newest convertible car seats available from Britax. But when you buy the Marathon G4.1, you get to take advantage of many of the safety features built into the Marathon and Boulevard ClickTight, such as those related to side impact protection, at a significantly lower price, which is something worth talking about. Let's look at the Marathon G4.1 up close to see if it's really a Marathon ClickTight (or even a Boulevard ClickTight!) on a budget.
Buy the Britax Marathon G4.1 on Sale with Free Shipping at Amazon here.
Britax Marathon G4.1 Weight and Height Limits
Rear-facing: 5 to 40 pounds. There is a 49″ height limit for children that's based on the tallest part of the seat shell. This contrasts with the Marathon ClickTight height limit that's based off the top head wing height, and means that you'll be able to use the ClickTight version longer by height than the Marathon version. That said, you can still use the G4.1 for a good amount of time. Your child's seated shoulder height can span 9″ to 16.75″ while you have between 8.5″ and 17.5″ in harness height.
Forward-facing: 20 to 65 pounds. Your harness height can extend to a top height of 17.5," or .2″ shorter than the top harness height in the Marathon ClickTight, which is 17.7." This means that your forward-facing time in the Marathon G4.1 will be, for all intents and purposes, about as good as it is in the ClickTight. In comparison, the Boulevard G4.1 top harness height is also 17.5," while the Boulevard ClickTight top harness height is 19.4." Your lowest available harness height is 8.5″ and you can adjust it in 1″ increments. The seated shoulder height ranges between 12″ and 16.75″ while forward-facing.
While Britax is fine with you forward-facing your child once s/he is both a year old and 20 pounds, I'd suggest waiting to forward-face for several more years. The longer you rear-face, the safer your child is, and if you can rear-face until your child is even 4 or more, that's the best thing you do for your little one when it comes to car seat safety. Rear-facing children are less likely to suffer serious or fatal injuries if they're involved in car crashes. Once you turn your little one forward-facing, you'll then want to continue doing so as long as feasible in a harness until your child is ready for a booster seat.
Dimensions of the Britax Marathon G4.1
The Britax Marathon G4.1 is 18.5″ wide, 26″ tall, and 21″ in depth, front-to-back. The width is the same as that of the Marathon ClickTight, but the seat is 2.5″ taller and 2″ deeper than its ClickTight counterpart. As a result, you'll have an easier time installing either the Marathon G4.1 or the Marathon ClickTight in 3 across configurations than you would installing the Advocate G4.1 or Advocate ClickTight, since both are 20.5″ wide. The Boulevard G4.1 and Boulevard ClickTight are the same 18.5″ width.
Have a look at the complete 3 across car seat installation guide to figure out safe seats compatible with your car, SUV, minivan, or pickup. A good reason to choose the Marathon G4.1 over its ClickTight equivalent is that the G4.1 weighs 19.5 pounds, or 9 pounds less than the 28.5 pounds of the Marathon ClickTight.
Using the Britax Marathon G4.1
Installation, rear-and forward-facing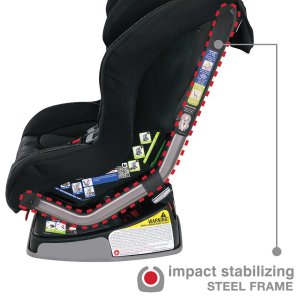 The Marathon G4.1, like the Boulevard and Advocate G4.1, looks impressive out of the box. It feels plush and secure at the same time, with a steel frame that serves as a metal spine of sorts inside the car seat. The steel frame works to absorb a good amount of energy in a collision that would potentially harm your child if the frame were not present. This is the kind of technology present in the Marathon G4.1, the Boulevard G4.1,and the Advocate G4.1, and illustrates how the Marathon serves as a bargain seat in the Britax line while retaining many of the features of the higher trim seats.
Installing the Marathon G4.1 doesn't take much work, whether you do it through a seat belt or through LATCH. I prefer using the seat belt when I need more room for 3 across installations, but I prefer LATCH when I only need to install one or two car seats. "Easy-on, easy-off" LATCH connectors are present throughout the new Britax convertible line, and these are basically audible LATCH connectors that let you know when the connectors are locked into place and that are also easy to connect and disconnect. They're simple, and they work well.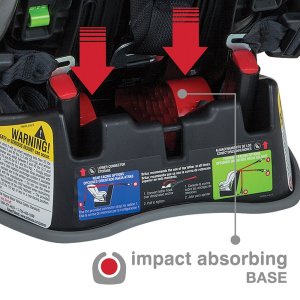 The base of the Marathon G4.1 is designed to compress somewhat in the event of a collision while at the same time reducing how much your child moves forward. As a result, it's kind of like an anti-rebound bar. There aren't many manufacturers that build these kinds of safety features into their seats, which is why the only seats I typically compare to the Britaxes are seats like the Fllo, Foonf, Rainier, and Pacifica.
As with the Boulevard G4.1, 3 recline positions are available with a side-level indicator to show you if your rear- or forward-facing angle is safe for your little ones. The rear- and forward-facing LATCH and seat belt paths are clearly marked, which is another pro across the G4.1 line. Keep in mind that it is important to use a top tether when forward-facing, even though it's not yet required in the US.
Harness, Fit, Safety
The Marathon G4.1 includes a 10-position no-rethread harness to make it easy to choose your child's best harness height setting. Remember that when you're rear-facing, the straps need to be at or below your child's shoulders and at or above the shoulders when forward-facing. A 2-position buckle strap is also included.
In terms of comfort, there are several padded areas in the seat, including in the shoulder pads, buckle pad, and cover. An infant positioning pillow is also included to help provide good fit for the youngest infants.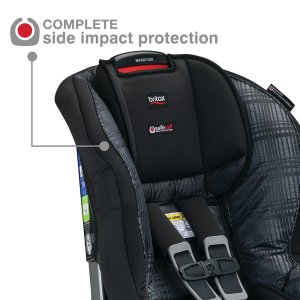 The G4.1 harness is layered with impact-absorbing padding so the chest clip is more likely to stay in position in a collision. Just like the base and frame, the harness is also built to absorb some crash energy. It's a 5-point harness that's comfortable and snug against your child. The seat cover is easily removed and machine-washable.
The Marathon G4.1 shell is also packed with energy-absorbing foam to help keep your child safer in a collision. Similarly, the head rest is designed to absorb impacts while keeping your child's head and neck in a secure position. However, you don't get the external cushions present in the Advocate G4, G4.1, or ClickTight, or in the Pinnacle 90.
Buy the Britax Marathon G4.1 on Sale with Free Shipping at Amazon here.
Why Buy the Britax Marathon G4.1?
A good car seat will do a good job of keeping your little ones safe, and to do that, it needs to have the basics in place. For me, the basics are about rear-facing for as long as possible. Thanks to the Marathon G4.1, you can keep your son or daughter in a rear-facing position until he or she weighs 40 pounds, which I love since rear-facing is the safest position for every child.
Keep in mind that there are a number of seats that will allow you to rear-face until your child weighs 50 pounds, such as the Fllo, Foonf, Rainier, and Pacifica. However, even though the Marathon G4.1 isn't one of these seats, it's still a great one to have. What we want to do is keep our children seated in the safest orientation possible, which means that we're going to aim to rear-face past 1, 2, and 3 until 4 if possible. This is standard practice among parents in Sweden, and over there, nearly no children are lost each year due to car crashes. If they can make that happen with best practices, so can we.
Other reasons to buy the Marathon G4.1 for me include the large number of energy-absorbing components built into the seat to reduce the tremendous crash forces placed on a child's body in a collision. Every ounce of technology used to keep a child safer and more likely to walk away from a crash is worth looking into, and there is plenty present in the G4.1. I also like the fact that the seat has FAA approval for aircraft travel, as well as the fact that it's more or less made locally in the United States and has a long product life.
In conclusion, for me, the Marathon G4.1 is a great ClickTight alternative compared to the Marathon ClickTight. It's a safe convertible seat with a number of features borrowed from the Boulevard and Advocate G4.1 at substantially less cost. You can buy it here in Kiwi, Onyx, Domino, Pink Giraffe, and Silver Cloud. Canadians can buy it here.
—
If you find the information on car safety, recommended car seats, and car seat reviews on this car seat blog helpful, you can shop through this Amazon link for any purchases, car seat-related or not. Canadians can shop through this link for Canadian purchases.