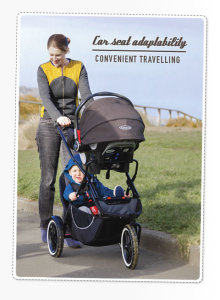 Phil and Teds has been in the stroller industry for a number of years now, and although Mike and I are primarily fans of side by side strollers like our rocking Bumbleride Indie Twin, we can't help but admire their awesome approach to tandem strollers with offerings like the Navigator. As a result, when a friend offered me their Phil and Teds Classic stroller with a double kit for a couple of weeks, I couldn't turn him down.
Phil and Teds describes their Classic stroller as the best value high end tandem or inline stroller on the market, and considering how much cheaper it is than their Navigator while sharing so many of its key features, it's hard to argue with their assessment. It's an all terrain stroller, which means it's designed for light off-roading but isn't a fully capable double jogging stroller. On the other hand, it lets you do more than you'd be able to with a double walking stroller, which is why we prefer to place it in a third category that's rapidly growing in the high end stroller market.
You can buy the Phil and Teds Classic Stroller here, as my girlfriend did a few months back. She couldn't stop talking about it, which got me curious about it. What follows is a pretty detailed review of the Phil and Teds Classic stroller in case you're on the fence about just how awesome it is.
Weight and Dimensions of the Phil and Teds Classic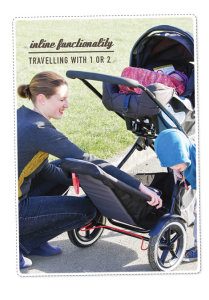 How much does the Phil and Teds Classic weigh?
The Phil and Teds Classic weighs around 25 pounds when in single seat mode and around 10 pounds more, or 35 pounds, when the second seat is attached. In this respect, it's slightly heavier than the average high end side by side double stroller, though still lighter than the higher end tandem stroller it competes with, the Phil and Teds Navigator.
What's the narrowest door you can fit a Phil and Teds Classic through?
The Classic can fit through a door as narrow as 24.4″, which practically means a 25″ door. This is about as narrow as it gets for a double stroller, and as good as what you'll get from the Mountain Buggy Duet, which is the narrowest side by side double stroller on the market today. Of course, tandem strollers naturally have an easier time of fitting through doors due to the design, but it's still good to measure and know that the Classic will be able to get through pretty much any door without issue.
Buy the Phil and Teds Classic Stroller on Sale at Amazon here.
What are the length, width, and height of the  Phil and Teds Classic?

When unfolded, the Classic is 24.4″ wide. When folded with the wheels on, it's 30″ long, 11.8″ tall, and 24″ wide.
Using the Phil and Teds Classic with Children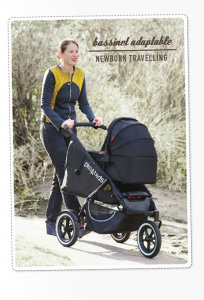 Can you use infant seat adapters with the Phil and Teds Classic?
Yes, infant seat adapters from a range of manufacturers may be used with the Classic. Phil and Teds states the Classic is designed to fit children between newborn and toddler age ranges. Specifically, one newborn and a toddler can fit in the seat, as can two toddlers. It is not designed, however, to accommodate a pair of infants. You'll need a side by side double stroller like the Bumbleride Indie Twin, Mountain Buggy Duet, Baby Jogger City Mini GT Double, or Baby Jogger Summit X3 Double for that feature. Keep in mind that you can also use a bassinet attachment in the Classic, which is something we love since not every stroller will let you do so.
What are the recommended height, weight, and age limits for children you can fit in the Phil and Teds Classic?

The recommended age limits for children in the Classic are from birth to 6 years. The weight limit for the main seat is 44 pounds. If you have a second seat installed, the front weight limit remains at 44 pounds while the rear seat can add another 33 pounds, bringing the total weight limit to 77 pounds. This is significantly lower than some of the best double side by side strollers on the market, which tend to top out at 100 pounds in total, or 50 pounds per seat. However, this is one of the inherent features in the design of a tandem stroller.

What are the seats, sun canopies, and seat support like in the Phil and Teds Classic?
The canopies provide a decent amount of coverage in the Classic, as you can see in the snapshot above. It's adjustable in 3 modes and includes a UV mesh sun visor. The seats themselves are comfortable and come with 5 point safety harnesses.
Can you recline the seats in the Phil and Teds Classic?
Yes, the main seat can recline to a completely flat position to make it ideal for newborn use. There are three positions in total for adjusting the main seat (full up, halfway, and flat). The second seat cannot recline completely (we think it only goes back around 5 or so degrees compared to the main setting), and will take up much of your storage room beneath the stroller, which is unfortunate but necessary in the tandem stroller design.
Buy the Phil and Teds Classic Stroller on Sale at Amazon here.
Moving, Using, and Storing the Phil and Teds Classic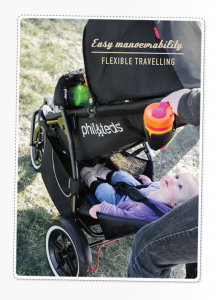 What is it like to push the Phil and Teds Classic, and is the handlebar adjustable?
Pushing the Classic is smooth, easy, and comfortable. It feels lighter than a number of tandem strollers like the City Select, and is more reminiscent of the Navigator, which makes sense, seeing as they are made by the same parent company. The handlebar has a foam grip and is adjustable to two positions (low and high) that do a good job of fitting a wide range of parent heights. Steering is also fluid and feel stable the majority of the time. The stroller is an all terrain design, which means you're allowed to do light jogging with it and will definitely have more flexibility in where you go than you would with a typical walking stroller.
We were fine pushing ours over sidewalks, gravel, pavement, dirt trails, and even through a bit of snow. That said, it's definitely not a jogging stroller, and you'll want to look at other models if you need something you're going to be running hard with every day.
The geometry of the Classic was designed specifically to make it easier to pop curbs by raising the front wheel, and I can verify after several days of curb popping that they did a good job here. Of course, you can lock the front wheel if you're going over rougher ground or if you want to do a bit of jogging, while if you're looking for full maneuverability you can let the wheel swivel freely.


What are the brakes, tires, suspension, and wheels like on the Phil and Teds Classic?
Twin foot brakes are included on the Classic, which is a nice touch for security; you can effectively stop the stroller with either foot while on the go. The foot brake is bright red and clearly marked by each wheel, which make it easy to locate even in the middle of a grassy field. The tires are 12″ in diameter, which is nice and large for getting over bumps and hills, and they're filled with air, which also makes the ride smoother when moving.
 How easy is it to pack up, assemble, or disassemble the Phil and Teds Classic?
Folding the Classic up is rather easy; it's designed to be done with one hand in a "pull and slide" approach, per Phil and Teds. We found it relatively easy to figure out after a bit of practice, and were even able to get to the point where we could fold the seat with a single hand. However, all of this flies out of the window when the second seat is present; in such cases, you will most definitely need both hands and you'll also need to remove the second seat before you can fold the stroller down. Once folded, it's likely to fit in the trunk of any mid-sized or larger car, SUV, or minivan.
What are the cargo storage and weight limits of the Phil and Teds Classic?
The gear tray in the Classic has a 5kg or 11 pound capacity, which is comparable to what you'll find in other tandem strollers. Howeve, it's important to note that you're not going to be able to use much of that space if you have second seat set up; such are the limitations of the tandem design. We also found it slightly difficult to gain access to the basket when we had the main seat set flat.If you're looking for a cavernous amount of space that remains usable when both kids are in the stroller, you'll need a high end side by side all terrain model like the Tri-mode Twin EX or the Indie Twin.
Concluding thoughts on the Phil and Teds Classic
Is the Phil and Teds Classic worth it?
In my opinion, the Phil and Teds Classic is definitely worth it; it's essentially a cheaper version of the Phil and Teds Navigator that seems to do almost everything the Navigator does for less money. You can buy the Phil and Teds Classic here in Black and Red.
—
If you find the information on car safety, recommended car seats, and car seat reviews on this car seat blog helpful, you can bookmark and shop through this Amazon link. Canadians can bookmark and shop through this link.