I've reviewed more Britax car seats than any other due to how impressed I've been at their dedication to safety. Most recently, I've reviewed and recommended the Advocate ClickTight, Boulevard ClickTight, and Marathon ClickTight, as well as their equally excellent counterparts the Advocate G4.1, Boulevard G4.1, and Marathon G4.1. However, if you're on a slightly smaller budget than that you'd need for the Advocate or Boulevard lines, you owe it to yourself to check out the Britax Pavilion G4, which shares many of the features of the six seats I just mentioned while costing a wee bit less. I ordered a Pavilion G4 with free shipping from Amazon three days ago and it arrived last night. Here's why it's worth getting this seat.
2015 Britax Pavilion G4 – Quick Review
The Britax Pavilion G4 is essentially an alternative to to the Boulevard or Pavilion lines. Since it hasn't been updated to the G4.1 edition yet, you can often end up saving a bit of money when you buy it. It doesn't feature a ClickTight alternative the way the Advocate, Boulevard, and Marathon do, but it's definitely from the same factories and shares many of the same external and internal parts. It is an update to the Pavilion G3, and it's a good one.
Because the Pavilion G4 is a convertible car seat, you can use it in two positions: rear-facing and forward-facing. The rear-facing configuration is designed to be used with infants, toddlers, and even preschoolers, while the forward-facing configuration is capable of keeping elementary-aged children safely restrained.
Some of the neat safety features built into the Pavilion G4 include an impact-absorbing base, steel bars within the frame of the seat, and an energy-absorbing tether for forward-facing tether. Let's take a detailed look at the Pavilion G4 to figure out if it stands up well to its Advocate, Boulevard, and Marathon siblings.
Buy the Britax Pavilion G4 on Sale at Amazon here.
Britax Pavilion G4 Weight and Height Limits
Rear-facing: 5 to 40 pounds. Your child must be 49″ tall or less when standing. The standard 1″ requirement is also in place, in terms of how the top of your child's head must not come within 1″ of the top of the seat shell. Practically speaking, this is the real height limit of this seat and of most car seats available, as what matters most is whether your child holds his or her height in the torso or in the legs. Your child's seated shoulder height can range from 9″ to 16.75″, which is what you'd get from the Marathon G4.1. The harness  slot heights range from 8.5″ to 17.5″, again identical to that of the Marathon G4.1.
Forward-facing: 20 to 65 pounds.  Your top available harness height is 17.5″, which is the same as that offered in both the Boulevard and Marathon G4.1, while the lowest available harness height remains at 8.5″ with 1″ adjustable increments. Your forward-facing seated shoulder height ranges between 12″ and 16.75."
Britax states you can forward-face your child as soon as she or he turns 1 and weighs at least 20 pounds, but as an extended rear-facing advocate, I suggest you keep rear-facing as long as you can, and ideally don't forward-face until the preschool years (when your child is 4 or more). This is the safest position for young children when traveling in a car, and it makes them a lot less likely to suffer injuries that are serious or even fatal if they are involved in ca collisions. Once you forward-face you little ones, you'll then want to forward-face in harnessed seats for as long as you can until your child is ready for a booster seat.
Dimensions of the Britax Pavilion G4
The Britax Pavilion G4 is 18.5″ wise, 26″ tall, and 21″ deep front-to-back. It shares the same platform, and therefore width, as that of the Boulevard and Marathon G4.1 seats, which means that for 3 across configurations, you can expect it to behave exactly the same way.
You can review the full 3 across car seat installation guide here to see which safe car seats will work in you car, SUV, minivan, or pickup. The Pavilion G4 weighs 19.5 pounds, which is substantially less than any of the ClickTight seats, although it doesn't offer a weight advantage over the Marathon G4.1.
Using the Britax Pavilion G4
Installation, rear-and forward-facing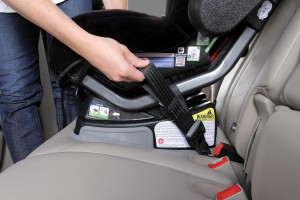 Out of the box, the Pavilion G4 closely resembles the Boulevard, Marathon, and Advocate G4.1 seats, with a plush and secure feel, a large and enveloping black shell. On the inside, it features integrated steel bars give the seat additional structure and strengthen how the seat connects to the vehicle.
Installing the Pavilion G4 is straightforward both through the seat belt system or through LATCH. I'm a fan of using the seat belt when I want as much room as possible to install 3 car seats across, but when I only need to install one or two seats, I go with LATCH much of the time because it's usually faster and requires less effort. Premium lower LATCH connectors are used with push button connectors; they're basically the same thing as the "easy-on, easy-off" connectors found in the Boulevard, Marathon, and Advocate. They include the same audible click alert to let you know you've got the connectors locked in securely. They're designed simply and they're easy to use, so I like them.
The Pavilion G4 base features what Britax calls "SafeCell Technology," which is just a fancy way of naming their compressible impact-absorbing base. This is the same base technology found in their highest end seats like the Advocate and Boulevard, and it works like an anti-rebound bar to reduce your child's forward motion n a collision while also absorbing crash forces that would otherwise pass through your child. Details like these are why I hold the Britax convertibles in rarefied air along with seats like the Fllo, Foonf, Rainier, and Pacifica; these are some of the best seats money can buy these days.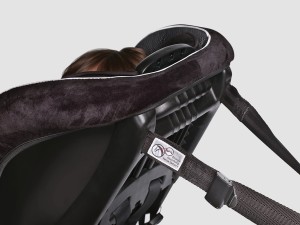 As with the Boulevard or Marathon G4.1, you can choose through multiple recline positions to help determine the safest rear- or forward-facing angle for your little ones. A side level indicator is also included, and you also have clearly marked rear- and forward-facing LATCH and seat belt paths, which is great for achieving safe installations. An energy-absorbing tether system is included for forward-facing tethering, which is highly recommended, and is also designed to help reduce rotation due to its two point attachment to the seat. Remember that even though forward-facing tethering isn't required in the US, it's a very good idea to use it if you can. It is the law in Canada, which is farther along in car safety than we are in the US in this respect.
Harness, Fit, Safety
The Pavilion G4 features a 10-position no-rethread harness, just like that in the Boulevard and Marathon G4.1 lines, that makes it easy to find the right harness height setting for your child. As always, keep in mind that when rear-facing, the harness straps must either be at your child's shoulder height or below, while when forward-facing, the straps must be at or above shoulder height. You get a 2-position buckle strap in the G4, just as you do in the other seats.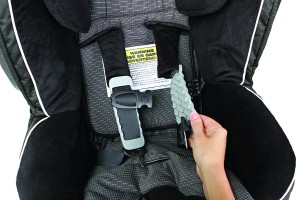 As far as comfort is concerned, the Pavilion is a plush and padded seat that'll definitely make it easier for your kids to pop off to sleep. I feel padding throughout the seat, such as in the body of the seat, in the no-tangle harness pads, in the buckle pad, and of course in the seat cover. I also like the inclusion of the infant positioning pillow to assure a good fit for even the youngest travelers.
The Pavilion's harness has impact-absorbing padding in the harness along with an audible indicator to let you know when the harness is appropriately snug (not too tight, not too loose). Considering how a lack of sufficient harness tightness is one of the biggest mistakes parents make when installing car seats, I'm glad to see this feature in the Pavilion and would like to see it in more car seats. The harness is a 5-point harness while the seat cover is machine-washable and easy to remove. Overall, I don't have any complaints here.
Buy the Britax Pavilion G4 on Sale at Amazon here.
Why Buy the Britax Pavilion G4?
For me, the crucial elements of what makes a car seat worth buying have to do with the basics, and the basics involve rear-facing as long as possible. The Pavilion G4 lets you keep your son or daughter rear-facing until he or she weighs 40 pounds. This is great because rear-facing is the safest position for every child.
It is important to note that there are several seats out there that will allow you to rear-face until your child weighs 50 pounds, such as the Fllo, Foonf, Rainier, and Pacifica. However, even though the Pavilion G4 isn't one of the aforementioned seats, it's still a solid seat that's well worth buying. The overall goal is to keep our kids rear-facing as long as we can, which means rear-facing past 1, 2, and 3 until 4 or even 5 if we can. In Sweden, this is what parents do by default, and as a result, they have nearly zero child fatalities in car collisions each year. We have a lot to learn from them, and this is a great place to start.
For me, additional reasons to buy the Pavilion G4 include the wide range of energy-absorbing features built into the seat to tamper the huge crash forces a child experiences in a collision. I'm also a fan of the FAA approval for aircraft travel that the Pavilion has, as well as the fact that it's basically made here in the United States and has a good product life. The biggest cons of the seat are that it doesn't let you rear-face past 40 pounds and that it isn't the best seat for taller children; you'll want to look at seats like the Advocate ClickTight and Boulevard ClickTight for maximum height range.
In conclusion, am I a fan of the Pavilion G4? Definitely. It's a great alternative to the Boulevard and Marathon seats and is still substantially cheaper than some of the highest end seats out there, while packing in good safety features. You can buy it here in Cub Pink, Onyx, and Gridline with free shipping and free returns. You can also buy it here in Calgary and in Bluepint with free shipping and free returns. Canadians can buy it here.
—
If you find the information on car safety, recommended car seats, and car seat reviews on this car seat blog helpful, you can shop through this Amazon link for any purchases, car seat-related or not. Canadians can shop through this link for Canadian purchases.