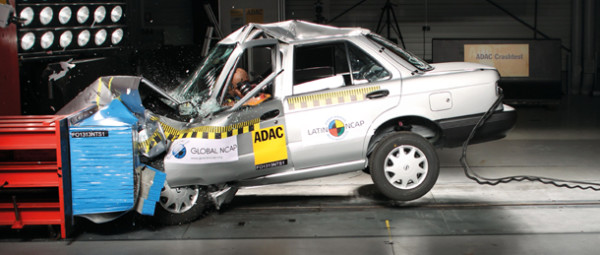 While I review a number of car seats and strollers on this blog, my original, enduring, and primary objective has always been related to road safety and sustainability, whether in the areas of auto safety, cyclist safety, or pedestrian safety.
To that end, this is a blog about advocacy, and the latest policy report by Global NCAP, Democratising Car Safety: Road Map for Safer Cars 2020, released this March 2015, attests to the need for further advocacy and policy changes in car safety and design around the world.
The safety of your car depends on where you buy it
Commenting at the United Nations in Geneva, Max Mosley, the Chairman of Global NCAP, stated a number of life-saving improvements available in high-income (i.e., rich) countries weren't available for families in lower-income (i.e., poorer) countries. In other words, income inequality around the world is reflected once again in an inequality of opportunity that leads to needless deaths.
"For example, crash test standards introduced twenty years ago for cars sold in Europe, are yet to be met by many new cars, and even brand new models, being sold today in leading middle income countries in Africa, Asia, and Latin America. This is entirely unacceptable. Manufacturers cannot continue to treat millions of their customers as second class citizens when it comes to life saving standards of occupant protection." 
This is criminal. Car manufacturers know how to design safe cars; every new car released in the United States these days passes the moderate overlap crash test, for example, while the majority come with side airbags, all come with front airbags, and all come with Electronic Speed Control, or ESC. These are considered as basic as Anti-Lock Braking Systems, or ABS, in a car: no one would consider selling (or buying) a new car without them in the US.
However, none of these standards are standard in a number of markets in Africa, Asia, and Central and South America. The same manufacturers sell inferior new cars to families in non-rich countries because they can. It's hard to imagine a more clear demarcation of the pitfalls of globalization and the ability of multi-national corporations to pursue profits over people.
Car safety needs to be extended to all nations, regardless of their income
"The drive for the democratisation of car safety must now be extended across all automotive markets worldwide. By 2020 at the latest we want all new cars to meet basic standards for both crash protection and crash avoidance. They must have crumple zones, air bags, and electronic stability control. Our new report sets out ten clear recommendations to transform global car safety as well as a realistic and affordable timetable for their implementation."
In other words, we need more humanity when it comes to car safety. The availability of safer cars shouldn't be limited to the rich. Your ability to choose a vehicle with 21st-century safety standards shouldn't depend on your nationality or the gross domestic product of your homeland.
There are clear similarities in these inequities (and in their resolutions) to those involving availability of healthcare and medical services, maternity and paternity leaves, housing, food, clean water and environments, transportation, and other essential life services. To put it as simply as possible, we are all human, and we all deserve the chance to be healthy, safe, happy, and whole.
—
If you find the information on car safety, recommended car seats, and car seat reviews on this car seat blog helpful, you can shop through this Amazon link for any purchases, car seat-related or not. Canadians can shop through this link for Canadian purchases.