I'm always a fan of quality and affordable car seats, and I've reviewed a number of them by Graco, including the My Size 65, Head Wise 70 and Size4Me 65. The latter two seats are pretty much my favorite budget car seats of all time. Why? Because they make extended rear-facing something most parents can afford, since both seats clock in at under $200 on Amazon. Yes, it's true that a seat like the Fllo, Foonf, Rainier, or Pacifica will allow you to rear-face until 50 pounds, but they cost significantly more than many parents can afford.
The Head Wise and Size4Me, therefore, are definitely the best convertibles under $200. However, due to changes in car seat regulations about how forward-facing weight limits must be more in line with height limits, the Head Wise 70 is no longer produced, although the Head Wise 65 is still available. Never fear, though. Graco basically took the shell and simplified it to make the Contender. It's the newest member of the Graco clone family, and this review is about why it's a seat worth buying for your little one if you're looking for a great convertible on a budget.
The Graco Contender is a budget-friendly version of a family of already budget-friendly convertible car seats by Graco. One of the key differences between it and the Size4Me, Head Wise, and Fit4Me include the fact that it has one set of LATCH connectors that can be switched between rear-facing and forward-facing modes instead of separate connectors in the other models. Another difference is that it doesn't include padded covers on the harness straps. Besides small changes like these, it's basically the same seat.
Practically speaking, the Graco Contender is a convertible seat with wonderfully high head room limits, which allows kids who use it to keep rear-facing until they reach 40 pounds. Being a convertible seat, you can use it both rear-facing and forward-facing. Because it has low harness strap height options and a lower starting weight limit, you can buy the Contender online from Amazon, install it in your family vehicle, and use it to drive your newborn baby home from the hospital. And because it has a 7 year lifespan, you can keep your little one in the same seat for several years into the future.
It's a great little seat. Let's dive into more details about it.
2015 
Graco Contender Li
mits for Weight and Height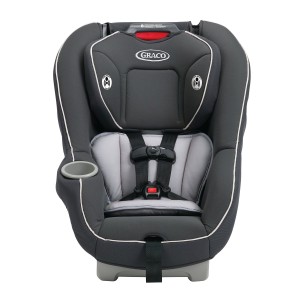 Rear-facing: 5 to 40 pounds. You'll want to rear-face as close to that 40 pound limit as you can before you turn your child forward-facing, as the rear-facing configuration is the safest position for a child in a moving vehicle. There is a 1″ rule that states that your child's head needs to stay below 1″ of the head rest when the head rest is extended to its maximum position. Because the shell height is a full 28″ tall when it's fully extended, just about every child out there will be able to reach 40 pounds in weight before outgrowing the seat rear-facing by height. This is one of the many reasons I love the Graco clones.
Forward-facing: 20 to 65 pounds. There is a 49″ height limit when children are forward-facing. While Graco allows you to forward-face your children from a minimum age of 1, I recommend as a reader of The Car Crash Detective that you aim to delay forward-facing for as long as you can in this, or in any other seat, and then continue to forward-face for as long as necessary before switching to a booster seat. There's no need to rush forward-facing, especially in a seat that actually allows you to get several years out of it in the rear-facing configuration.
Dimensions and Key Stats of the 
Graco Contender
The shell width is 18.5″, the height of the seat is around 23.5″, and the depth, or length, is just about 22." There is a 7 year lifespan for the seat and the harness height ranges from 7″ if the included infant insert is used all the way to 17.5″ on the top end. There are 8 head rest positions available and a no-rethread harness, while there are 2 crotch buckle positions. One is 4.5″ from the seat back while the other is 6″ from the seat back. The Contender weighs 16 pounds, making it significantly lighter than its more feature-filled Graco twins. And at just over 18″ wide, you'll be able to fit it in a range of small cars and SUVs, as well as larger ones, when it comes to 3 across installations. Check out the 3 across car seat guide for more ideas about seats that are likely to fit in your vehicle.
There is a lower LATCH anchor weight limit of 45 pounds that decreases to 42 pounds if the seat was made before 2015; check your seat's manufacturing date to know for sure.

Using the 
Graco Contender
The Graco Contender Compared to the Size4Me, Head Wise, My Size, and Fit4Me: Similarities and Differences
Out of the box, the Contender looks incredibly similar to its fellow Graco twins. The biggest differences between price, as I've noted above, are mostly in the connection mechanisms and a few cosmetic items. Instead of separate LATCH connectors for rear-vs-forward-facing, you get a single set that you can switch. Instead of Graco's In Right LATCH connectors that feature a push-button release, you get regular LATCH lower anchor connectors that are almost as easy to operate. Instead of a pair of padded harnesses, you get regular ones. And instead of a handle that allows you to switch back and forth between rear-and forward-facing, you get a block that you flip up or down for rear-vs-forward facing.
These options add to ease of installation for the more expensive seats, which might make you want to consider them if you can afford them. The Head Wise, for example, definitely includes more seat padding than the Size4Me, and is potentially a more comfortable seat to sit in. But if you're on a smaller budget, if you're experienced in car seat installations, if you're looking for a lighter seat, or if you don't need or can't use LATCH lower anchors (for example, if you've got a car older than 2001 that doesn't include lower anchors, or if you've got a child who weighs 45 pounds), then you owe it to yourself to consider the Contender.
Installing the Graco Contender
As I noted above, there are a pair of lower LATCH connectors on the Contender. A bar that's on the side of the seat connects them to the seat. To switch between rear-and forward-facing LATCH modes, you simply remove the webbing and anchors, slide them forward or backwards in the bar, and thread them through to the opposite setting. The straps are designed so they won't be long enough to install correctly if the belt path is incorrect. You're also allowed to borrow LATCH anchors from other seating positions if your vehicle allows you to do so.
To set the recline, you can choose between rear-facing and forward-facing on the recline block. Whichever mode you're using needs to have the labeling right side up for it to be correctly set. The blue block should be readable when rear-facing while the orange label should be readable when forward-facing. It's easy to read and easy to understand, which increases the odds of a safe and secure installation. Similarly, belt paths for rear-facing or forward-facing, whether with LATCH or with seat belts, are marked very clearly. Good job, Graco!
Installation didn't take me much trouble, whether rear-facing or forward-facing, and whether using the LATCH system or the seat belt system. I tend to prefer LATCH installations when installing single seats and seat belt installations when installing multiple seats, especially when aiming for 3 across car seat installations. A side ball indicator helps you find the correct recline angle, which can vary between 30 and 45 degrees.
Child Fit in the Graco Contender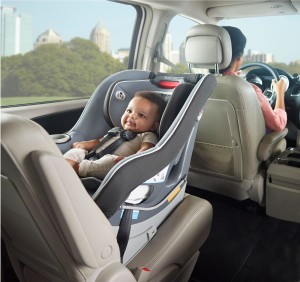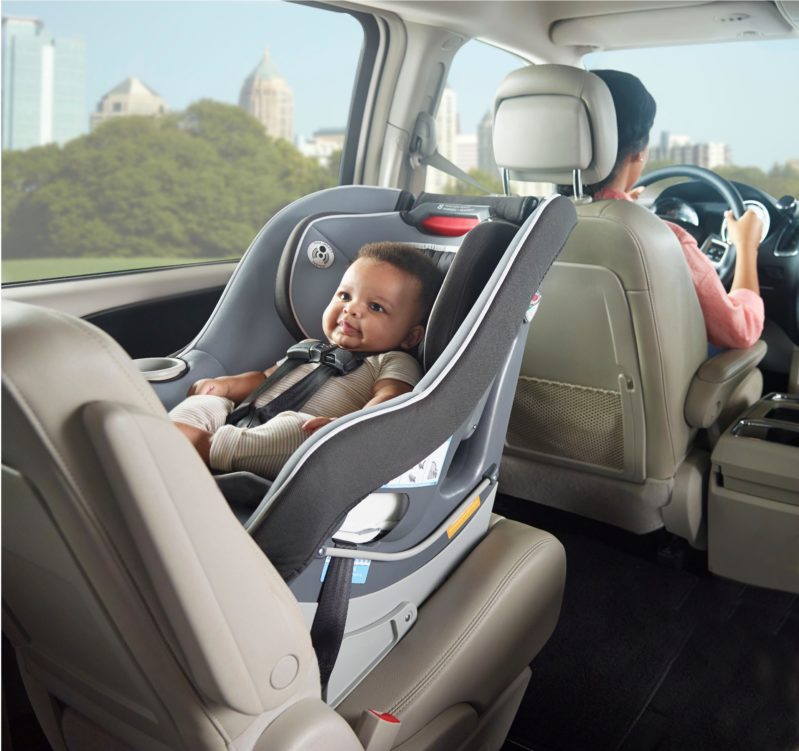 One of my favorite things about the Contender is how easy it is to use with newborns. Generally, convertibles marketed with minimum weights of 5 pounds may fit average-sized newborns, but they might need a bit of additional padding to do so well. However, only seats that are rated for 4 pounds or below can be expected to do a good job with regular newborns, preemies and smaller-than-average newborns. The Contender does a great job with all three, and I love it for that.
Keep in mind that when you use the Contender with very young children, such as newborns, you'll absolutely need to use the infant insert (body support) if your child's shoulders don't reach the lowest harness setting. Similarly, you can only use the infant insert while the Contender is rear-facing, and the insert must never bunch or fold behind your child. Besides that, it's just like any other insert.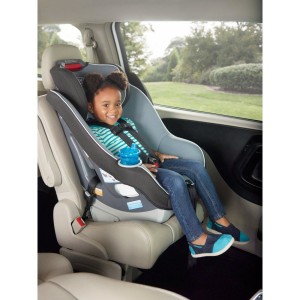 I was able to achieve a good fit with a range of kids (and a bit of patience) between the infant stage and the elementary years. The Contender comes with a no-rethread harness that's adjustable up and down in several positions. There are a number of car seats out there, particularly in the budget range, that make you rethread your harness straps whenever you need to raise or lower your harness height. In the Contender, as with all the Graco clones, there's a red handle behind the child's head that you hold, squeeze, and then move up or down. It makes it easy to find the right harness height and it also makes it easy to have multiple children use the same seat.
There are 8 positions to choose from, ranging from 8″ to 17.5″ at the top of the shell in terms of seated torso height. If you use the infant body support, the lowest harness setting drops to 7." As I noted above, there is a built in level indicator in the side of the Contender that lets you make sure you've got the correct recline set up. It's a ball level indicator, which is much more obvious than lines or obtuse markings that resemble hieroglyphics.
Additional Bonuses of the Graco Contender
Because the Graco Contender doesn't feature a few fancy things in its higher end twins, such as the additional LATCH straps, it's also a lighter seat, which makes it a great travel car seat. It weighs 16 pounds, which is significantly lighter than the 19 pounds of the Size4Me and 20 pounds of the Head Wise. It installs easily on airplanes and has FAA approval. The sticker's in an awkward place, however, within the back of the seat shell. This means you'll have a tough time showing it to the feds if you have a flight attendant, TSA agent, or anyone else along the way who questions you.
Why Buy the Graco Contender?
At this point, we've discussed lots of neat features in the Contender, but in the end, it all comes down to one question before you buy it–what makes it worth the money? Personally, I say the Graco Contender is worth the money because it lets you rear-face to 40 pounds by weight and gives you the room in height to actually reach 40 pounds. First of all, the vast majority of kids in the US are turned forward-facing much too early. Part of this is because parents don't know better, but part of it is simply because many seats run out of height room too quickly.
Because there's a generous amount of headroom in the Contender, the likelihood of pretty much every child reaching the 40 pound rear-facing limit is very high. And rear-facing is absolutely safer than forward-facing, which is why the Swedes, who have the best child safety record in the world, don't forward-face their kids until they turn 4. Let's learn from the folks who use best practices.
Keep in mind that there are several seats that will let you rear-face beyond 40 pounds. However, 40 is much better than 35 or 30 pounds, which are your limits in the vast majority of infant seats on the market. And the Contender offers the advantage of greater side impact protection and does so while taking less out of your pocket and also weighing less than the Size4Me, Head Wise 70, or Fit4Me.
Overall, the Graco Contender is a quality, well-thought out seat that offers parents the opportunity to practice extended rear-facing without breaking the bank. It's lighter, cheaper, just as safe, and offers you the ability to keep your children safe for several years on a shoestring budget. You can buy the Graco Contender in Glacier, Chili Red, and Sapphire here.
Unfortunately, it's not yet available in Canada, but Canadians can buy a similar seat, the Boulevard ClickTight, here.
—
If you find the information on car safety, recommended car seats, and car seat reviews on this car seat blog helpful, you can bookmark and shop through this Amazon link. Canadians can bookmark and shop through this link.