Graco has been making quality car seats for a long time, and in recent months I've had the chance to review the Contender, a great budget convertible seat, as well as the Size4Me 65, its close relative and another one of my favorite budget convertibles. Today I had the chance to write up my thoughts on their best infant seat, the Snugride Click Connect 40. In short, it's a great little seat that you can use to rear-face your infants and toddlers until they hit either 40 pounds or 35 inches, which means it's going to get almost all kids to 2 years of age. I like it; let's take a closer look!
2015 Graco Snugride Click Connect 40  –  What's the big deal?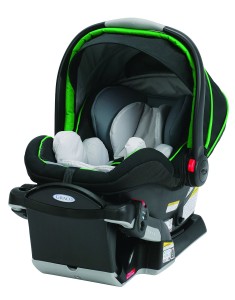 The Graco Snugride Click Connect 40 distinguishes itself in a sea of infant car seats by being one of only a handful with the potential to be used well past the first year of life. My personal favorite infant car seat, the Kiddy Evolution Pro, leads the pack by being usable well past age 2 due to its exceptional 37″ height limit. However, the Click Connect 40 does a great job in its own right by allowing you to continue to rear-face until your child weighs not only 40 pounds but is 35″ tall.
The Click Connect 40 features a seat belt lock off in case your vehicle doesn't come with one, a no-rethread harness to make adjusting harness height a simple affair, and a generous range of 8 recline positions to choose from. It also includes an infant insert for newborns as well as a premature infant pillow insert to be used with infants at the lower end of its 4 pound minimum weight range. Being an infant seat, it's designed to be used rear-facing only, and can be used from the day your child leaves the hospital, although as I've discussed here, you can also use convertible seats if you choose to.
If you choose to use an infant seat like the Click Connect 40, you'll still want to buy a convertible seat down the road (the Contender is a great option if you want to stay within the Graco line on a budget) so you can get more time rear-facing. The primary advantage of starting with an infant seat like the Click Connect 40 over a convertible seat is that it's going to be a lot lighter and easier to install.
Buy the 2015 Graco Snugride Click Connect 40 on Sale at Amazon here.
Graco Snugride Click Connect 40 Limits for Weight and Height
Rear-facing: 4 to 40 pounds. Your child must be fewer than 35″ tall. The shell  height itself is 20″ tall when the head support has been fully extended, and the top of your child's head must not come within 1″ of the top of the head support, which is a standard rule in most infant seats. There is an infant insert that must be used if your baby weighs fewer than 12 pounds pounds.
Even though most states still unfortunately allow children to legally forward face once they turn 1 (except for New Jersey!), as a fan of The Car Crash Detective, I hope you aim for more time rear-facing, until 2, 3, or even 4 if possible, the way our fellow Swedish parents do. Why? Because rear facing is the safest position for children.
Once your child has outgrown the Click Connect 40, she or he will need a convertible seat in order to keep rear-facing. I've made it a goal of mine to review the best convertibles on the market here.
Dimensions and Lifespan of the Graco Snugride Click Connect 40
The Maxi-Cosi Mico Max 30 weighs 9.4 pounds by itself and another 8 pounds when you add the base. It's not the lightest infant seat I've reviewed, but considering the fact that it'll last longer than almost all of those I've reviewed, that's not bad at all. The lowest harness position is 5″ with the infant insert in place. The shell height is quite decent for an infant seat at 20."
The seat has a 7 year lifespan, and the clock starts ticking on the date it was manufactured. After that, you will need to buy a new car seat (and here's why). You can find the date when the seat was manufactured in two places: beneath the seat itself on a white sticker that also includes the model number, and on the seat base on another white sticker. Seven years after that date, you'll need to get rid of the seat.
Due to its narrow width at 18″, the Click Connect 40 is a good choice for 3 across car seat installations in a range of vehicles.
Using the Graco Snugride Click Connect 40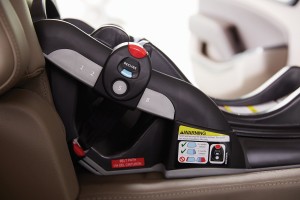 Installation with base: base description
The Click Connect 40 comes with 8 recline settings as well as a recline angle indicator with the typical 3 color system. Light blue is the only appropriate color code for infants between 0 and 3 months. Light or dark blue can be used once children are at least 3 months old, and the red section should never be visible while the seat is correctly installed.
The base itself is quite large compared to most infant seat bases, and it will make it difficult to take advantage of all recline positions if you're in a small or shorter vehicle. My 3 across guide discusses vehicles that will make 3 across feasible and also notes vehicles that will make it more or less difficult to get the front to back space you're looking for. In general, minivans (e.g., the Honda Odyssey, Toyota Sienna, or Kia Sedona) will give you the best amount of front-to-back room, while mini or subcompact cars will give you the least.
Installation with base: LATCH and seat belt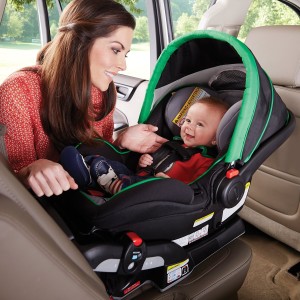 You can either use the lower LATCH anchors or your vehicle's seat belt system to install the Click Connect 40. Remember that using both is never an option. If you choose a seat belt installation, the red lock of system that's built into the base is required; it keeps you from having to lock your vehicle's seat belts. To use it, you simply thread the seat belt over the red lock off while it's in its open position, tighten the belt, and then close the lock off. You won't have to lock the belt by pulling it all the way out, the way you normally would, thanks to the lock off. Afterward, of course, you'll want to make sure your side to side movement at the belt path is less than an inch, in order to avoid making one of the most common mistakes parents make with car seats (not installing seats tightly enough in their vehicles).
If you want to use your LATCH lower anchors, you can do so. Push-on connectors are used, and it's a snap (ha!) to attach them. Keep in mind that you're not allowed to borrow anchors with the Click Connect 40; you have to use the ones that were designed for the seat on which you're installing the car seat.
A number of parents ask me through email whether to use LATCH or seat belts for their car seat installations.Between LATCH and seat belt installations, I prefer LATCH installations when dealing with individual seats because it's usually faster than seat belt installations, but I prefer seat belt installations when installing seats side by side, such as when attempting 3 across installations, simply because it gives you much more space to get the job done. Each is equally safe. The main issue to watch out for with LATCH is that you're within the combined child and seat weight limits for your vehicle's LATCH system. If you use seat belts, you don't have to ever worry about that.
Installation without base
Baseless installations are possible with the Click Connect 40, as they are with almost every infant seat on the market. Why would you want to install an infant seat without a base? It's handy during emergencies, taxis, and other travel situations when the base might not be available. In these cases, you always use the seat belt. To get the proper recline, you'll want to refer to a red line on one side of the seat that's supposed to be parallel to your vehicle's floor. It's worth practicing an installation at home before trying to do it in a strange vehicle.
Child Fit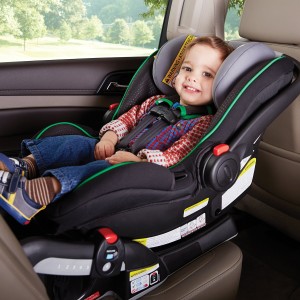 I tried the Click Connect 40 with a variety of training dolls and children and it did a great job with just about all of them. Because the harness height starts at 5," infant inserts are available, and the crotch positions are adjustable, it's a very flexible seat for infants of all sizes. Regarding the infant insert, you don't need to use it all the way to 12 pounds if the harness is either at or below your child's shoulders and your baby has an overall proper fit without it. Remember that the harness retaining clip should be parallel to your child's armpits and that you shouldn't be able to pinch the harness straps at the shoulders when sufficiently tight. Removable harness pads are also included.
On the upper end of the height and weight range, I was able to fit a few toddlers slightly past age 2 in the Click Connect 40. Both kids were around 25 to 27 pounds in weight and around 34 to 35 inches in height, and were close to 2.5 years of age. That's a long, long time to be able to use an infant seat, and it felt like a very long time when I tried carrying the seat around. That said, if you've got a stroller that fits the seat (and I've got lots of stroller reviews here), you wouldn't need to worry about the weight.
Additional goodies
Additional features present in the Click Connect 40 include a kick plate built into the base. It's not the most important feature to have in a seat, but you might find it helpful if you've got an older infant or a toddler capable of reaching the back part of the vehicle seat, as the kick plate can keep your child from dirtying the seat with muddy or wet shoes. The no-rethread harness included in the Click Connect 40 is another bonus; all you have to do is squeeze a pair of red tabs and then push the harness up or down until it's either at the same height as your child's shoulders or slightly below them.
Buy the 2015 Graco Snugride Click Connect 40 on Sale at Amazon here.
Why Buy the Graco Snugride Click Connect 40?
When it comes to infant car seats, there are a ton to choose from in the United States today, from the safe and popular Chicco KeyFit 30 to what I consider the best infant seat on the market today, the Kiddy Evolution Pro. The best reasons to base purchasing decisions on car seats, in my opinion, involve how well the seats do keeping children safe. For me, that starts with rear-facing.
Every child, barring those with extremely special needs, such as very premature infants who might need infant beds, should start out rear-facing in either an infant seat or in a convertible seat in the rear-facing position. I prefer starting out with infant seats since they're lighter and since you can install multiple bases to effortlessly move seats from one vehicle to the next.
Infant seats also make it much easier to transfer sleeping infants from the vehicle to the home, or vice versa. That said, no infant seat, not even the best available today in the United States, the Kiddy Evolution Pro, will get your child to age 4, which is where I believe we need to aim for when it comes to rear-facing, the way the Swedes do. To get to 4, you're going to need to switch to a convertible seat somewhere along the way; I've reviewed plenty of these here.
However, even though it won't get you to 4, the Click Connect 40 will get you farther than any other infant seat on the market aside from the Evolution Pro, and it will do so while making it easy to achieve a safe installation, which is key when you consider how many car seats are improperly installed each day. I also like the fact that the Click Connect 40 includes a no-rethread harness to make harness adjustments easier, that it's approved for airplane use by the FAA, and that it's 3-across friendly.
I'm also a big fan of the infant insert and of how easy it makes it to achieve a safe fit for premature infants and small babies. I heartily recommend the Graco Click Connect 40, and you can buy it here in Fern and Azalea.You can buy an extra base here. Unfortunately, it's not available in Canada, but the closest Canadian equivalent I'd recommend is the KeyFit 30, available here.
—
If you find the information on car safety, recommended car seats, and car seat reviews on this car seat blog helpful, you can bookmark and shop through this Amazon link. Canadians can bookmark and shop through this link.