I've been a fan of Hauck's German car seats, strollers, portable cribs, and high chairs ever since I came across one of their artfully-designed strollers some years back. I learned about their first US-based car seat at the Las Vegas ABC Expo, and was happy to learn the Hauck Prosafe 35 (and its twin, the iCoo iGuard 35) were now available on Amazon with free shipping. I placed an order, wrote some 3 across guides while waiting, and settled down for a good review when it arrived. In short, it's a good little infant seat that can be used to rear-face infants and toddlers who weigh between 4 and 35 pounds.
2015 Hauck Prosafe 35 – what's the big deal?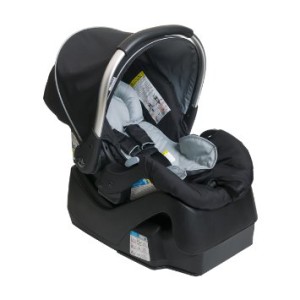 The Hauck Prosafe 35 is a straightforward and parent-friendly infant car seat. I like it because it's sturdy, relatively affordable, and can be used with babies big and small. It's not my favorite infant car seat on the market, the Kiddy Evolution Pro, as you can't use it for nearly as long before your child outgrows it. However, the Prosafe 35 does well in its own right by allowing you to rear-face your baby as long as s/he weighs between 4 and 35 pounds, and having a tall enough shell to allow you to take advantage of much of that weight limit.
The Prosafe 35 and iGuard 35 feature a number of goodies including a seatbelt lock-off, a pair of recline angles depending on the weight of your child, high end LATCH lower anchor connectors, a good amount of EPP energy-absorbing foam for buffered side impact protection, a lightweight aluminum handle with an anti-rebound feature, and a reversible infant insert that can be used to either help cool your baby or keep him or her warm.
More broadly, the Prosafe 35 / iGuard 35 is an infant seat, which means you can only use it while rear-facing, but that you can use it from the day your child leaves the hospital. Remember, however, that you can use convertible seats when leaving the hospital if you choose to.
If you use an infant seat like the Prosafe 35 / iGuard 35, you'll definitely still want to pick up a convertible seat in a year or two to enable you to continue to rear-face. There are a number of great choices which I've reviewed here. The main reason to choose an infant seat like the Prosafe 35 as a first car seat instead of a convertible seat is that it's going to be a lot lighter and easier to install.
Buy the 2015 Hauck Prosafe 35 on Sale at Amazon here.
2015 Hauck Prosafe 35 Limits for Weight and Height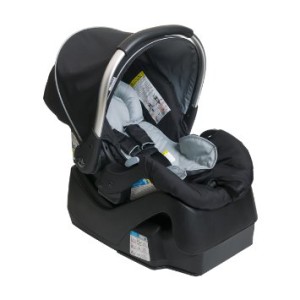 Rear-facing: 4 to 35 pounds. Your child can be up to 32″ tall. The shell itself is 21″ tall, which is taller than the limits on many infant seats today, and the standard 1″ rule applies; the top of your child's head can't come within an inch of the top of the head support. An infant insert is included that comes in two parts: fabric and foam. You need to use the insert with the foam wedge when your baby weighs under 11 pounds, while you can choose to use the insert without the foam if your baby is between 11 and 22 pounds.
Even though the vast majority of states still permit forward-facing once your child has turned 1 (except for New Jersey!), as a reader of The Car Crash Detective, I hope you'll consider rear-facing for longer (such as until 2, 3, or even 4 if you can), the way our Swedish brothers and sisters do. Remember that rear-facing is the safest position we know of for children of all ages.
Once your daughter or son has outgrown the Prosafe 35 by weight or height, she or he will need a convertible seat to continue rear-facing.  I've spent years reviewing the best convertible car seats on the market here.
Dimensions and Lifespan of the Hauck Prosafe 35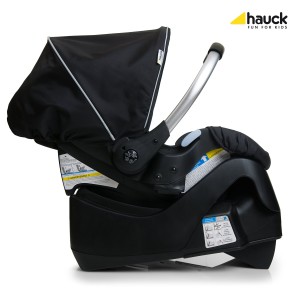 The ProSafe 35 weighs 10 pounds without the base and 8 more pounds with the base attached. It's not the lightest seat on the market by a long shot, but it's not bad for short trips. The lowest harness position is 5.5″ without the infant insert, while the highest is 11." The shell height tops out at 20″ when you factor in the 1″ rule.
The ProSafe 35 can be used for up to 7 years (commonly known as the car seat's "lifespan"), and needs to be replaced once it's been involved in a crash. Seven years after the date of manufacture, you will need to buy a new car seat (and here's why). It also comes with a 2-year warranty, which is great, since most car seats come with a 1-year warranty.
The interior width of the ProSafe is 9″ at the base and 11″ at the shoulders; the exterior width is 14.5″ at the base and 19″ including the handles. The handle width makes it more of a challenging seat for 3 across car seat installations than an infant seat like the KeyFit 30 or B-Safe 35 Elite.
Using the Hauck Prosafe 35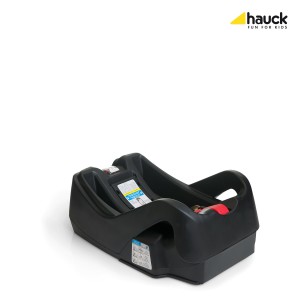 Installation with base: recline and seat belt lock off
The Prosafe 35's claim to fame is the recline lever that doubles as a seat belt lock off. Having a good recline angle is essential when transporting an infant due to their extremely small airways, which is why pretty much every infant seat base allows you to adjust the recline to accommodate your vehicle's seat angle.
Hauck aimed to make this process easier by allowing you change your base angle without moving your base from the seat. You set the base where you want it to go and open the red lock-off. From there, you push the lock-off to the vehicle seat back and raise the base so the recline foot can drop. To reduce your recline setting, you simply push the lever once more while you allow the base to drop to your desired angle.
Since you can use the lever to lock your seat belt at the same time, you can both tighten your belt and lock your recline and belt once you get a good recline angle. The seat belt lock off isn't necessary in modern cars, but it's a nice bit of insurance that your belt won't go moving once it's in place.
When using seat belts, keep in mind that the inflatable kind (such as those found in some models of the Ford Explorer, for example) may not be used with the seat. This goes for both based and baseless installations.
You can see your recline indicator on top of the Prosafe's base, which makes it easy to use while installing the base. You can choose between a pair of recline positions. One is for babies who weigh less than 22 pounds, while the other is for babies who weigh more.
Installation with base: LATCH
The LATCH connectors are the push-in style and work smoothly. You can store your connectors in the base in a tiny compartment for each connector. The manual can also be stored in the base. You can buy an extra base (handy for installing the seat quickly in multiple vehicles) here.
LATCH borrowing in the center is allowed if the vehicle's manufacturer allows you to do so and if there is less than 22″ between the two anchors. Most vehicles don't allow LATCH borrowing, so keep that in mind before attempting to do so and make sure it's specifically permitted in the manual.
Installation without base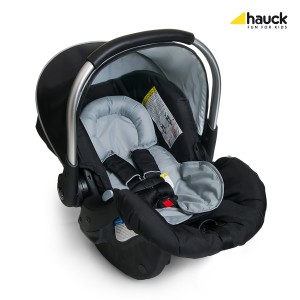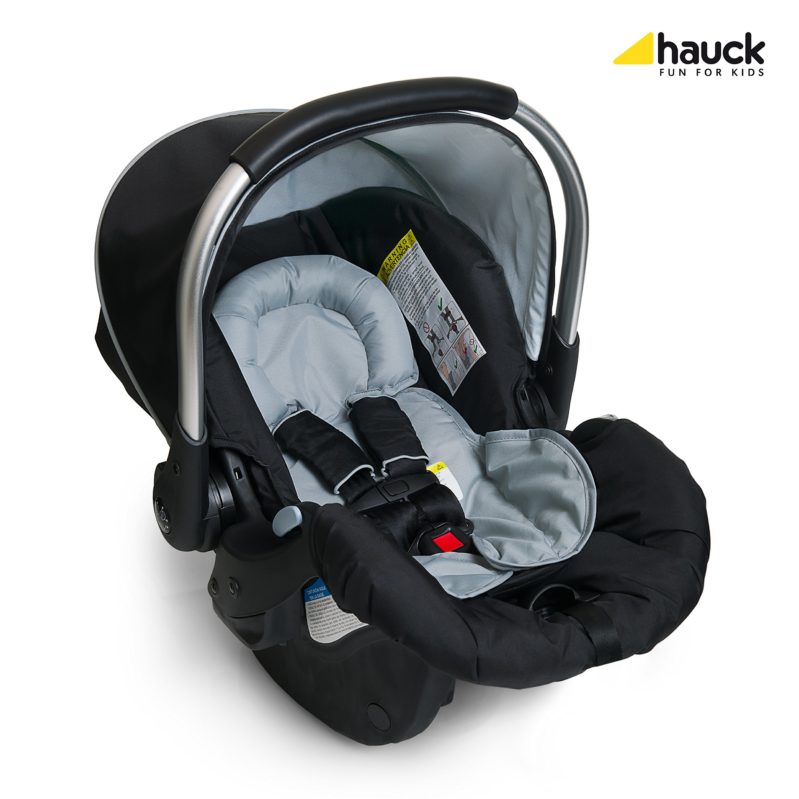 The baseless installation for the Prosafe 35 is also straightforward, thanks to the large and flat base of the infant seat, which makes the installation stable. You can use a pool noodle to firm up the installation if necessary, but you probably won't need it. A good safety tip is to angle the handle toward the back of the vehicle's seat to give you anti-rebound protection; the handle is made of aluminum and designed to offer such protection.
Child Fit
I tried the Prosafe 35 with a variety of training dolls and children and it did a great job with just about all of them. Because the harness height starts at 5," infant inserts are available, and the crotch positions are adjustable, it's a very flexible seat for infants of all sizes. The largest child I tried was 12 months old, 30.5″ tall, and 24 pounds; she still had a good amount of room in terms of height and shoulder width, which means this is an infant seat you're likely going to be able to use up to a year and maybe a bit past it before switching to a convertible.
Regarding the infant insert, there are two parts to keep in mind: fabric and foam. You use the fabric insert with foam when your baby weighs between 4 and 11 pounds, and you use the fabric insert without the foam when your baby weighs between 11 and 22 pounds. There are two fabric choices available with the insert; one is grey and smooth while the other is fuzzy and white. The slick fabric is better in hot weather while the fuzzy one is better in cold weather, but you can use either at any time.
The crotch strap is like the recline settings for the Prosafe 35 in that you can choose between two positions: one is for when babies weigh less than 22 pounds, while the other is for when they weigh more.
There are a pair of harness loops to choose from; unfortunately, you don't get a no-rethread harness here, as you do in a seat like the Click Connect 40. The upper loops are designed to be used with babies at the 4-11 pound range, and the loops fit into the lowest harness slots available in the shell. The three higher slots are designed to be used with the loops for babies who weigh more than 8 pounds. The instructions are repeated on labels sewn into the harness loops, so don't worry if you forget ahead of time.
Additional goodies
Additional things I like about the Prosafe 35 include its compatibility with a pair of strollers, the iCoo Acrobat and the Hauck Twister. According to Hauck, more strollers and adapters compatible with the Prosafe 35 will be released next year.
I'm a fan of the machine-washable cover included with the Prosafe 35. I also like how easy it is to install and remove the canopy and cover on the seat. I'm not a fan of the fact that you need to spot clean both the harness and the canopy, but the harness spot cleaning is pretty standard across most car seats due to the importance of not damaging the fabric with harsh detergents.
As is the case with most infant car seats, the Prosafe 35 can be used on airplanes per the FAA. However, it can only be used without the base; for some reason, the base isn't FAA approved. This just means you'll use a seat belt install with the seat.
Buy the 2015 Hauck Prosafe 35 on Sale at Amazon here.
Why Buy the Hauck Prosafe 35?
In the end, there are a lot of infant seats to choose from today in the United States, which can make the process of bringing your baby home in one a bit of a challenge. You can choose from models like the safe and popular Chicco KeyFit 30 to what I consider the best infant seat on the market today, the Kiddy Evolution Pro. The best reasons to base purchasing decisions on car seats, in my opinion, involve how well the seats do keeping children safe. For me, that starts with rear-facing.
Unless you have a child with very special needs, such as a highly premature infant who is in need of an infant bed, your infant should start out rear-facing in either an infant seat or in a convertible seat in the rear-facing position. I prefer starting out with infant seats since they're lighter and since you can install multiple bases to effortlessly move seats from one vehicle to the next.
Infant seats also make it much easier to transfer sleeping infants from the vehicle to the home, or vice versa. That said, no infant seat, not even the best available today in the United States, the Kiddy Evolution Pro, will get your child to age 4, which is where I believe we need to aim for when it comes to rear-facing, the way the Swedes do. To get to 4, you're going to need to switch to a convertible seat somewhere along the way; I've reviewed plenty of these here.
However, even though it won't get you to 4, the Prosafe 35 will almost certainly get you past 1, and will keep your child safe and cozy inside it all the while. More importantly, you'll get a secure installation without much trouble, which is essential when you keep in mind how many car seats are improperly installed each day. I heartily recommend the Hauck Prosafe 35, and you can buy it here in black. You can buy an extra base here. You can buy the Prosafe 35 with the Twister Plus stroller here or with the iCoo Acrobat Plus stroller here. Unfortunately, it's not available in Canada, but the closest Canadian equivalent I'd recommend is the KeyFit 30, available here.
—
If you find the information on car safety, recommended car seats, and car seat reviews on this car seat blog helpful, you can shop through this Amazon link for any purchases, car seat-related or not. Canadians can shop through this link for Canadian purchases.