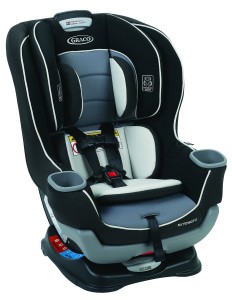 Update: Here is my review of the Graco Extend2Fit with 3 across guides.
Every now and then a car seat manufacturer comes along that raises the bar. A couple of years ago, Clek did it by becoming the first manufacturer in the US to offer 50-lb rear-facing seats with the Foonf. The ability to rear-face children in car seats until they reached 50 pound had been available in Sweden for years, but until a few years ago, it had not been an option available to parents in the United States.
Two years ago in 2014, Diono challenged Clek by offering not one, but two 50-lb-capable rear-facing convertibles: the Rainier and the Pacifica, and offering each at a lower price than the Foonf. Clek, of course, responded soon after with the Fllo, which was cheaper and lighter than the Foonf and narrower than the Rainier and Pacifica.
Things stayed the same until 2015, when Safety 1st entered the 50-lb game this year with the Advance EX 65 Air+, which became the first 50-lb seat under around $300. It was bulkily-sized and bulkily-named, but it was more affordable. Finally, Graco has entered the 50-lb game with the soon-to-be released Graco Extend2Fit convertible, which promises 50-lbs of rear-facing goodness for under $200 MSRP. Is it too good to be true? Let's take a look!
How long will children be able to rear- and forward-face in the Graco Extend2Fit?
Children will be able to rear-face from 4-50 lbs and forward face from 22-65 pounds. There is a 49″ height limit when forward-facing, the standard 1″ from the top of the seat rule applies when both rear- and forward-facing, and an infant insert must be used when your child is at the lower end of the weight range while rear-facing. There is a 10-position adjustable harness that tops out at 18 inches, and you can choose from 6 recline positions; 3 of which are designed for rear-facing and 3 of which are exclusive to forward-facing.
How much will the Graco Extend2Fit weigh, and what are its dimensions?
The Extend2Fit is expected to weigh around 25 pounds and is about 20″ wide from one cupholder to the next, which means you'll still want to consider seats like the Fllo and Foonf if you're interested in narrow seats that allow you to rear-face to 50 pounds while still working in 3 across situations. Graco states that the seat is designed to be sufficiently compact such that an average-height man will be able to use a front passenger or driver seat immediately in front of the Extend2Fit without needing to pull the vehicle seat forward excessively. I'm not sure what that translates into in daily use, but I'll be happy to test the seat and add it to my rear-facing convertible space guide once I have it in my hands.
How long will parents be able to use the Graco Extend2Fit?
Per Graco, the Extend2Fit has a 10-year shelf life, meaning you will potentially be able to get 10 years of use out of it. Practically speaking, you're not going to get that much time with one child, as a child who used it from birth would almost certainly outgrow the forward-facing 65-pound limit long before reaching 10 years of age. However, you'll definitely be able to use it for at least 6 years with most children, and even longer with shorter or lighter children. And quite frankly, the best combination / booster seats on the market, the Frontier G1.1 and Pinnacle G1.1, are still going to be the best choices for getting your kids to the point where they don't need car seats anymore.
How much will the Graco Extend2Fit cost, when's the release date, and where can I buy it?
The Graco Extend2Fit is expected to cost $199, placing it right under the $200 barrier that's often the most many parents can afford when it comes to car seats. You'll be able to buy it at Amazon, and I'll have a review ready as soon as I get my hands on one. It should be available for pre-order this December and formally ship in January 2016.
This is great news for fans of extended rear-facing and affordable car seats, and will hopefully lead to more parents taking advantage of the myriad of reasons to continue rear-facing past 1, 2, and into the preschool years.
—
If you find the information on car safety, recommended car seats, and car seat reviews on this car seat blog helpful, you can bookmark and shop through this Amazon link. Canadians can bookmark and shop through this link.