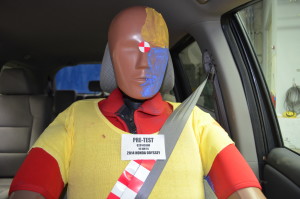 I've spent a lot of time deconstructing fatal crashes and writing about the safest kinds of vehicles sold each year in various classes, with the goal of keeping parents and children safe throughout the United States. However, it's hard to keep your family safe when the organizations charged with setting safety standards let us down, and a recent article from CBS News adds one more data point to the long list of ways in which the NHTSA's standards are woefully inadequate. We're going to break down that CBS report and look at the issue through a number of lenses.
What are the NHTSA FMVSS safety standards?
In short, the NHTSA comes up with standards under the United States Code, Title 49, Ch. 301, in Motor Vehicle Safety, called Federal Motor Vehicle Safety Standards, or FMVSS, which are basically a set of rules manufacturers need to comply with in order to sell their wares in the United States. Each standard describes a minimum level of safety performance, and the relevant one here is  FMVSS 207, which deals with Seating Systems. Like a great many FMVSS standards, however, it doesn't go nearly far enough. Here's a summary of it:
This standard establishes requirements for seats, attachment assemblies, and installation, to minimize the possibility of failure as a result of forces acting on the seat in vehicle impact.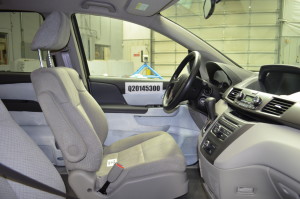 In other words, it has to do with how much force seats should be able to withstand in a vehicle during a collision to keep from failing, whether through disintegration, collapse, or disconnection. The problem is that the standard is a weak one, as are many other FMVSS standards, which means it has very little protective effect in a crash if a manufacturer doesn't build beyond it. It was put into effect on January 1st, 1972, in a time where no vehicles in the US came standard with front or side air bags, ESC, or even ABS. Seat belt use was optional in all 50 states back then, and the road fatality rate was far worse than it is today. That's the world the NHTSA is still living in with that standard.
Experts say in certain crashes, some car seats can break and collapse, leading to paralysis or death. Even if you bought a car with a five-star safety rating, if you're hit from behind, your seat may not protect you or the children sitting behind you.
In other words, FMVSS 207 doesn't go far enough, and when manufacturers don't go any farther than the standard (which is what most manufacturers do, since they're in the business of making money first, rather than keeping people safe), these seats break down. And if your children are forward-facing behind these seats, they're directly in the line of fire.
Can rear-facing reduce the risks of severe injury or death from seat back collapse?
In a word: yes. This is yet another reason to rear-face. But the knowledge came too late for many families, including the Warners profiled in the article:
Sixteen-month-old Taylor Warner loved the water and was just learning to walk.

"She had about six weeks when she was toddling around, and then it was over," said her mother, Liz Warner. Five years ago, the Warners' 2010 Honda Odyssey was rear-ended at 55 miles an hour. Taylor was in her car seat behind her father.

"I thought maybe she had just fallen asleep. And then when I looked and I noticed there was blood coming out of her face, I knew that something else was wrong," said Liz Warner.

That something was her father's seat back. It broke after collapsing on impact and struck Taylor in the face, killing her.

"And it was all because of some stupid car that we thought was the safest thing we could get for our family to protect them," said Warner, crying.

But crash tests show what can happen when a seat collapses — the driver is launched backwards and slams into the child's face.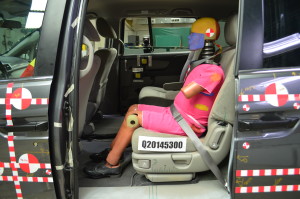 Make no mistake–this was a terrible, preventable tragedy. But it is important to note that it was preventable in many ways. One of the most obvious ways would have been through tougher federal standards in the case of FMVSS 207. Another would have been if Honda had spent a tiny amount more money per seat to reinforce their front seats beyond the government requirement. Another might have been if Taylor had been sitting in a different seat position, such as in the center position or in the 3rd row of the vehicle. Yet another, and that which we have the most control over as parents in any vehicle, would have been if Taylor had been rear-facing.
I've written before about the protective effects of rear-facing, in terms of the dramatic reduction in severe injury and fatality risks it brings our children, and in terms of how many more children should rear-face for far longer than they do in the United States. I've written about how it has been standard practice to rear-face until 4 in Sweden, where parents lose the fewest children to car collisions per capita, for decades. But how would the Warners have known this? The AAP, after all, didn't change their recommendation from rear-facing to 1 to rear-facing to 2 until 2011.
The collision described above occurred in 2010.
How can I reduce the risks of my child being injured or killed in a seat back collapse?
Unfortunately, we can't wait for government organizations to act in our  best interest. The NHTSA has known of this issue for more than 30 years and has refused to update its legislation, undoubtedly due to relentless lobbying by the auto industry. However, if you read this blog, you know that best practices are best practices whether or not they're practiced in the United States. To reduce the risks of losing a child in this kind of tragedy, I'd recommend parents:
Rear-face your children as long as you can. Seats like the Clek Fllo, Clek Foonf, Diono Rainier, and Diono Pacifica allow most children to rear-face until they're at least 5, while seats like the Diono Radian RXT, Chicco NextFit, Graco Size4Me 65, Britax Advocate ClickTight, and many more will allow most children to rear-face until they're at least 4. There are too many reasons to continue rear-facing to start forward-facing a minute before you have to.
If you have one child, place him or her in the center position. It's statistically the safest position compared to either outboard position, as it's impossible for a child to receive a direct hit from a side impact collision there, and it also provides a much greater amount of protection against a seat back collapse than a car seat installed directly behind a vehicle seat.
Install your car seats in the 3rd row. There's a common misconception that the 3rd row isn't as safe as the 2nd row due to the potential for rear impacts, but the statistics show children are more likely to suffer injuries the farther forward they sit in a vehicle, simply because the majority of fatal collisions are frontal, head-on collisions. Fatal rear-end collisions are the most rare, making the 3rd row the safest row in a 3 row vehicle, on average.
Buy a Mercedes-Benz, BMW, or Volvo. This is by far the most expensive option, but it's worth noting that these 3 companies have an extensive history of going above and beyond federal guidelines in many elements of their vehicle design. Per the researchers questioned in the report, these were 3 automakers who consistently designed seats to higher standards than the federal guidelines. You can read my 3 across guides for vehicles by the manufacturers above (and a great number of other manufacturers) here.
—
If you find the information on car safety, recommended car seats, and car seat reviews on this car seat blog helpful, you can bookmark and shop through this Amazon link. Canadians can bookmark and shop through this link.