Two years ago in 2014, I wrote a guide to the best and safest car seats currently available in the US market for under $200 shipped. Back then, the Graco Size4Me 65 was the best bargain you could find for a convertible seat at that price, while the Britax Pioneer 70 took the prize for a combination (forward-facing harnessed and booster-capable) car seat with a $200 budget. However, that was 2014, and two years later, I've received a number of requests from parents to update my recommendations in light of the much greater number of seats available these days. Today we'll take a look at the best infant, convertible, combination, and booster seats on the market.
Before going into the seats themselves, it's always worth reviewing why certain seats are important to use and when they should be used to keep your kids as safe as possible. recommend keeping children in rear-facing infant or convertible seats as long as possible (ideally until 4!), then keeping them harnessed in forward-facing seats for several years more (ideally until 8!), and then only switching them out of booster seats when they pass the 5 step test (which typically happens between 10 and 12). The goal is to keep kids in the safest kinds of seats for as long as possible to increase their odds of surviving serious car crashes.
However, safety in the past has often come at a price. The cars with the safest features (e.g., those I describe in Safety Level 4 or even Level 3) cost significantly more than the older ones (e.g., those in Level 2 or Level 1). Similarly, in the world of car seats, the best seats for rear-facing (i.e., those that allow rear-facing until 50 pounds) are often among the most expensive (such as the Clek Fllo, Clek Foonf, Diono Rainier, and Diono Pacifica). The picture is the same with the best seats for extended harnessing and booster use (the Britax Frontier G1.1 and Britax Pinnacle G1.1), and it doesn't get any better for the best pure booster on the market (the Clek Oobr). So what do you do if you're invested in car seat safety but have a lot of kids to shop for, or simply have a smaller budget to work with?
This is what I set out to answer in this post. In my opinion, the best choice for extended rear-facing currently on the market below $200 is the Graco Extend2Fit, while the best choice under $200 for forward-facing and boostering is the Britax Pioneer G1.1, a slightly updated version of the Pioneer 70. These two seats allow parents to keep children safe without draining their future college funds. Let's take a closer look at them together.

The Best and Safest Convertible Car Seat for Extended Rear-Facing under $200 in 2016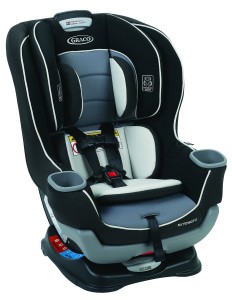 Why am I such a huge fan of the Graco Extend2Fit? Well, I've written a complete review of it here, if you want all the details. However, to make a long story short, the Extend2Fit is one of a handful of seats that allows you to rear-face children from the day they leave the hospital (or birthing center) until they weigh 50 pounds (the full weight range is 5-50 pounds), and includes a shell height of around 30." A shell height this high is something to talk about, because it means that close to every child who sits in the Extend2Fit will be able to grow to 50 pounds before outgrowing it by height.
To put it another way, if your child is in the 50th percentile by weight, she or he he could theoretically rear-face until 7 years old. This is huge! Of course, while it's not necessary to rear-face a child that long, the research shows that rear-facing is safer than forward-facing at all ages (even as adults), and if you're interested in keeping your child rear-facing as long as kids do in countries with the best rear-facing policies in the world (Sweden and Norway, which aim for 4 years), this is a great seat that'll help you get there. Additionally, given the cost of the seat, it'll cost you less than $50 a year to rear-face until 4, and less than $40 a year to rear-face until 5. This seat is a game changer in the US rear-facing market.
Additionally, once you're done rear-facing, you can then flip the Extend2Fit forward and use it as a forward-facing seat until a child reaches 65 pounds or 49″ tall. This is as long by weight and height as two of the other best 50 pound-capable convertibles on the market, the Fllo and the Foonf.
There are drawbacks to the Extend2Fit, of course. For one, it's not nearly as narrow as the Cleks, which limits its usefulness in 3 across installations. Additionally, the Diono seats offer longer forward-facing modes and potential booster modes to take advantage of. However, if you're primarily interested in extended rear-facing and are on a budget, this is the best seat on the market right now, in my opinion.
I recommend the Graco Extend2Fit wholeheartedly. You can buy the Graco Extend2Fit in Gotham, Kenzie, or Spire here.
Of course, there's more to car seat safety than rear-facing. Eventually, your child will need to forward-face, and the Extend2Fit tops out at 65 pounds. There are a number of expensive seats that will allow you to forward-face in a harness for a long time, but what if you're on a budget?
The Best and Safest Combination Car Seat for Forward-Facing and Booster Use below $200 in 2016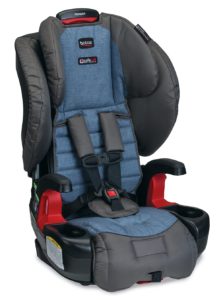 The Britax Pioneer G1.1 is the successor to the wildly popular Pioneer 70 released by Britax a few years ago. You can read the full review of the 70 / G1.1 here; the only meaningful differences are improved lap belt guides and logo and color changes. The Pioneer G1.1 allows you to forward-face in a harness from 25-70 pounds and includes a top harness height of 19.5." This means that most children will actually be able to reach 70 pounds before outgrowing it in harnessed mode.
For a 50th percentile boy or girl by weight, that weight range won't be reached until around 9 years, an age at which almost all children will be ready to use booster seats. This is a seat that will allow your child to forward-face in a harness well into the range at which most children are developmentally mature enough to begin using a booster (age 8) and for less than $50 a year over the course of its useful forward-facing life if used from age 4 to age 8. To me, that's worth writing home about
From there, it can then be used as a booster seat until a child weighs 110 pounds or 60″ in height, and comes with a belt guide 22″ tall, which means your child will actually be able to take advantage of its height and weight limits. Most children will need boosters until they are between 4'9″ and 5′ in height, which means that the Pioneer could be the last car seat your child ever needs. Those kinds of savings (both financially and in terms of time spent shopping for and thinking about car seats) are well worth considering.
There are drawbacks to the Pioneer G1.1, of course. For example, children who are much higher on the height or weight percentiles will outgrow it as a forward-facing seat before turning 9. For such children, seats like the Frontier G1.1 or Pinnacle G1.1, with their 20.5″ top harness heights, 23″ booster belt guides, and 90 pound forward-facing weight limits, would be better choices. But for typical weight children of parents on a budget, this is currently the best seat on the market, in my opinion, for forward-facing and then boostering children.
I recommend the Britax Pioneer G1.1 wholeheartedly. You can buy the Britax Pioneer G1.1 in Grey, Kiwi, Pink, Beckham, Pacifica, and Silver Cloud here.
What about the Best Infant Seat Under $200 in 2016?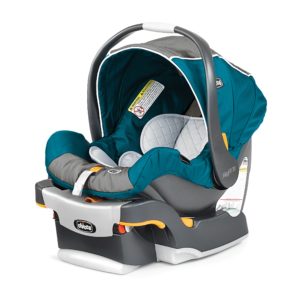 Personally, I'm more interested in great convertible seats for rear-facing than infant seats, simply because almost all convertible seats will allow you to rear-face longer than almost all infant seats, and the orientation is what keeps children safe. However, if you're interested in starting out with an infant seat to allow for easier transport of infants before transitioning to a convertible seat, which many parents appreciate the first time they successfully move a sleeping infant, then I'd recommend the Chicco KeyFit 30 (reviewed here). It won't let you rear-face until the cows come home, but it's light to hold, easy to buckle, and easy to install, which makes it a good seat for new parents, as well as for more experienced ones juggling additional children.
—
If you find the information on car safety, recommended car seats, and car seat reviews on this car seat blog helpful, you can bookmark and shop through this Amazon link. Canadians can bookmark and shop through this link.