The Volkswagen Atlas (marketed as the Teramont overseas) is Volkswagen's newest, largest, and safest SUV. Featuring a record-breaking 32 cm of side impact resistance, it's set the new standard for occupant protection during t-bone collisions. Go Volkswagen! Based on the already popular Touareg, the Atlas also competes with a bevy of 3-row non-luxury SUVs like the Nissan Armada, Chevrolet Tahoe, Dodge Durango, GMC Yukon, Toyota Sequoia, Buick Enclave, Chevrolet Traverse, GMC Acadia,  Ford Expedition, Nissan Pathfinder, Ford Explorer, Chevrolet Suburban, Toyota Highlander, Mazda CX-9, and Honda Pilot. However, unlike any of them, it'll also be backed by VW's 6 year, 72,000 mile warranty, bringing an awful lot of peace of mind to its price tag. It's also made in Chattanooga, Tennessee, for fans of things done locally.
With so many features targeted toward families built into the Atlas, I was eager to see how well it would do when it came to fitting car seats across the 2nd and 3rd rows–especially since this was one of the most directly marketed features of the Atlas. But before going into which seats fit (an awful lot of them) and which ones didn't (very few), let's review which kinds of seats are best for particular developmental ages and stages for your kids, and why.
In my books, the core of car seat safety involves rear-facing. It's the safest position available in every vehicle, statistically speaking, and the benefits of extended rear-facing extend from childhood through adulthood. I typically suggest keeping children rear-facing as long as possible (until 4 or 5 like the Swedes), followed by harnessing until they can safely use booster seats (until 6, 7, or 8, like the Swedes), and then boostering until the 5 step test is passed (typically between 10, 11, and 12). Beyond that, I suggest keeping kids in the back seat until at least 13, and delaying teen solo driving until 18 if possible. The goal isn't to move through seats as quickly as possible; it's to keep kids as safe as possible whenever they're in motor vehicles.
If you find my list of what I believe to be the most detailed 3 across guide for the Volkswagen Atlas / Teramont on the Internet, you can shop through my Amazon link below. I'll add more seats as I test them over time.
You can access the complete 3 across guide for every vehicle here and the complete list of recommended seats here. The Canadian car seat guide is here. 3 across car seat images are taken by yours truly or are courtesy of Wikipedia or the NHTSA.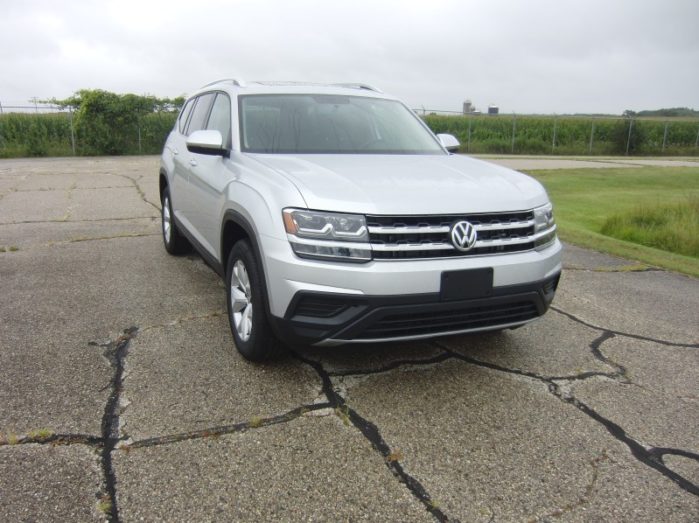 2018 Volkswagen Atlas

Guaranteed 3 across installations:
Clek Fllo (x3).
Clek Foonf (x3).
Diono Radian RXT (x3).
Diono Radian R120 (x3).
Diono Radian R100 (x3).
Graco 4Ever Extend2Fit (x3).
Safety 1st Grow and Grow EX Air (x3).
Maxi-Cosi Pria 85 (x3).
Chicco KeyFit 30 (x3).
Graco Size4Me 65 (x3).
Graco Fit4Me 65 (x3).
Graco Contender (x3).
Combi Coccoro (x3).
Chicco KeyFit 30, Diono Radian / RXT, Chicco KeyFit 30.
Tips and Tricks:
The initial generation of the Volkswagen Atlas is 198.3 inches long and 77.9 inches wide in addition to 69.6 inches tall. Volkswagen wasn't lying when they claimed the 3rd row would fit adult passengers; it's more than large enough to accommodate a range of car seats, as is the 2nd row, where 3 car seats can be accommodated. With seat belts, you can fit pretty much anything in the 3rd row, and with LATCH, you'll still be able to get most seats installed without too much trouble. The 3rd row does have less front-to-back room than the 2nd, but it definitely still has enough to install rear-facing infant and (some) convertible seats. Forward-facing, pretty much any convertible seat will fit in either row.
—
If you find the information on car safety, recommended car seats, and car seat reviews on this car seat blog helpful, you can bookmark and shop through this Amazon link. Canadians can bookmark and shop through this link. You can also buy my books on auto safety here.