Clek is one of my favorite car seat manufacturers to review. They've got two of the best convertible seats on the market right now in terms of rear-facing abilities, the Fllo and the Foonf, but they're also doing great things in the booster years as well. This review has to do with their flagship high back booster, the Oobr, and why you should give it a look. Read on for details!
Clek Oobr – What's the big deal?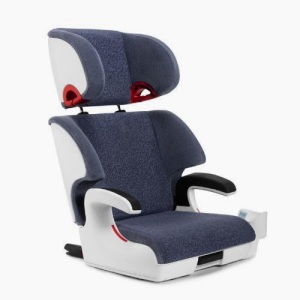 The Clek Oobr continues a tradition of versatile, high weight and height car seats by Canadian car seat wonder Clek that makes this one of the most impressive booster seats on the market. It's a dual mode booster car seat, which means it can be used in two configurations: as a high back booster and as a backless booster. For parents of booster-age children, the Clek Oobr is among the best boosters on the market.
Buy the Clek Oobr on Sale with Free Shipping at Amazon here.
Clek Oobr Limits for Weight and Height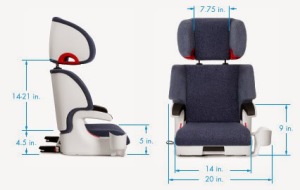 High back booster: 33-100 pounds, and between 38 and 57″ in height.  The seated shoulder height of the child in terms of the belt guide can range between 14 and 21." Your child should be at least 4 years old. Of course, research into car safety indicates children should remain rear-facing for as long as possible (the average is 4 years in Sweden, which posts the lowest child fatality rate on Earth), and after rear-facing, the child should either be forward-faced or switched into a booster seat once mature enough to sit in one correctly 100% of the time. The appropriate age range for this switch will vary from child to child, but should never be under 4.
Also note that using a tether is required when using the seat in harnessed mode if the child weighs more than 65 pounds, although Clek recommends it in every installation.
Backless booster: 40-100 pounds, and between 40 and 57″ in height. Your child should be at least 4 years old.  Remember that children should remain in booster seats until their seat belts fit them over the shoulder, across the chest, and flat on the upper thighs.
Dimensions of the Clek Oobr
The seat is 14″ wide at the front of the seat (though the width increases to 20 inches if you use the included cup holder). The seat weighs 20 pounds in high back mode and 10 pounds in the backless mode. The armrests are 9″ high and the inner width of the headrest is just under 8."
Why Buy the Clek Oobr?
I've had the privilege of reviewing some pretty awesome car seats over the last few years, both as a parent and as a grizzly guy writing a car safety blog. I advocate rear-facing to the limits, forward-facing to the limits, and only then switching to boosters. I prefer convertible seats to infant seats and combination seats to boosters, simply for efficiency. Dedicated boosters, in the end, are designed to do the same thing as combination seats in booster mode: to properly position seat belts on children who are old enough to sit in them. So if there are combination seats that do as good of a job as dedicated boosters, why would I review and even suggest a dedicated booster?
First of all, dedicated boosters are just as safe as combination seats once children can sit in them safely. This will range from one child to the next, but most children in the US can do so reliably from around 6 or 7. In Sweden, which boasts the lowest rate of child fatalities on the planet, children are routinely placed in high-back boosters from age 4 or 5 and expected to sit properly in them. In other words, if your child is mature enough to use one, you can move straight from a convertible car seat (which you use to rear-face until at least 4 or 5) to a booster and skip the forward-facing phase.
My favorite reason is the recline function. With the Oobr, you can recline sleeping children safely in the high back booster mode as long as you have lower LATCH anchors in place. You'll probably read about a lot of high back boosters that claim to have "recline" positions, but if I may misquote The Princess Bride, I don't think the word means what these booster makers think it means. The vast majority of "reclining" boosters can't be reclined in ways that sleeping children can use. Parents typically will recline these seats inappropriately because they misread the instructions, but this can lead to deadly consequences in the event of a collision. The Oobr, on the other hand, was created specifically in mind to make this possible, as long as you're following the manual's instructions. This alone is reason enough to buy the Oobr.
Buy the Clek Oobr on Sale with Free Shipping at Amazon here.
Besides that fact, the Oobr also includes a magnesium frame to keep the seat from flexing forward as much in the event of a crash. It also features EPP foam around the child's head and body to increase levels of side impact protection and reduce stress and strain on the body during collisions. All of these are good things.
I also like that the Oobr is made more locally than a number of seats; it's made in Mexico, which means less resources were shipped about to bring it here. And I also love how tall the Oobr is; this gives kids years of head support, which not only makes the seat more comfortable, but safer than most other boosters out there.
Finally, the Clek Oobr is also simply an easier seat to install than most, due to its very narrow width of 14 inches. That means it's actually possible to install 3 across in a number of small vehicles. I also like the fact that it has a 9-year usable life (remember, car seats do expire eventually), although there are seats with longer lifespans (e.g., the newest Dionos).
The Clek Oobr is a rather unique car seat and, in my opinion, one of the best booster car seats currently available in the United States for children above the age of 4.  It's likely to be the last seat your child needs before s/he is ready for a regular adult seat belt. You can buy the Clek Oobr in a range of colors here. Canadians can buy it here.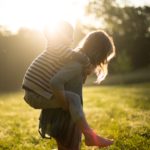 If you find my information on best practices in car and car seat safety helpful, you can do your shopping through this Amazon link. Canadians can  shop here for Canadian purchases. Have a question or want to discuss best practices? Join us in the forums!