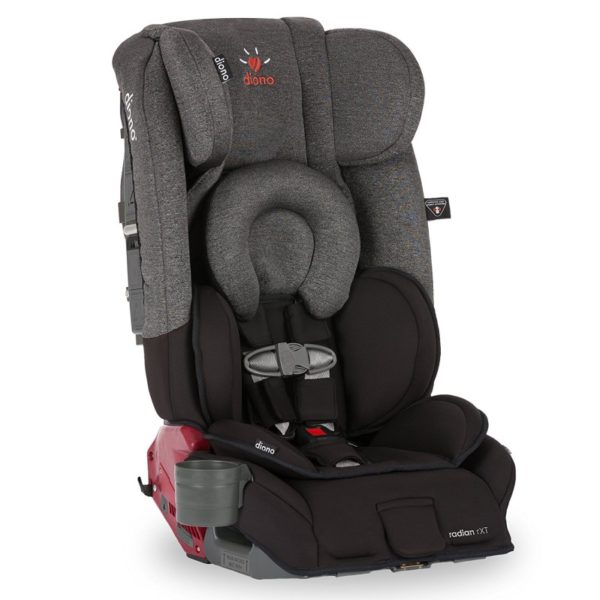 The Diono Radian RXT is one of the best seats on the car seat market right now for extended rear-facing, even if it's no longer one of the newest. With the ability to rear-face until 45 pounds and continue forward-facing for a while longer, the Diono Radian RXT is well worth consideration as a safe, secure car seat for newborns through elementary-aged children.
2018 update: The Radian RXT, as well as all other Diono convertibles, were recently recalled by Diono and new versions were released addressing a potential safety issue involving top tethers. Every seat manufactured from October 2017 onward has been modified to resolve the issue.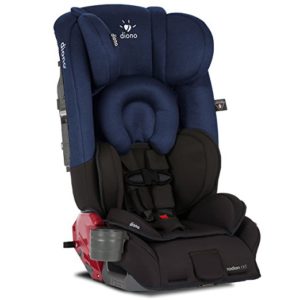 I've reviewed several Diono convertibles over the years and found all of them, without exception, strong choices for extended rear-facing and forward-facing, even though they've had different levels of practicality when used as booster seats.
Today, instead of reviewing the Diono Rainier, Radian R120, or Radian R100, I'm going to take a closer look at the Diono RXT All-In-One Convertible Car Seat. Much like the RXT in 2017 before the recall I mentioned above, the RXT is still essentially the same seat it has been since its release several years ago; weight and height limits haven't changed, although fabrics have been tweaked slightly. It's still one of the best seats on the market for extended rear-facing. Our full review is below, and you can buy the Diono Radian RXT here.
Diono Radian RXT – What's the big deal?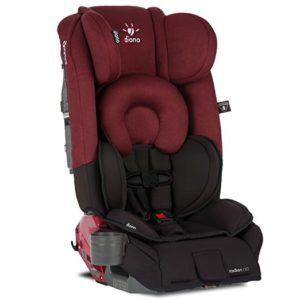 Everyone today is talking about the Diono Rainier, Pacifica, and Olympia. However, before they came out, Diono had already been establishing a tradition of narrow, high-weight car seats that are still worth considering even if they aren't the newest seats on the market anymore. The Diono Radian RXT is an all-in-one convertible car seat, which means it can be used in several configurations, including as a rear-facing infant seat, a forward-facing seat, and of course, as a booster.
Despite its age, the Radian RXT is a car seat that should be on every parent's shopping list. The seat has received some unwarranted criticism by a number of fly-by-night reviewers interested in marketing more expensive seats (e.g., the Nuna Rava or Clek Fllo), but in the end, what matters most is whether a seat is easy to use and has the weight and height limits to keep your kids in safer positions longer, and the Radian RXT checks those boxes handily.
Buy the Diono Radian RXT on Sale with Free Shipping at Amazon. Canadians can buy it here.
Diono Radian RXT Limits for Weight and Height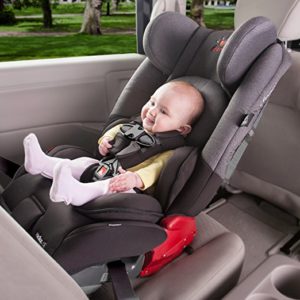 Rear-facing: 5-45 pounds, and up to 44″ in height. Your child's head should not reach past 1.5″ below the top of the headrest. Its low starting weight limit, infant insert, and adjustable harness mean you'll be safe transporting typical newborns home in one from the hospital; you don't need an infant seat unless you want one.
While you can technically begin forward-facing from the day your baby turns a year old in most states, best practices (e.g., what's done in Sweden) suggests rear-facing as long as possible with 4 being a good minimum age to aim for.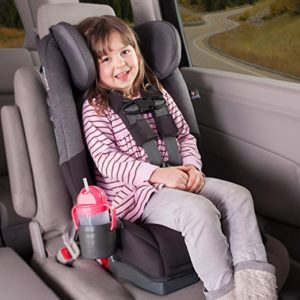 Forward-facing: 20-80 pounds, and up to 57″ in height. Diono notes in the manual that children may forward face from 1 onward but recommend waiting until 2. That said, research into car safety indicates children should remain rear-facing for as long as possible. Norway has joined Sweden as one of the two countries with the lowest rates of child auto fatalities on Earth, and like Sweden, they attribute a large part of the world-leading progress they've made to extended rear-facing until 4.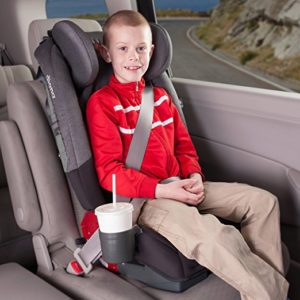 Booster mode: 50-120 pounds, and up to 57″ in height. As with the latest Diono seats, the shoulders of the child must at least reach the 4th pair of harness slots.
Remember that children should remain in booster seats until their seat belts fit them over the shoulder, across the chest, and flat on the upper thighs; this is known as the 5-step test for seat belt readiness, and it's the most accurate way we have of knowing when kids are ready to transition to using adult seat belts.
More broadly, remember that there's nothing wrong with a middle schooler or pre-teen in a booster seat if she doesn't pass the 5-step test, no matter how often she rolls her eyes at you.
Dimensions of the Diono Radian RXT
The seat is 17″ wide at its widest point, which is at the shoulders. The seat weighs 26.5 pounds.
Inside, it is around 14″ wide at the widest upper portion at the shoulders and slightly larger at the thighs. Its narrow dimensions makes it one of the absolute best choices for 3 across installations in small cars; it can mix and match with other seats to make installations possible with seat belts that wouldn't be possible in most vehicles.
Using the Diono Radian RXT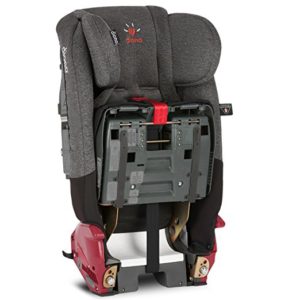 The seat arrives folded nicely in a box that seems well designed for it. The seat arrives in a collapsed mode, so you can hook straps up to it and tote it around as a backpack, which works really nicely if you're planning on taking it on an airplane or with taxis, which do require car seats for safety. It's also airplane compliant, which is great for travelers. All of the LATCH straps are held in the back, including seat belt clips that may be needed for older cars.The engineering of the seat is solid, and you can see where the newer generations of Dionos came from when you look at the Radian RXT.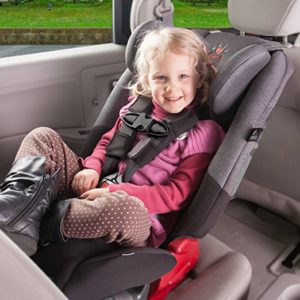 You might need to adjust the straps out of the box, but the learning curve is gentle. Keep in mind that you cannot install it in the center of your vehicle with a LATCH set up unless you have dedicated LATCH hookups there; this is common to almost every car seat on the market today in the United States. This means you'll need to use a seat belt installation along with a locking clip for a middle seat install, and this might be a bit troublesome.
There are 5 shoulder harness positions that range from 9″ on the low end to 17.5″ on the high end. The recline base must be used when the seat is in a rear-facing position. Because there are 5 different slots for harness height, most children are going to find a position that fits them comfortably for as long as they use the seat. You adjust the harness height from behind the seat by removing straps from the splitting plate and rethreading them into the desired slot. If your child is rear-facing, the slots need to be at or below the shoulders, while they need to be above for forward-facing. Diono is unique in that they do allow you to have forward-facing children with shoulders above the top shoulder harness slots as long as these children stay within the forward-facing weight limit and have the tops of their ears below the top of the car seat.
There is an angle adjuster that is frequently sold alongside the Diono line, as it helps cut down on the extremely large amount of space that the seat can take up when used in the rear-facing configuration. Depending on the size of your vehicle and the amount of space you need in the front seats, you may want to consider purchasing this. This is likely to be the case if you set the seat up directly behind the passenger or driver seats in the first row.
Buy the Diono Radian RXT on Sale with Free Shipping at Amazon. Canadians can buy it here.
Why Buy the Diono Radian RXT?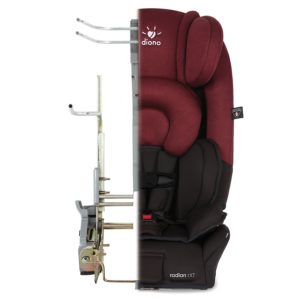 This is the meat and potatoes of this car seat. The Radian RXT is one of a handful of seats in the United States that allows you to rear-face a child for up to 45 pounds. It's not as good as it gets anymore, but it's pretty close. Every pound is precious, as the longer you rear-face, the safer your child is. In the US, parents tend to turn their children around into the line of fire at 1. In Sweden, this typically isn't done until 4. Children in Sweden are far less likely to die in car crashes than children in the US. It makes that much of a difference. This alone is reason enough to buy the Radian RXT.
Besides that fact, the Radian RXT also includes a steel frame and an aluminum reinforced headrest for reinforced head support, in addition to EPS foam around the child's head and body to increase levels of side impact protection. The sidewalls are also deeper than in similar Diono models, including its R120 and R100 siblings, to increase side protection. All of these are good things.
Something else that's neat about the RXT is that it's one of only a handful of seats in the United States that can currently be tethered while rear-facing as well as while forward-facing. It isn't required to rear-face tether, but rear-facing tethering does have its advantages, which I'll discuss in a forthcoming article.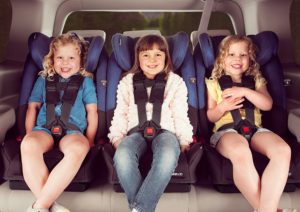 Finally, the Radian RXT is also simply an easier seat to install than most, due to its narrow width of 17 inches. That means it's actually possible to install 3 across in a number of smaller vehicles. I also like the fact that it has a 10-year usable life when used as a booster and an 8 year life when used with a harness (remember, car seats do expire eventually), which is still among the longest in the industry right now, although not as long as the booster limits in the newer Dionos, which are 12 years. I also like that it is certified to use on airplanes when used with the harnesses.
What About the Newer Seats?
The newer Diono seats are definitely flashier, come with longer product lives, and in the case of the Rainier and Pacifica, higher RF limits. However, none of this changes the effectiveness of the Radian RXT. If you don't need the newer belts and whistles or are looking to save a bit of money, I'd suggest looking seriously at the RXT alongside the newer Dionos.
The width point is particularly important to consider, as that's an area where the RXT is clearly superior to the newer Dionos. I've compared both during installations, and there's no question that the flaring out design of the sides of the newer Dionos makes them more difficult to puzzle with other car seats when trying to set up 3 across installations. It's still possible to do 3 across with a new Diono, but not to the degree that it is with an older one like an RXT or a Radian. Keep this in mind if you're driving a small class vehicle like a Prius, Civic, Corollla, or Insight.
The Radian RXT is an excellent car seat and, in my opinion, still one of the best currently available in the United States for children between zero and five.  You can buy the Diono Radian RXT in a range of colors here, including several versions of black, one blue, one red, and one purple print. Canadians can buy the Radian RXT here.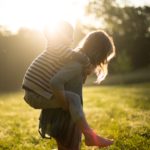 If you find my information on best practices in car and car seat safety helpful, you can do your shopping through this Amazon link. Canadians can  shop here for Canadian purchases. Have a question or want to discuss best practices? Join us in the forums!