I first wrote about the new Britax line of ClickTight convertible car seats earlier in August, when Britax announced that they would extend their ClickTight car seat installation system to the Advocate, the Boulevard, and the Marathon. I started working on getting a copy of one of the seats for review as quickly as possible, and it has arrived!
The Britax Advocate ClickTight is essentially what you'd get if you combined the high quality elements of the Britax Advocate G4 with the ClickTight technology already present in the Frontier 90 and Pinnacle 90, and threw in some higher height limits and additional features along the way. It's a convertible car seat, which means you can use it as both a rear-facing infant seat and as a forward-facing car seat for older children.
Along with the Britax Boulevard ClickTight and Britax Marathon ClickTight, it's one of the three newest convertibles from Britax, and is designed to make a safe and secure car seat installation something achievable by every caretaker, every time. Does it live up to its claims? Read on and we'll take a look together!
Buy the Britax Advocate ClickTight on Sale with Free Shipping at Amazon here.
Britax Advocate ClickTight Limits for Weight and Height

Rear-facing: 5-40 pounds. Your child's head should not reach past 1″ below the top of the inner shell. This is a big change from the previous seats, where the outer shell used to be used to set the limits for height when rear-facing. I measure the maximum seated height limit at 27″, which rivals the tallest rear-facing seated height limits in the industry today (namely those found in the 4Ever, Size4Me, and NextFit).
Forward-facing: 20-65 pounds, and under 54″ in height. The top harness height is now a very robust 19.5″, which only comes second to the Frontier 90 and Pinnacle 90. The lowest harness harness height is 8.5″ and is adjustable in .85″ increments.
Shoulder height can reach up to 18.65″, and the tips of your child's ears need to be below the top end of the shell. Your child should be at least 1, and it's recommended that s/he is at least 2. Of course, research into car safety indicates children should remain rear-facing for as long as possible (the average is 4 years in Sweden, which posts the lowest child fatality rate on Earth), and after rear-facing, the child should remain forward-facing as long as possible.
Dimensions of the Britax Advocate ClickTight
The seat is 20.5″ wide at its widest point and 23.5″ high. The seat weighs a hefty 30.1 pounds, which makes it one of the heaviest seats I've reviewed so far. However, that heft also includes a lot of side impact protection in addition to the ClickTight technology.
Using the Britax Advocate ClickTight

If there's one thing Britax has built its reputation on in the United States, it's on the provision of car seats that are both safe and simple to install. This isn't as easy to do as it sounds, but Britax has had oodles of practice with it over the years.
The ClickTight system is designed to make the installation of a convertible car seat a straightforward affair, with a safe, secure installation possible no matter which caretaker is attempting it. You simply turn your ClickTight release so it's in the open position, thread the vehicle seat belt through the lower rear-facing slots of the seat, connect the seat belt, and click the ClickTight system into the closed position. That's it! It's summarized nicely in the Britax graphic below.
I've said it before, but I'll say it again: the ClickTight seats make it super-easy to install a Britax car seat with a seat belt. I'd say it's easier than a LATCH install, and that's saying something. At the same time, it doesn't take up any more space than a typical seat belt install, while being substantially easier to do correctly. No more struggling to get a seat weighted down and twisting buckle stalks about…it just works. For me, that reason alone would be enough to consider the Britax Advocate ClickTight.
The seat itself arrives nicely boxed with some protective padding around it, which makes the decision to purchase one online, as I did, far more reassuring. Finding a good recline level for rear or forward-facing is easier, since there is a 7-position recline system present in the base of the seat. There is an automatic level indicator included that makes it easier to tell if an appropriate recline angle is being used when the seat is installed.
There are 14 potential harness heights on the Britax Advocate ClickTight with a top harness height of 19.5″ and a minimum harness slot height of 8.5." A no-rethread harness is present, which makes adjusting the harness height a much easier affair than it would be otherwise.
It is important to note that the new advocate is significantly heavier than the old one for a few reasons: first, the shell is reinforced throughout with steel, and second, the ClickTight system adds a good amount of weight. The seat also has larger dimensions all around, which means that you're going to have to make a few compromises when it comes to using this seat as a travel seat or when trying to fit 3 of them across in a vehicle.
Buy the Britax Advocate ClickTight on Sale with Free Shipping at Amazon here.
Why Buy the Britax Advocate ClickTight?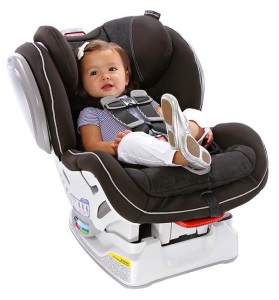 This is the meat and potatoes of this car seat. The Britax Advocate ClickTight is one of several seats in the United States that allow you to rear-face a child for up to 40 pounds. This isn't as good as it gets anymore, but it's still decent. Every pound is precious, as the longer you rear-face, the safer your child is. In the US, parents tend to turn their children around into the line of fire at 1. In Sweden, this typically isn't done until 4. Children in Sweden are far less likely to die in car crashes than children in the US. It makes that much of a difference. This alone is reason enough to buy the Advocate ClickTight.
However, I also love the fact that installation of the Britax Advocate ClickTight is going to be a much simpler affair for virtually every caretaker who might come across the seat. Given how the vast majority of seats used in the United States are not installed correctly, the Britax Advocate ClickTight is an impressive seat because it virtually ensures a correct install by virtue of its design. I love this!
Besides that, there are a ton of safety features built into the seat, which isn't surprising, given Britax's history with car seats. They outfitted the Britax Advocate ClickTight with SafeCell Impact Protection. This means that Britax didn't stop at the federal safety standards when designing the car seat, and instead focused on adding features like an impact absorbing base, a steel frame designed to stabilize the seat during collisions, as well as side impact protection.
The shell, per Britax, is designed to not only reduce crash forces but keep debris away from your child. Similarly, the headrest itself is designed to absorb forces in collisions while keeping the head and neck secure. And of course, the famous Britax external compressing cushions are also present to distribute energy around your child while keeping adjacent passengers safe. Britax takes car seat safety seriously, and it shows in the new Advocate.
The biggest strike against the Britax Advocate ClickTight is that there are  still seats that allow you to ERF significantly longer by weight. Similarly, while the ClickTight system makes it significantly easier to achieve a safe and secure install, it does add significantly to the weight and bulk of the seat. However, the fact that the height limits have been increased to a very significant degree means that virtually all children will be able to reach the weight limits while rear- and forward-facing, which makes the seat very valuable when it comes to keeping children safe.
The 10-year product life for the seat is as good as it gets in the industry for rear- and forward-facing car seats, tying the Graco 4Ever. The new Diono convertibles have 12-year product lives for the booster portions but only 8-year product lives when rear- or forward-facing. I also like that the seat is already certified for aircraft travel.
I recommend the Britax Advocate ClickTight wholeheartedly. You can buy the Britax Advocate ClickTight in a range of colors here. Canadians can buy it here.
—
If you find the information on car safety, recommended car seats, and car seat reviews on this car seat blog helpful, you can shop through this Amazon link for any purchases, car seat-related or not. Canadians can shop through this link for Canadian purchases.