When it comes to 3 across car seat installations, the good news is that you can fit 3 car seats in almost any vehicle sold in the US if you have the right seats; this is why I put together (and continue to add to) my mega 3 across car seat guide. However, I don't have every combination that will work in every vehicle listed, and sometimes you just want a quick guide to seats that are pretty much guaranteed to work in whatever you're driving. I've written a guide to convertible seats that will fit 3 across in pretty much any vehicle out there, but a lot of parents asked for an equivalent guide for infant seats. This is that list. It doesn't cover every single narrow infant seat on the market, but these are the narrowest I've measured that also have at least 30-pound rear-facing weight limits.
It took a while to test these in my narrowest vehicles (e.g., the Honda Fit and Toyota Yaris) to make sure they really would work just about everywhere, but I'm now confident that if you've got three functional seat belts and three seats attached to them, you'll almost certainly be able to get 3 of the infant seats below to work in them. These seats can also be mixed and matched with the super narrow convertible seats I profiled earlier. As usual, you'll want to use seat belts instead of LATCH when attempting any installation where space is an issue; remember that it's just as safe as LATCH but far more convenient when it comes to multiple adjacent car seat installations.
The 4 narrowest infant car seats for 3 across installations in nearly any vehicle
Chicco KeyFit 30 – 17 inches. Review here, buy here.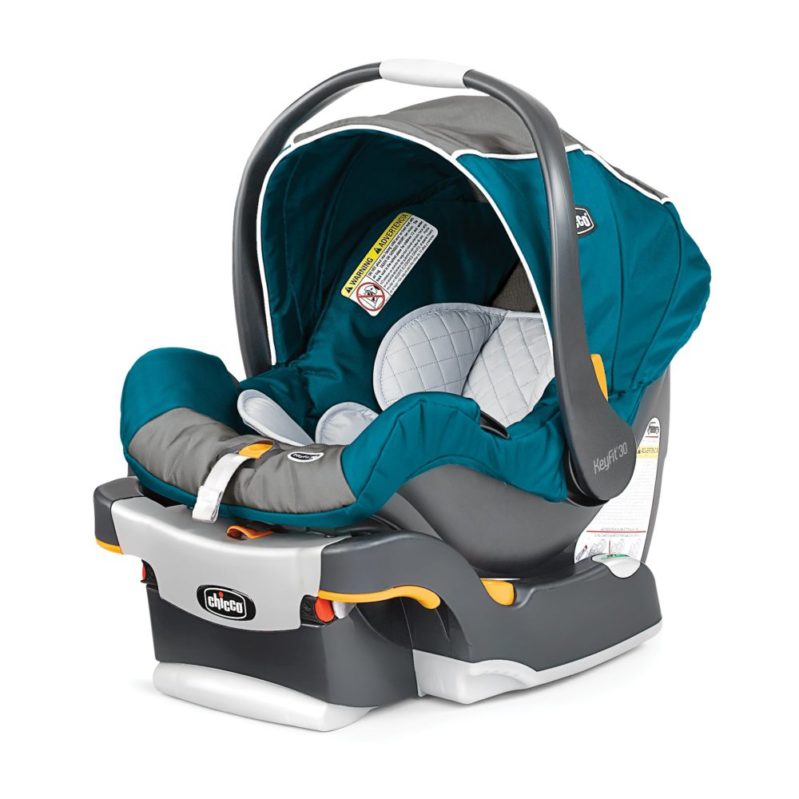 The Chicco KeyFit 30 is my default infant seat recommendation for parents looking for a straightforward and 3-across-friendly infant option. It's easy to install, it's affordable at under $200, it has a great reputation, and it's also among the narrowest infant seats you can buy.
Additional things I like about the KeyFit 30 include its compatibility with a range of Chicco strollers, the included infant insert that makes it easy to use with smaller babies, and the single pull tightener to adjust harness tension. The main downside to the KeyFit 30 is that its weight range is 4-30 pounds rather than 4-35 like much of the competition. I'd also like the 30″ height limit to be larger. However, it's also one of the easiest infant seats on the market to install, and that's a big, big pro for first time parents. And on the aesthetic end, it's available in at least 9 colors.
Cybex Aton – 17 inches. Review coming, buy here.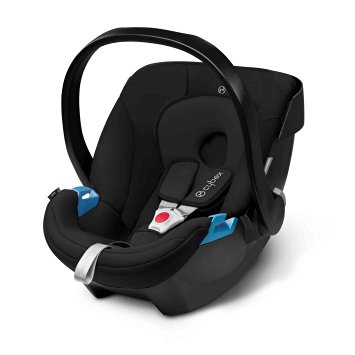 The Cybex Aton raises the bar compared to the KeyFit right off the bat by including a 4-35 pound weight range, offering more room for growth by weight before you'll need to look for a convertible seat (because you'll want to keep rear-facing long past when your baby outgrows his or her infant seat). The seat itself also comes in at a svelte 9 pounds without the base, which makes more of a difference than you'd think when toting a 10 pound baby around.
Like the KeyFit, the Aton comes in at 17 inches in width, meaning you'll be able to install it just about anywhere. It clicks into the base with a satisfying click and, like almost all infant seats on the market, can also be used without the base through a seat belt installation. I also like how it includes European belt routing as an option during baseless installs; it's a nice alternative to the standard American belt routing, although either is safe. The main con to the Aton is that it costs a bit more than the KeyFit 30 and may not be as easy to find in stores; I recommend buying seats from Amazon anyway due to their hassle-free return system. 
Cybex Aton 2 – 17 inches. Review here, buy here.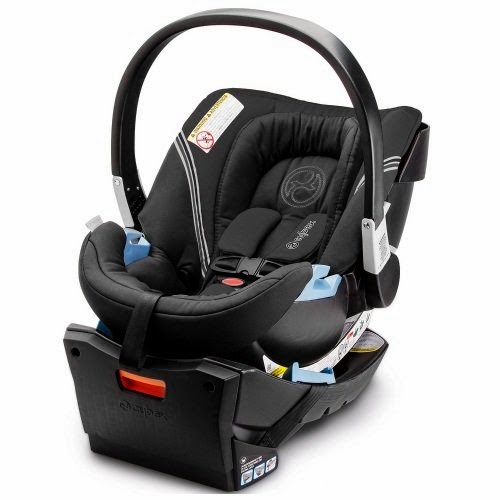 I reviewed the Cybex Aton 2 years ago and am still a fan of it as a well-designed and functional infant seat. The Aton 2 retains many of the great features of the original Aton while adding 10 color options and an adjustable load leg, which I discuss in detail in my review above. Overall, either seat is a solid choice when looking for a more high-end infant seat. It's worth noting that the Aton 2 is also a little lighter than the Aton at slightly fewer than 9 pounds.
Something else to note is that I consistently found myself able to fit the Atons in slightly shorter spaces, in terms of front-to-back distance, than I did the KeyFit, when really pressed for space. In most situations, the seats were interchangeable, but it wasn't always the case. The main disadvantage to the Aton 2 is the price, which is steeper than that of the original Aton, and significantly steeper than that of the KeyFit.
Peg Perego Primo Viaggio 4-35 – 17 inches. Review here, buy here.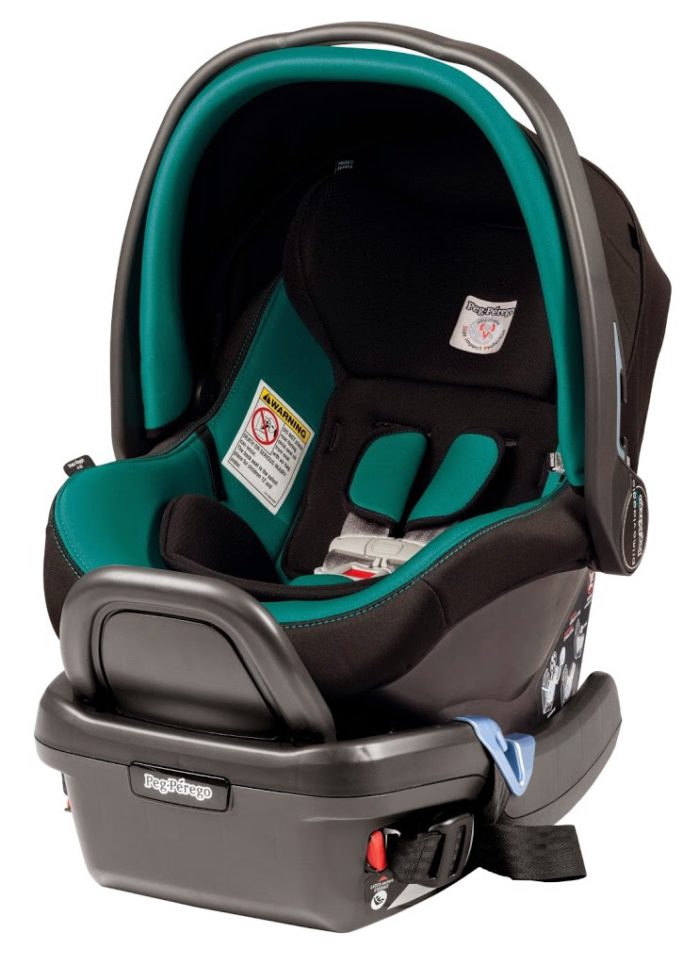 Finally, the Primo Viaggio deserves mention as yet another strong competitor in the 17″ waistline range. As with the Atons, you're also paying at least partly for the additional style and prestige of a European car seat, for whatever that's worth, as the Atons are made in Germany and the Primo Viaggio is an Italian product. All of the seats I profile here are good ones, and the Viaggio is no exception.
Things I like in particular about the Primo Viaggio include the dizzying array of colors and fabric styles available for choosy parents (there are 18 options at last count), as well as the 4-35 pound weight limit and 32″ height limit, which is handy since most infants will end up outgrowing their seats by height before they do so by weight. The seat is a bit heavier than the Axons at 9.5 pounds, but is still comfortably under 10 pounds. The biggest downside is the price, which hovers consistently between $280 and $330 or more, depending on which color print you're interested in and how available (or unavailable) it currently is.
Once I've got my infant seat, do I still need to worry about convertible seats or rear-facing down the line, or can I switch straight to forward-facing or booster seats after my child outgrows one of these seats?
Once your child outgrows his or her infant seat, you'll absolutely want to continue rear-facing, and continue to do so for as long as possible. I recommend all parents rear-face until at least 4 if at all possible, just as parents do in Sweden (and now Norway). It's safer than rear-facing at all ages, and we finally have seats in the US that are capable of allowing kids to stay safely harnessed rear-facing until the preschool or even kindergarten years. Seats like the Fllo, Foonf, Rainier, Pacifica, and Extend2Fit allow for rear-facing until 50 pounds, and in the case of the Extend2Fit, can be had for under $200. The protection they offer kids is immense, and well worth the investment.
If $200 is too much, you can still get at least 40 pounds of rear-facing goodness from seats like the Size4Me or Contender, which will allow most kids to rear-face until 4 or close to 4. Once you forward-face, I'd then recommend continuing to do so until your child turns 8 if possible, but that's covered in detail in a different article (as is boostering until the 5-step test is passed, and remaining in the back seat until at least 13). Keeping kids safe in cars might seem complex, but it's not too hard once you get into the habit of doing so.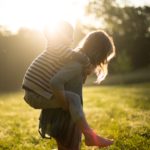 If you find my information on best practices in car and car seat safety helpful, you can do your shopping through this Amazon link. Canadians can shop here for Canadian purchases. Have a question or want to discuss best practices? Join us in the forums!