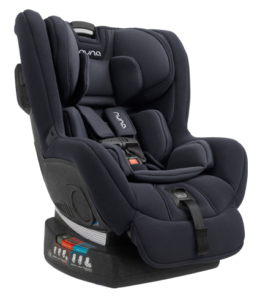 If you're interested in extended rear-facing in the United States or Canada, things have never been better. Even though the majority of parents here are still forward-facing once their kids turn 1, there's a growing minority out there continuing to rear-face past 1, 2, and 3 until 4 or beyond. We're learning from our fellow parents in Sweden and Norway, and it's wonderful. But none of this would have been possible if we hadn't spread the word about the benefits of ERF and forced car seat manufacturers to listen. Well, we've spread the word, and they've started listening to all we know about best practices for car seat safety.
In the United States today, the best rear-facing seats will let you do so for up to 50 pounds, but not all of the seats target the same parents. These are your options: the Clek Fllo, the Clek Foonf, the Diono Rainier, the Graco Extend2Fit, the Graco Extend2Fit 3-in-1, the Graco 4Ever Extend2Fit, the Nuna Rava, the Safety 1st Advance EX 65 Air+, and the Safety 1st Grow and Go EX Air. Today we're going to look at the Nuna Rava. Its closest 50-pound equivalents are the Clek Fllo and Clek Foonf–high-end rear-and forward-facing convertible seats. Like these seats, the Rava costs north of $400. Is it worth it? I think so. Let's take a closer look at it together.
2018 Nuna Rava – What's the big deal? (And Fllo, Foonf, Grow and Go, and Extend2Fit comparisons)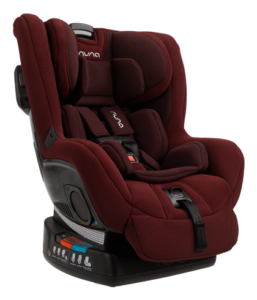 The Nuna Rava is a 2-in-1 car seat and Nuna's answer to the Clek Fllo and Clek Foonf. While there are ever-more 50-pound-class seats on the market, Nuna felt they could slip into a niche held exclusively by Clek for a more expensive seat that was easier to use, more luxurious, and potentially safer with some additional built-in-security features. Besides being able to rear-face until 50 pounds and forward-face until 65 pounds like most of its fellow 50-pound convertibles, the Rava includes an infant insert, allowing it to be used from the moment your baby leaves the hospital (unlike the Fllo and Foonf, which require separately-purchased infant inserts). It also includes a seat belt lockoff (called the True Tension belt path) that Nuna explicitly recommends over LATCH for installing the Rava.
Like the Extend2Fit seats, it includes a leg extension for increased rear-facing leg comfort. Two cup holders are present, as in the Graco-and Safety 1st-based seats, but unlike in those seats, the cup holders are retractable to narrow the width of the Rava for 3 across installations. Like most of its fellow 50-pound seats, it includes a no-rethread harness you can adjust with one hand. And finally, it includes a wide range of recline options, with 10 settings ranging from a nearly upright or vertical angle for older rear-facing children to an effectively 45-degree angle for newborns. On the more upright end, this helps the seat take up much less front-to-back space for shorter cars and SUVs.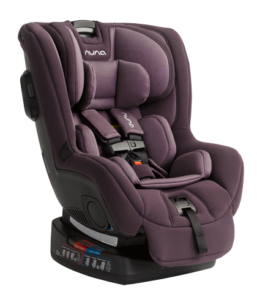 As it is a convertible car seat, you can start using it the day you take your baby home from the hospital or birthing center as a rear-facing infant seat. Even though the vast majority of parents use infant seats for newborns, convertible car seats are just as safe for leaving the hospital as long as they fit your baby via lower weight limit, recline angle, harness tightness, and head support. Once your child reaches the weight or height limits rear-facing (which won't be until well past 5 per boy and girl growth charts), you can either turn it around and forward-face (which is safe from 4 or 5 onward) or start high-back boostering (which is done from 4 or 5 onward in Sweden).
To put it simply, this car seat can take care of the first 5 years of your child's life, and potentially longer if you truly use it to its limits. On top of this, with its 10 year lifespan, you can potentially reduce its effective cost by using it with multiple children, or at least use it to take full advantage of the 50 pound rear-facing and 65 pound forward-facing weight limits. Once you're done using it, your child will be ready for a quality high-back booster like the Peg Perego Flex 120, Maxi-Cosi RodiFix or Clek Oobr.
Nuna Rava Limits for Weight and Height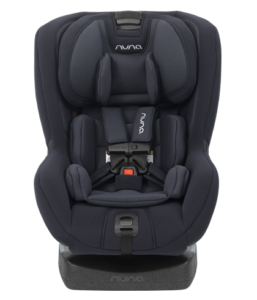 Rear-facing: 5 to 50 pounds. Best practices urges rear-facing until your child can't fit his or her child seat by weight and height, which in this case means rear-facing until 50 pounds or 49 inches if possible, since there is no safer way to travel in a car than by rear-facing. The seat is considered outgrown rear-facing when either the weight or height limits are reached, or when the top of your child's head peeks past the head rest when fully extended. The shell height is a generous 25 inches. Per growth charts from the Center for Disease Control (which are identical for girls and boys), a 50th percentile child won't reach 50 pounds until age 7 and 49″ until 7 years and 5 months.
The fact that you can rear-face longer by weight than by height makes the Rava a rarity among convertibles. The only other 50-pound seats that let you do so are the Safety 1st Advance EX 65 Air+, the Graco 4Ever Extend2Fit, the Graco Extend2Fit. The important thing to remember is that you'll be able to rear-face the vast majority of preschoolers (who should ideally rear-face) and kindergartners (who can rear-face, forward-face, or booster) without changing seats.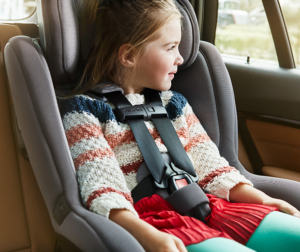 Forward-facing: 25 to 65 pounds. The height limit is identical to that when rear-facing at 49 inches. The Rava's manual suggests rear-facing until 2 years old, which is better than suggesting doing so until 1, but still far behind best practices as practiced in Sweden, where children rear-face until at least 4 or 5.
The height limit, as noted above, is one a 50th percentile child will reach at 7 years and 5 months. The weight limit would independently fit a 50th percentile child until 10, but the height limit overrules it. Despite this, the rear-facing and forward-facing combinations suggest you could rear-face a typical child until 7 and then forward face for another 6 months before needing a high-back booster seat like the Peg Perego Flex 120, Maxi-Cosi RodiFix or Clek Oobr to get you completely through the booster years.
In practice, you can move directly from rear-facing into boostering, as is done in Sweden, as the vast majority of children will be sitting appropriately in high-back booster seats by age 7 (with some capable of doing so at 6 or even 5). However, it's perfectly fine to continue forward-facing until its limits are exceeded.
Dimensions and Key Features of the Nuna Rava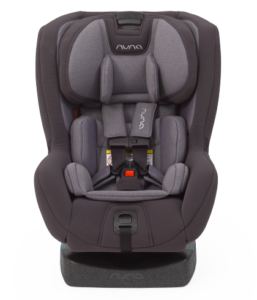 The Nuna Rava is 17 inches wide at the hips and 19 inches wide at its widest point at the shoulders. This makes it a 3-across-friendly convertible for small cars, although it's not quite as 3-across compatible as the Clek Fllo or Foonf, both of which are 17 inches wide at the base and at the shoulders.
The lowest harness position with the infant insert is 7 inches, while the highest tops out at 17 inches. The shell height, as noted above, is 25 inches, giving a good amount of room to grow into the seat by height. The seat pan is 13 inches deep without the extended calf support and 16 inches when the support is extended. There are 3 crotch buckle positions at 3 inches with the infant insert, 4.5 inches without it, and a 3rd extended position for older children at 6 inches. The seat weighs 27.2 pounds when installed with the infant insert.
Using the Nuna Rava (Rear-facing installation, forward-facing installation, child fit, and additional tips and troubleshooting)

Installing the Rava is straightforward whether rear-facing or forward-facing; you can use seat belts in either orientation and use LATCH lower anchors until your child weighs 35 pounds rear-facing or 40 pounds forward-facing.
I generally recommend installing car seats with seat belts instead of LATCH; it's just as safe and takes up less space for 3 across installations. Another advantage of using the seat belts and lockoff system in the Rava, which is particularly relevant here, is that you won't need to remember to switch to seat belts eventually anyway when your child weighs 35 or 40 pounds.
I'm not generally a fan of cup holders in car seats, as our culture's habits of constant snacking have strong ties to childhood and adult obesity. However, many parents find them essential, and there are two included with the Rava; they are retractable and can also be removed for parents who don't like or use them. There are other 50-pound seats with single or dual cup holders, but the Rava is the only one so far to make them both foldable and retractable. Kudos, Nuna!
The Rava has a 10 year lifespan and expires 10 years after the date of manufacture, which is included beneath the seat, along with its FAA approval sticker for use on airplanes. There are a number of additional stickers carrying a range of information, but they are tastefully located either beneath covers or close to belt paths to make them less distracting and visually unappealing. It adds up to make a rather attractive seat that's available in 5 colors: slate, caviar, indigo, berry, and blackberry.
Why Buy the Nuna Rava?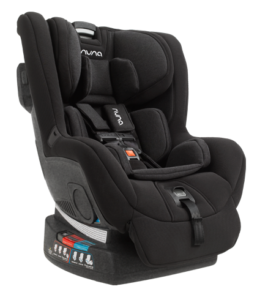 The Nuna Rava is one of a handful of car seats you can use to rear-face until your children are past preschool, kindergarten, and well into elementary school. Parents can us the Rava to rear-face to 4, 5, 6, or even longer thanks to a 50-pound rear-facing weight limit and a class-typing 49 inch height limit; no other seat in the US comes with higher weight or height limits for rear-facing. This is huge.
It's very hard to find flaws with the seat compared to the other 50 pounders it competes with. It's not the cheapest 50 pounder, but seats like the Graco Extend2Fit exist to fit that niche. It doesn't include a booster mode, but the Diono Rainier does, and you can also buy the Peg Perego Flex 120, Maxi-Cosi RodiFix or Clek Oobr to have a dedicated high-back booster that will do better than that found in any combination or 3-in-1 seat. It's not 17 inches wide throughout its shell, but the Clek Fllo is. It does offer a great blend of safety, comfort, and ease of use for parents that make it well worth considering if you're cross-shopping it with the Fllo or Foonf. In the end, the most important features of this seat will be based on the extent to which you take advantage of its weight and height limits. Use them as much as you can.
You can buy the Nuna Rava here on MBeans or buy it here if it's cheaper on PishPoshBaby. You can also buy the Clek Fllo here and buy the Clek Foonf here.
—
If you find the information on car safety, recommended car seats, and car seat reviews on this car seat blog helpful, you can shop through this Amazon link for any purchases, car seat-related or not. Canadians can shop through this link for Canadian purchases.