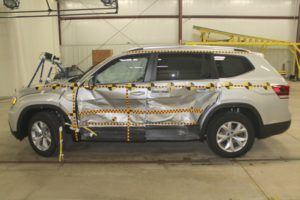 Side impact safety is one of those elements of car safety that you have relatively little control over. Yes, you can avoid roads with the potential for high-speed t-bones, but aside from reducing the number of annual miles you put on your vehicle (the single most effective driving strategy you can master), the design of your vehicle is probably one of the best areas you can invest in for reducing your risk of this kind of crash. So what's a good vehicle to be in if a side impact is imminent?
Last month, I wrote about how the 2018 Honda Odyssey had regained the title of the safest minivan to be in when it came to surviving a side impact. I've got plenty of articles here on previous rankings for SUVs, minivans, and cars of various sizes. Today we're going to revisit rankings for 2017-2018 model year SUVs, and as a spoiler, a $30,000 7-seater–the Volkswagen Atlas–is at the top of the heap.
How structural integrity (crush distance) serves as a proxy for side impact resistance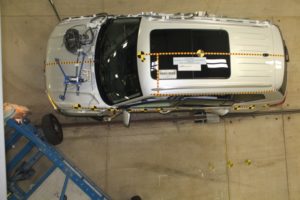 The IIHS' side impact test resembles the NHTSA's test, which is based on the NCAP test used around the world. Essentially, the IIHS rams a 3,300 barrier (it represents an SUV of equivalent height, size, and mass, such as a Honda CR-V) into the side of a vehicle at 31 mph, which delivers, per kinetic energy calculators, 143.7 kilojoules of energy. Every vehicle bends somewhat due to such an impact at the B-pillar (the pillar between the front and back doors), and an IIHS sub-score called the "structure and safety cage" tells us how much the B-pillar bent into the center of the driver's seat at the peak of the collision. The less deformation as measured by increased distance between the driver's seat center and the B-pillar, the better. It's kind of like measuring how close you came to being hit in the head by your child swinging a tennis racket, except the racket is a vehicle being driven into your car. We'll use this metric to rank the top SUVs on the market.
I researched the test scores of every SUV currently available in the US to curate this list, and it's accurate as of November 2017, with images sourced from the CCD, Wikipedia, or the NHTSA. The 2017 list of safest SUVs and crossovers for side impact survival is here.
The Six Safest SUVs for Surviving Side Impact Collisions in 2018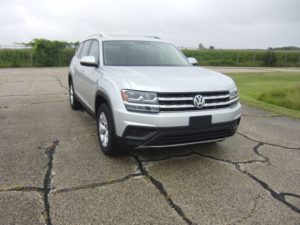 32 cm – 2018 Volkswagen Atlas.
The newly released Volkswagen Atlas is an impressive engineering feat. Designed as a larger, more American-sized version of the Touareg (which has since been discontinued for the US market), the Atlas competes with a range of mid-priced family 3-row SUVs like the Honda Pilot, Toyota Highlander or Sequoia, Chevy Tahoe or Traverse, Ford Explorer, and Dodge Durango, but beats all of them along with a range of luxury 3-row SUVs like the Audi Q7 and Volvo XC90 with a never-before-seen 32 cm of side impact resistance. That's more than a full foot of protection relative to the center of the driver's seat.
Imagine someone driving a Honda CR-V or Ford Escape at you at your driver's door at 31 mph and having it bounce away from you while leaving a foot of space between it and the center of your seat. That is nothing short of amazing. Volkswagen has done some very naughty things in recent years, but presuming these results are real, they're setting the standard for everyone else to follow, and the Atlas is a fine mapmaker in that regard. No other car, minivan, SUV, or pickup truck exceeds it (so far).
My list of infant, convertible, and booster seats that will fit 3 across in the Atlas is available here.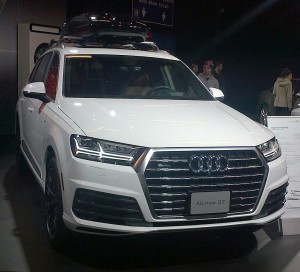 27.5 cm – 2017-2018 Audi Q7.
Almost 6 cm behind the Atlas, but still ahead of every other vehicle beside it, comes a stablemate of the Atlas–the Audi Q7. Given that Audi is a subsidiary of VW the way Lexus belongs to Toyota, it's a testament again to Volkswagen's engineering to find both the number one and two spots occupied by their SUVs. The Q7 was the safest SUV for side impacts just one year ago when I last compiled this list. It's likely going to remain on these lists for at least another decade; very few manufacturers are building cars this strong.
My list of infant, convertible, and booster seats that will fit 3 across in the Q7 is available here.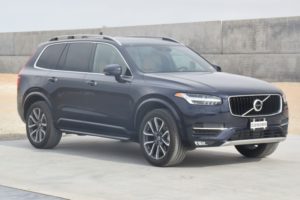 26 cm – 2016-2018 Volvo XC90.
The XC90, which was the leading SUV two short years ago in side impact protection, has fallen to third place, but remains one of the best vehicles to be in during an imminent side impact collision. It's worth noting that Volvo has yet to address its "acceptable" torso sub-score; that said, the overall strong performance of the XC90 makes up for this shortcoming. The XC90 in its second generation represents a huge step forward from the 9.5 cm of protection offered in the original XC90. That said, it's important to remember that 9.5 cm was still enough to place the original XC90 and a number of other vehicles mentioned at the end of the article on various IIHS zero driver death rate lists.
My list of infant, convertible, and booster seats that will fit 3 across in the XC90 is available here.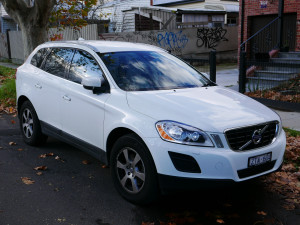 26 cm – 2018 Volvo XC60.
The original XC60 was one of the best SUVs for surviving side impact crashes since its 2010 inception, rounding out the top 6 a full 5 years later in 2015 with its 22 cm of side intrusion protection. Even in 2017, when I last made this list, it rounded up the top 7 SUVs, a full 7 years after its release. That's good design. The second generation has taken several cm steps forward and is tied for third place with its larger stablemate, the XC90. It is likely to continue to make the top 10 list for another several years into the future.
My list of infant, convertible, and booster seats that will fit 3 across in the XC60 is available here.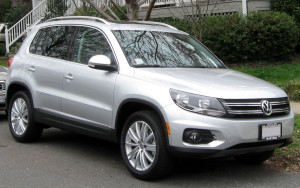 25 cm – 2018 Volkswagen Tiguan.
The second generation Tiguan  represents the 3rd and final VW/ Audi superstar on the list. With 25 cm of intrusion protection, it's another strong showing from the biggest automaker on the planet. It's worth noting that the Tiguan, having grown significantly in size, is no longer classified by the IIHS as a small SUV, but as a mid-sized SUV.
My list of infant, convertible, and booster seats that will fit 3 across in the Tiguan is available here.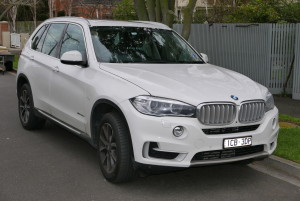 25 cm – 2014-2018 BMW X5.
Rounding up the list and tied with the new Tiguan is the third generation F15 BMW X5. The oldest vehicle on the list, it's yet another example of the durability of good engineering, at least when it comes to side impact safety. As the X5 is nearing the end of its generation, we'll have to see if the next gen exceeds it in side impact protection and secures a higher position on next year's list.
My list of infant, convertible, and booster seats that will fit 3 across in the X5 is available here.
What if I can't afford (or don't want to buy) any of these SUVs?
If all of these SUVs are either out of budget or not your cup of tea, never fear. There are a great many others that offered excellent performance but fell just behind the cutoff level I established at 25 cm. For example, the 2016-2018 Mercedes-Benz GLC and the 2011-2015 Mercedes-Benz GLK (which MB would rename a year later as the GLC) are both right on the heels of the X5 and Tiguan at 24 cm. The 2016-2018 Lexus RX is right there with them at 24 cm. Just behind them we find the 2009-2017 Audi Q5, which had 23 cm of protection in an era when most vehicles didn't offer more than 12 cm.
More broadly, remember that what you're driving isn't what primarily determines your family's safety–not even in side impact collisions. What primarily impacts your safety and that of your loved ones is the degree to which you remember to choose safe speeds, follow best practices with car seats,  and choose safe roads. If you do so, you'll have much better odds of avoiding and surviving side, frontal, or rear crashes than anyone driving any of the vehicles above, even if you're in something with only a few cm of side impact protection. Remember that the 2008 Toyota Sienna, the first minivan to appear on an IIHS zero death list 10 model years ago (Status Report Vol. 46, No. 5), had a whopping 8.5-9.5 cm of side intrusion protection. The 2007 Ford Edge, the first family mid-sized SUV to make the zero list, had 9 cm of side impact protection. And the aforementioned original XC90 also came in at 9.5 cm of side impact protection, which, as noted earlier, also landed it on a zero list (Status Report Vol. 50, No. 1).
It's not the vehicle that makes the difference; it's how and where you drive it.
—
If you find the information on car safety, recommended car seats, and car seat reviews on this car seat blog helpful, you can shop through this Amazon link for any purchases, car seat-related or not. Canadians can shop through this link for Canadian purchases.