When it comes to car safety, you can focus on driving safely and you can focus on choosing a safe car. However, if you have children, you also need to focus on choosing a safe car seat. This is one of a series of reviews I'll write on what I consider to be the best car seats currently available in the United States.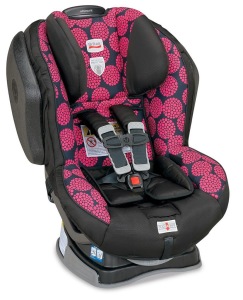 2015 Britax Advocate G4 – What's the big deal?
The Britax Advocate G4 sounds like the name of an SUV, but functionality is what's important, and in terms of functionality, this is one of the most impressive seats on the market from one of the most established names in the field. It's a convertible car seat, which means it can be used in multiple configurations, including as a rear-facing infant seat and a forward-facing seat. It's one of the newest convertibles from Britax, and aims to bring cohesion to their car seat line while enabling parents to rear-face their children longer. Is it worth it? Read on to find out!
Buy the Britax Advocate G4 on Sale at Amazon here.
Britax Advocate G4 Limits for Weight and Height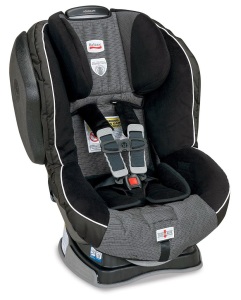 Rear-facing: 5-40 pounds. Your child's head should not reach past 1″ below the top of the main shell. Note that this is different from seats that use the rule against the headrest. There is no given height limit for the child besides the 1″ rule.
Forward-facing: 20-65 pounds, and under 49″ in height. Shoulder height can reach up to 16.75″, and the tips of your child's ears need to be below the top end of the shell. Your child should be at least 1, and it's recommended that s/he is at least 2. Of course, research into car safety indicates children should remain rear-facing for as long as possible (the average is 4 years in Sweden, which posts the lowest child fatality rate on Earth), and after rear-facing, the child should remain forward-facing as long as possible.
Dimensions of the Britax Advocate G4
The seat is 20.5″ wide at its widest point and 26″ high. The seat weighs 21.5 pounds, which makes it one of the lightest seats I've reviewed so far that allows 40 pounds of rear-facing goodness.





Using the Britax Advocate G4

Something I like about the Britax Advocate G4 is that it continues a longstanding Britax tradition of ease of installation and fit. Britax now includes something called a Click & Safe Snug Harness Indicator. What's that? Well, it's a fancy way for saying the seat tells you when the harness is tight enough! Pretty neat, right?
Essentially, you simply place your child in the seat and set up the harnesses the way you normally would, removing slack from his or her hips and also placing the harness properly on his or her shoulders. Once that's all taken care of, the harness indicator will detect the tension placed on the harness and make a click you can hear once the harness is in a good range of tightness. Since most car seats in the United States are installed or used improperly, little things like this can make a big difference.
Buy the Britax Advocate G4 on Sale at Amazon here.
Why Buy the Britax Advocate G4?

This is the meat and potatoes of this car seat. The Britax Advocate G4 is one of several seats in the United States that allow you to rear-face a child for up to 40 pounds. This isn't as good as it gets anymore, but it's still decent. Every pound is precious, as the longer you rear-face, the safer your child is. In the US, parents tend to turn their children around into the line of fire at 1. In Sweden, this typically isn't done until 4. Children in Sweden are far less likely to die in car crashes than children in the US. It makes that much of a difference. This alone is reason enough to buy the Advocate G4.
Besides that, I like that the Side Impact Cushion Technology, or SICT, that Britax has introduced to some of their high end seats, such as the Pinnacle, is present here in the Advocate G4. The idea behind the technology is that Britax filled the Advocate G4 with cushions on the side designed to absorb energy and reduce the impact of side crashes by up to 45% while steering these forces away from your child and as a bonus, keeping any adjacent passengers safe. I think that's awesome, and if you've read this blog, you know I do a lot of force calculations. Anything that can help reduce them is good in my books.
Something else that's neat about the Advocate G4 is that it's one of only a handful of seats in the United States that can currently be tethered while rear-facing as well as while forward-facing. It isn't required to rear-face tether, but rear-facing tethering does have its advantages, which I'll discuss in a forthcoming article. Keep in mind that if you're in Canada, you're required by Britax to use the included rear-facing tether at all times.
Let's be honest: the Britax Advocate G4 is not going to win any awards for uber-long RF weight or height among its fellow convertibles. However, it's designed to fill a niche, and in that respect, it does so well. It's a great seat for parents needing to fit a convertible in smaller vehicles and it also works well if you don't have a child with a long torso or who's high in the height percentiles, yet still want him or her to rear-face until kindergarten.
The biggest strike against the Britax Advocate G4 is the fact that there are seats that allow you to RF significantly longer by weight. It is also a seat that tends to be outgrown by height more than I and a number of other parents would like. I also wish it had more than a 7-year product life. However, if portability and ease of installation are important to you, the Britax Advocate G4 will give you both while still helping you ERF. Finally, I do like that the shell can be recycled.
I recommend the Britax Advocate G4 wholeheartedly. You can buy the Britax Advocate G4 in a range of colors here. Canadians can buy it here.
—
If you find the information on car safety, recommended car seats, and car seat reviews on this car seat blog helpful, you can shop through this Amazon link for any purchases, car seat-related or not. Canadians can shop through this link for Canadian purchases.