2017 Update: The G1.1 update to the Parkway SGL hasn't changed anything significant besides print options; the SGL continues to be one of the best budget high-back booster options currently on the market.
Britax Parkway SGL G1.1 – What's the big deal?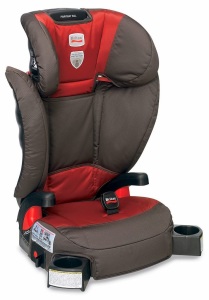 The Britax Parkway SGL continues a tradition of versatile, high weight and height car seats by Britax that makes this one of the more impressive booster seats on the market. It's a dual mode booster car seat, which means it can be used in two configurations: as a high back booster and as a backless booster. For parents of booster-age children, the Britax Parkway SGL is among the best boosters on the market.
Britax Parkway SGL G1.1 Limits for Weight and Height
H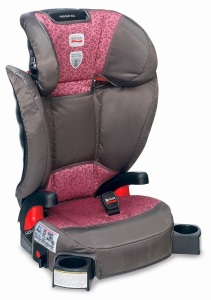 igh back booster: 40-120 pounds, and between 38 and 63″ in height.  The seated shoulder height of the child in terms of the belt guide can range between 15  and 21.5." Your child should be at least 4 years old. Of course, research into car safety indicates children should remain rear-facing for as long as possible (the average is 4 years in Sweden, which posts the lowest child fatality rate on Earth), and after rear-facing, the child should remain forward-facing as long as possible before switching into a booster.
Backless booster: 40-120 pounds, and the height limits will vary with the head restraint included with the vehicle. Your child should be at least 4 years old.  Remember that children should remain in booster seats until their seat belts fit them over the shoulder, across the chest, and flat on the upper thighs.
Buy the Britax Parkway SGL on sale with free shipping at Amazon here.
Dimensions of the Britax Parkway SGL G1.1
The seat is 18″ wide and 15″ deep, and ranges from a height of 28″ to 35." The seat weighs 12.5 pounds in high back mode, making it the lightest booster seat I've reviewed so far. The seat is 12.5″ wide internally at the shoulders while the seat area is 11″ wide and 11″ deep.
Why Buy the Britax Parkway SGL G1.1?
I've had the privilege of reviewing some pretty awesome car seats over the last few years, both as a parent and as a grizzly guy writing a car safety blog. I advocate rear-facing to the limits, forward-facing to the limits, and only then switching to boosters. I prefer convertible seats to infant seats and combination seats to boosters, simply for efficiency. Dedicated boosters, in the end, are designed to do the same thing as combination seats in booster mode: to properly position seat belts on children who are old enough to sit in them. So if there are combination seats that do as good of a job as dedicated boosters, why would I review and even suggest a dedicated booster?
First of all, it includes an ISOFLEX system. This is a fancy name for a LATCH attachment that keeps the Parkway SGL stable while children are getting into and out of it. Similarly, when no one is sitting in it, it keeps it from becoming a potentially lethal flying object. If you buy a booster without such a system, you need to remember to buckle it whenever driving. The ISOFLEX system takes the thinking out of that, as it's an easy stem to use where you simply pull on a strap to tighten the attachments.
Buy the Britax Parkway SGL on sale with free shipping at Amazon here.
Is that alone enough of a reason to buy the Parkway SGL? Well, for me it wouldn't be. However, there are several other reasons that add up to convince me. For example, you're looking at a seat that includes a very good range to fit a wide range of kids until they were capable of sitting safely without boosters. Similarly, the side wings are large, high, and deep, which keep the head and torso well protected and supported. I also like that it can be used as both a high back and as a backless booster, although I don't think children should ever be in backless boosters if high back boosters are available. I'm also a fan of the Secure Guard clip that is designed to keep children from sliding beneath the lap portion of the lap belt, or submarining, during a collision. This reduces the risk of serious injuries to the abdomen. To me, this alone is reason enough to invest in the Britax Parkway SGL.
Finally, I also like that the high back mode is usable in seats where head restraints are not present or in situations where the head restraint needs to be unscrewed so the booster will sit flat, the way it needs to, against the vehicle seat.
The Britax Parkway SGL is a solid car seat and, in my opinion, one of the best booster car seats currently available in the United States for children above the age of 4.  It's likely to be the last seat your child needs before s/he is ready for a regular adult seat belt. You can buy the Britax Parkway SGL G1.1 in a range of colors here. Canadians can buy it here.