Dorel has been in the car seat business for a long time, and I've had the pleasure of using a number of their seats on various trips around the country with my kids in the past. They offer seats up and down the line in terms of budget and child fit, and one of the newest offerings in the booster range from them is the RodiFix. Let's take a look at it together.
2017 update: There haven't been any significant changes to the RodiFix in the last few years besides slight fabric updates; weight and height limits remain the same, and this is still one of the two best dedicated boosters on the market (alongside the Clek Oobr).
Maxi-Cosi RodiFix – What's the big deal?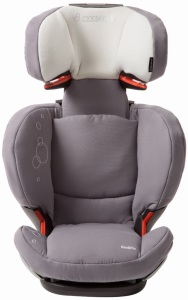 The Maxi-Cosi RodiFix continues a tradition of high quality car seats by Maxi-Cosi (who brought us the Pria 70 with TinyFit convertible) that makes this one of the most impressive booster seats on the market. It's a single mode booster car seat, which means it can be used in one configuration: as a high back booster and not as a backless booster. For parents of booster-age children, the Maxi-Cosi RodiFix is among the best boosters on the market.
Maxi-Cosi RodiFix Limits for Weight and Height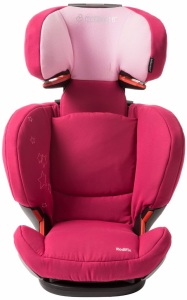 High back booster: 33-120 pounds, and between 34 and 57″ in height.  The seated shoulder height of the child isn't anywhere in the manual, oddly enough, but after measuring it a few different ways, I'd state it's close to 21." Your child should be at least 4 years old. Of course, research into car safety indicates children should remain rear-facing for as long as possible (the average is 4 years in Sweden, which posts the lowest child fatality rate on Earth), and after rear-facing, the child should remain forward-facing as long as possible before switching into a booster.
Remember that children should remain in booster seats until their seat belts fit them over the shoulder, across the chest, and flat on the upper thighs. This is commonly known as the 5 step test, and it's a great way to check to see when your child is ready to use an adult seat belt.
Buy the Maxi-Cosi RodiFix on Sale with Free Shipping at Amazon here.
Dimensions of the Maxi-Cosi RodiFix

The seat is 12″ wide at the base of the seat, which makes it significantly easier to install than many boosters. The seat weighs 14.5 pounds, which makes it one of the lightest high back boosters out there, and definitely the lightest on the market right now with rigid LATCH attachments. There are no armrests.
Why Buy the Maxi-Cosi RodiFix?

I've had the privilege of reviewing some pretty awesome car seats over the last few years, both as a parent and as a grizzly guy writing a car safety blog. I advocate rear-facing to the limits, forward-facing to the limits, and only then switching to boosters. I prefer convertible seats to infant seats and combination seats to boosters, simply for efficiency. Dedicated boosters, in the end, are designed to do the same thing as combination seats in booster mode: to properly position seat belts on children who are old enough to sit in them. So if there are combination seats that do as good of a job as dedicated boosters, why would I review and even suggest a dedicated booster?
First of all, the Maxi-Cosi RodiFix has a rigid LATCH attachment instead of a flexible one. This is an attachment system that's more secure than the typical flexible attachment found in most high-end boosters in North America. There's also the word that the rigid LATCH configuration may prove more stable in side impact collisions, increasing the safety of children in the deadliest kinds of collisions. All you have to do when using the LATCH system to attach the RodiFix is to pull the connectors out and move the seat until it sits on your vehicle's lower anchor bars. Similarly, the removal is also quite easy, as you can detach each side one at a time. When you aren't using the connectors, you simply tuck them into the seat. Of course, using the connectors is optional, but it has a number of advantages already mentioned.  These are several reasons to like the RodiFix. However, there are more.
Buy the Maxi-Cosi RodiFix on Sale with Free Shipping at Amazon here.
Something else I like about the Maxi-Cosi RodiFix is that the headrest comes with EPS foam throughout the inside and also is home to Dorel's proprietary Air Protect Technology, which, according to Dorel, can reduce head injury risks in side impacts by up to 20%. Similarly, the torso wings of the RodiFix have lots more EPS foam to increase levels of side impact protection and reduce stress and strain on the body during collisions. All of these are good things. However, I also noticed that the foam did not have any plastic shell backing it, which gave the wings a rather delicate feel. I found myself being extra careful when moving the seat around during installations because I felt like the foam could crack if I bumped it into anything. It probably wouldn't have, but it made me nervous.
My favorite reason is the sheer ease of installation. Because it's just 12 inches wide at the base, installation is just great in almost all conditions. It won't work in every 3 across setup, but if you're having trouble with buckling or with puzzling many seats in small spaces, this is likely to be the seat that'll make boostering possible. This alone is reason enough to buy the RodiFix.
Beyond this, I like how padded and plus the Maxi-Cosi RodiFix looks and feels, as well as the fact that it comes with two recline positions. The armless element is unusual but can certainly come in handy during tight installations. However, keep in mind that the seat is on the narrow end, which means that if you have wider or stocky children, they might begin to complain before long. If your kids are average in width or slim, they'll be fine.
Oh, and there aren't cupholders. It's a European seat (it's made in Portugal), and those aren't that big over there. I almost didn't think to mention this, but it's something that might make a difference to a child who loves his or her sugary drinks.
Finally, again, the Maxi-Cosi RodiFix is also simply an easier seat to install than most, due to its very narrow base width of 12 inches. That means it's actually possible to install 3 across in a number of small vehicles.
The Maxi-Cosi RodiFix is a rather unique car seat and, in my opinion, one of the best booster car seats currently available in the United States for children above the age of 4.  It's likely to be the last seat your child needs before s/he is ready for a regular adult seat belt. You can buy the Maxi-Cosi RodiFix in a range of colors here. Canadians can buy it here.
—
If you find the information on car safety, recommended car seats, and car seat reviews on this car seat blog helpful, you can shop through this Amazon link for any purchases, car seat-related or not. Canadians can shop through this link for Canadian purchases.