When it comes to choosing a good booster seat, it's really, really hard to do better than the Britax Frontier 90 and the Britax Pinnacle 90. However, if you don't have the budget for those seats, and still need a good booster, you're going to want to learn more about the Graco Highback TurboBooster, which I spent the past weekend reviewing and testing in 3 across installations. Read on for details!
Graco Highback TurboBooster – What's the big deal?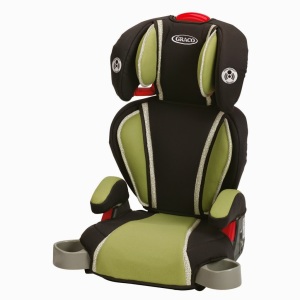 The Graco Turbobooster continues a tradition of versatile, high weight and height car seats by Graco that makes this one of the better booster seats on the market. It's a dual mode booster car seat, which means it can be used in two configurations: as a high back booster and as a backless booster. The TurboBooster has been on the market in one form or another for more than 10 years and continues to keep children safe all over the country. For parents of booster-age children, the Graco TurboBooster is a booster worth considering. Here's some more information on the latest iteration.
Graco TurboBooster Limits for Weight and Height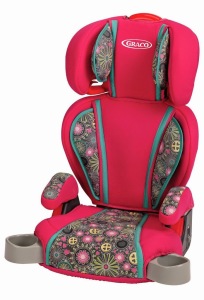 High back booster: 30-100 pounds, and between 38 and 57″ in height.  The seated shoulder height of the child in terms of the belt guide can extend up to 19.5." Your child should be at least 4 years old. Of course, research into car safety indicates children should remain rear-facing for as long as possible (the average is 4 years in Sweden, which posts the lowest child fatality rate on Earth), and after rear-facing, the child should remain forward-facing as long as possible before switching into a booster.
Backless booster: 40-100 pounds, and the height limits will vary between 40″ and 57″. Your child should be at least 4 years old.  Remember that children should remain in booster seats until their seat belts fit them over the shoulder, across the chest, and flat on the upper thighs.
Buy the Graco TurboBooster on Sale with Free Shipping at Amazon here.
Dimensions of the Graco Highback TurboBooster

The seat is 16.5″ wide and 15″ deep, and is up to 26.5 high." The seat weighs 9 pounds in high back mode, making it the lightest and narrowest booster seat I've reviewed so far.
Why Buy the Graco Highback TurboBooster?

I've had the privilege of reviewing some pretty awesome car seats over the last few years, both as a parent and as a grizzly guy writing a car safety blog. I advocate rear-facing to the limits, forward-facing to the limits, and only then switching to boosters. I prefer convertible seats to infant seats and combination seats to boosters, simply for efficiency. Dedicated boosters, in the end, are designed to do the same thing as combination seats in booster mode: to properly position seat belts on children who are old enough to sit in them. So if there are combination seats that do as good of a job as dedicated boosters, why would I review and even suggest a dedicated booster?
First of all, I love how affordable it is. A common complaint about car seats is how much they cost, and I understand where parents are coming from. It would be nice if more cars came with integrated car seats, the way Volvo did with the XC90. However, until then, parents have to shell out money for seats, which can get in the way of paying for other essentials. This isn't as much of an issue with the TurboBooser because it's well under $100. We need more car seats like it.
Buy the Graco TurboBooster on Sale with Free Shipping at Amazon here.
Second, I like how easy it is to adjust the height of the TurboBooster. You literally just pull the handle at the head rest by the top and pull the seat up or down. It's also easy to turn it into a backlesss mode, although that can also be a con, as the brace holding the seat together could stand to be made firmer. Some parents have complained about the seat essentially coming loose and falling apart under its own weight while being carried. This doesn't make it any less safe when it's actually installed with a child in it, but it's the kind of annoyance you just don't see on higher quality boosters.
Keep in mind that to install the TurboBooster, you'll need to put screws in the armrests. However, the installation besides that is rather easy. Additional things I like about the TurboBooster is that you don't need a head rest behind it when using it in a backless mode, which isn't that common in booster seats.
Essentially, the TurboBooster is a seat that's been around the block a few times. There are a few different versions of it now, including the Safety Surround and Affix. My favorite is the TurboBooster featuring Safety Surround, available in gray, green, and orange, as it offers deeper wings to surround the head and torso, which may significantly increase side impact protection. This is the version of the TurboBooster I would buy if on a budget, as side impact protection is worth its weight, particularly given the severity of side impacts compared to frontal impacts.
Finally, I like that the lifespan of the seat has been extended in post-mid 2011 seats from 6 years to 10 years; this makes the TurboBooster useful across multiple children.
The Graco TurboBooster is a solid car seat and, in my opinion, one of the better budget booster car seats currently available in the United States for children above the age of 4.  There are certainly better booster seats on the market, such as the Clek Oobr or Britax Parkway SGL, but not everyone has the finances to buy high end car seats, which is why it's important to know which budget-minded seats are well designed and trustworthy. The TurboBooster is likely to be the last seat your child needs before s/he is ready for a regular adult seat belt.
You can buy the Graco Turbobooster in a range of colors here. Canadians can buy the regular and Affix boosters here.
—
If you find the information on car safety, recommended car seats, and car seat reviews on this car seat blog helpful, you can shop through this Amazon link for any purchases, car seat-related or not. Canadians can shop through this link for Canadian purchases.