Jané is a company that's been making car seats for a number of years, particularly in Europe, where they have an extensive line of seats. One of these seats is the Montecarlo R1, which they recently decided would be a good seat to present in the United States. As a fan of many things European, including sustainable approaches to car safety, I was eager to see what Jané had to offer with the R1. Picking up a copy of the R1 from Amazon made this possible this week, and here are my thoughts on the seat.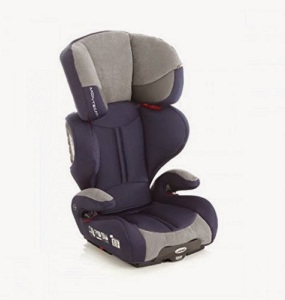 2015 Jané Montecarlo R1 – What's the big deal?
The Jané Montecarlo R1 was recently awarded a very high score in its booster category when examined by Eurotest, a car seat safety rating system popular in Europe. We don't have anything similar in the US, as all seats here are essentially rated Pass/Fail, which blinds parents to what are actually the safest car seats on the market (e.g., seats like the Fllo, Foonf, Rainier, and Pacifica). However, that's for another article. The take home point is that the seat has already received special attention for its attention to detail in side impact safety, which is huge, given how deadly side impacts are.
The Jané Montecarlo R1 is a booster seat, which means that it's designed to be used forward-facing with a seat belt to help children who are no longer in forward-facing harnesses sit safely until they're ready for an adult seat belt. It's only a high back booster, which means a backless booster mode is not included. As I'm not a fan of backless boosters in general when compared to high back boosters, I don't mind the lack of a backless mode here at all.
Buy the Montecarlo R1 on Sale at Amazon here.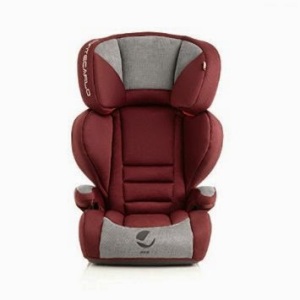 Montecarlo R1 Limits for Weight and Height

Booster: 30 to 100 pounds. Children must be shorter than 57″ in height. Of course, as a reader of The Car Crash Detective, you're not going to put a 30 pound child in a booster, or any child under the age of 5, ideally, since they won't be ready physiologically or psychologically for it. In the manual, Jané specifies that the seat can be used for children up to 12 years old, which is great! However, it also has a minimum age of 1.5, which is batty, as children should be rear-facing at least until the age of 4 to follow best practices, as is the case in Sweden.
The seat has a 7 year lifespan before it needs to be replaced. The highest position for the belt guide is 20″, which isn't as high as that found in the best boosters and combination seats on the market, such as the Frontier 90 and Pinnacle 90, but it's off to a very good start, and it's better than a number of other boosters on the market.
Using the Jané Montecarlo R1

The first thing I noticed about the R1 was the presence of rigid lower LATCH connectors. I like these because they allow you keep a booster permanently anchored in the vehicle, whether or not it's buckled in. If you don't have a booster buckled in or LATCHed in, it turns into a projectile in a collision, just the way an unbelted human does, which can lead to deadly injuries within the vehicle that are 100% preventable. The LATCH anchors don't add to the safety of the booster when it's being used, but they make a big difference when it isn't.

I'm also a fan of the head and back supports, as they come with aluminum on the inside, lending them stability without adding on unnecessary pounds. There are five positions to choose from in the head rest, and three to choose from in the arm rests. Use the highest arm rest setting to make buckling the seat belt a quicker process.
Something I love about the R1 is the fact that the head and torso supports come with energy absorbing foam; the foam is designed to soak up some of the forces in a collision, preventing them from entering the child. Force mitigation is the name of the game in car safety, whether with car seats, cars, or barriers to protect cars, pedestrians, or anyone else on the road, so the more foam the better.
The head wings on the R1 are adjustable and can be moved inward or outward to provide closer or farther contact with the head. This was a feature my oldest daughter was quite pleased with, as it allowed her to turn the side wings into pillows that she found comfortable on long car trips. If it works, I'm not going to argue with it.
Buy the Montecarlo R1 on Sale at Amazon here.
Why Buy the Jané Montecarlo R1?
For me, the most important part of a car seat review isn't how the seat looks, although aesthetics do matter, but how functional the seat is in its primary job of keeping kids safe. When it comes to booster seats, safety comes in seating abilities. We want children to spend as much time as possible rear-facing before forward-facing, and we want them to spend as much time forward-facing as possible before boostering. Finally, once we're boostering, we want them to booster as long as it takes until they can sit with a well-fitting adult seat belt.
The value of a booster seat for me, then, is in how well it allows parents to achieve these objectives. Because the decent shoulder height range and good weight ranges for the R1, it should enable children to use it as a booster for several years, although it is unlikely to be the last booster seat a child ever needs. If you're looking for a seat that can check that box, you're looking for a seat like the the Frontier 90 and Pinnacle 90.
That said, I recommend the Jané Montecarlo R1 as a stylish and comfortable car seat that is a good choice for parents invested in safety and quality in a high back booster. You can buy the Jané Montecarlo R1 here in Yale and Flame. Canadians can buy it here.
—
If you find the information on car safety, recommended car seats, and car seat reviews on this car seat blog helpful, you can shop through this Amazon link for any purchases, car seat-related or not. Canadians can shop through this link for Canadian purchases.