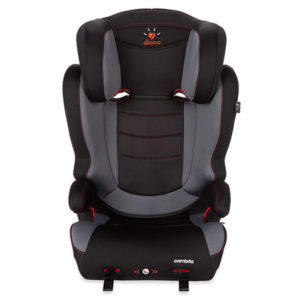 Child car safety can essentially be summarized by the following guidelines: rear-face as long as possible (until at least 4 or 5), and then booster kids until they pass the 5-step test (which is most often passed between 10 and 12). It sounds simple in theory, but finding the right seats to meet those guidelines as cheaply as possible can be a challenge. The Diono Rainier will take care of the rear-facing end, but what about the booster end?
If you don't want to spend hundreds of dollars on some of the best booster seats on the market (e.g., seats like the Clek Oobr, Maxi-Cosi RodiFix, and Peg Perego Viaggio Flex 120 high back boosters), you'll want to consider seats like the Diono Monterey XT, which I reviewed recently, and the Diono Cambria High Back Booster, which I'm going to review today. Coming in under the $100 mark, it's one of the best choices for a high-back booster in its price range; let's see how it compares to the Monterey XT when it comes to keeping kids safe and comfortable. This review will also touch on the Diono Solana, the backless booster portion of the Cambria.
2018 Diono Cambria, Diono Solana – What's the big deal?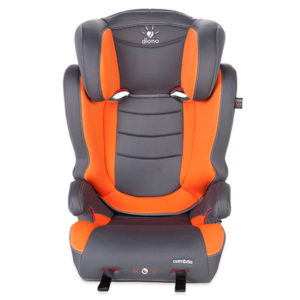 The Diono Cambria is a high-back/no-back booster seat made in China by American car seat manufacturer Diono. I previewed it years ago as a replacement to the original Diono Cambria, and it shares a number of design elements with the more recently-released Diono Monterey XT. Its special features include lower LATCH anchors, the ability to recline, additional padding for comfort and safety, and retractable cup holders.
Beyond these features, the Cambria is a high-back booster, which makes it suitable for use with your kids once they're done rear-facing (which ideally won't be at least until they turn 4 or 5, as in Sweden) until they can use adult seat belts without car seats (typically between the ages of 10 to 12). Attractive and affordable, the Cambria is a good choice for a budget high-back booster seat.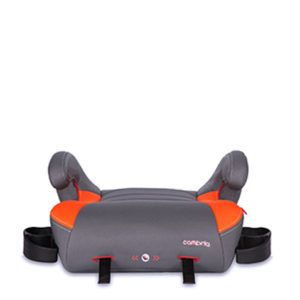 The Diono Solana is the backless (bottom) part of the Diono Cambria. When included with the Cambria, it's the part your child sits on. When sold separately, it's called the Solana. Besides the fact that it's sold separately and costs half as much, everything in this review referring to the backless portion of the Cambria booster applies equally to the Solana. To put it simply, if you don't need the high-back part of the Cambria, save yourself some money and just get the Solana instead.
Diono Cambria Limits for Weight and Height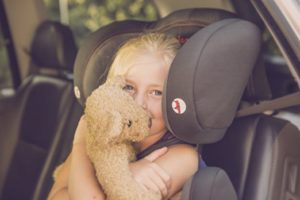 High-back booster: 40 to 120 pounds. Your child can use it between 38 and 63 inches and the highest belt guide position is 20 inches. In alignment with best practices, infants and toddlers should never use booster seats (they must rear-face), but depending on the maturity of your child, s/he may be a safe booster candidate from 4-5 years of age and up. Preschoolers should still be rear-faced, but highly responsible 5-year olds and kindergartners can be boostered if they no longer fit their rear-facing convertibles. That said, if your children aren't yet ready to use booster seats at 4 or 5, it's fine to wait until 6 or 7. It depends on your child's readiness; kids in Sweden rear-face until 5 and then immediately switch to booster seats with no forward-facing stage. The country also enjoys the lowest rates of child auto fatalities on the planet.
Backless booster: 40 to 120 pounds. The height range is also 38-63 inches. Per best practices, you'll want to avoid no-back boosters until your children are at least 8, as younger children will have a much harder time keeping their heads in safe positions when falling asleep than older ones.
Headrest support: Whether you use the Cambria as a high-back or as a backless booster, you're going to need to set it up with a vehicle seat that has a head rest (unlike the Peg Perego Viaggio Flex 120, which doesn't need vehicle head rests). The head rest must always extend to at least the tops of your child's ears.
Outgrown: The Cambria is considered outgrown when its weight, height, or manufacturing expiration limits are reached, but it's also no longer safe to use once your child's ears grow past the top of your vehicle's head rest (or that of the booster seat) when either is fully extended.
Buy the Diono Cambria on Sale at Amazon here.
Dimensions and Key Features of the Diono Cambria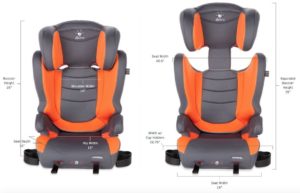 The Diono Cambria is 19 inches wide at the base with cup holders retracted; when they are extended, it swells to 23 inches wide.  The seat pan depth is 16 inches with 15 inches of hip width and 16 inches of shoulder width. The seat is 20.5 inches wide externally at the shoulders and the height can range from 29 inches to 35 inches when the head rest is fully extended. It weighs 16.2 pounds.
Diono Cambria & Monterey XT Comparison and Child Fit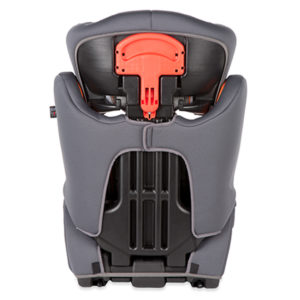 The most significant differences between the Cambria and the Monterey XT are in top booster belt guide heights and flexibility in width. Specifically, you get 2 more inches of belt height in the Monterey XT (22 inches vs 20 inches) than in the Cambria, which can make a significant difference in booster usability for older children. Similarly, the fact that you can significantly expand the width of the Monterey XT makes it a much stronger choice for wider or larger children, or for parents who need to accommodate children of a range of sizes (e.g., when carpooling).
The Monterey XT is also a better choice for 3 across car seat installations as it can be contracted to as narrow as 17 inches, while the Cambria is 2 inches wider at 19 inches. On the other hand, the Cambria has a much longer usable life at 10 years before expiration than the Monterey XT, which expires at 6 years. Both feature lower LATCH anchors to allow the seats to be restrained without being buckled in, both are affordable at under $100, and both feature high/no-back booster modes. The weight and height ranges are the same.
Why Buy the Diono Cambria?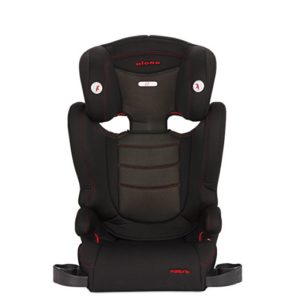 In conclusion, just like the Diono Monterey XT, the Cambria is one of the best deals on the market for a booster seat on a budget. With the Cambria, parents can safely get kids from point A to point B once they're done rear-facing (or forward-facing if they were forward-faced before 5) in cars, minivans, SUVs, and pickup trucks. Your kids will be able to stay in the Cambria until they're ready to transition from booster seats to seat belts (which typically won't occur for most kids before ages 10 to 12).
The Cambria is a good booster, but compared to the Monterey XT, I'd perhaps choose the Monterey XT simply because it offers more usability for both taller and wider children while falling in the same price range. On the other hand, the Cambria offers a much longer usable life across multiple children at 10 years vs 6, which makes it the better choice for a hand-me down seat. The better budget booster seat ultimately depends on your family's needs.
You can buy the Diono Cambria in Suburst or Raspberry here or buy it in Graphite here. Alternatively, you can buy the Diono Monterey XT in 4 colors: Heather (black/grey), Purple, Red, and Teal here. You can buy the Diono Solana here. Canadians, unfortunately neither high-back booster is readily available, but you can buy an equivalent seat, the Britax Parkway SGL 1.1, here.
—
If you find the information on car safety, recommended car seats, and car seat reviews on this car seat blog helpful, you can shop through this Amazon link for any purchases, car seat-related or not. Canadians can shop through this link for Canadian purchases.