When it comes to convertible car seats, I tend to focus on how good of a job they do rear-facing. However, the truth of the matter is that most decently designed seats with a 40+ pound weight limit will get many kids to 4, which is where you want to be. Today we'll take a look at the Maxi-Cosi Pria 85 Max, which is Maxi-Cosi's update to their original (and still highly popular) Maxi-Cosi Pria 85. To be honest, it's quite similar to the original Pria 85, but Maxi-Cosi threw in a number of new features. Two of the neatest are a lowered weight limit–it's now at 5 pounds–and a magnetic self-fastening chest clip. Let's take a closer look at how it all fits together.
Maxi-Cosi Pria 85 Max – What's the big deal?
T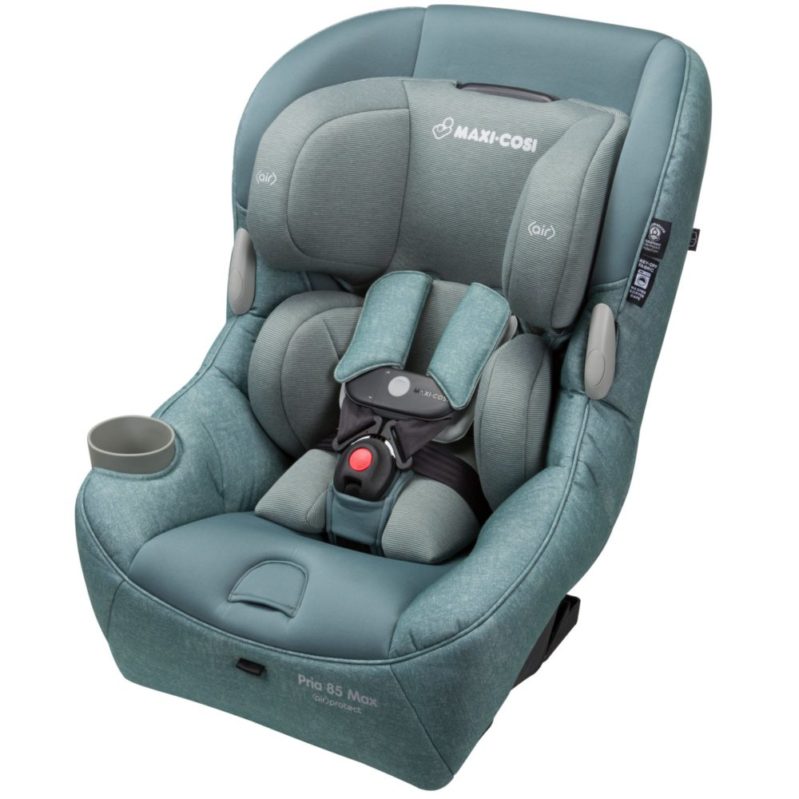 he Maxi-Cosi Pria 85 Max is a convertible seat and the successor to the Maxi-Cosi Pria 85.  Being a convertible seat, you can use it first to rear-face (even when leaving the hospital; you don't need to start with an infant seat if you don't want to) until your child reaches the height or weight limits. At that point, you'll turn it forward-facing and get a good amount of additional time out of it. Being a wider seat, you'll find it difficult to make 3 across car seat combinations work unless you have a particularly wide vehicle; that said, it will work just fine for 2 across setups. It comes in 6 colors and prints (Graphic Flower, which is a light spotted grey and green print, Night Black, which is a monochromatic black, Nomad Blue, a two-toned dark blue, Nomad Green, a two-toned medium green, Nomad Sand, a two-toned medium beige, and Red Orchid, a bright red, pink, and purple print).
Nifty features include an improved lower weight range and the inclusion of the ClickQuick, a magnetic chest clip system to make safe harnessing easier while making it significantly more difficult for children to unbuckle themselves. I'm also a fan of the no-rethread harness and the ease with which the seat pad and harness covers can be removed for machine washing (and they're also dryer safe). Overall, it's a seat whose strengths are in ease of installation, ease of use, and extended harnessing.
Maxi-Cosi Pria 85 Max Limits for Weight and Height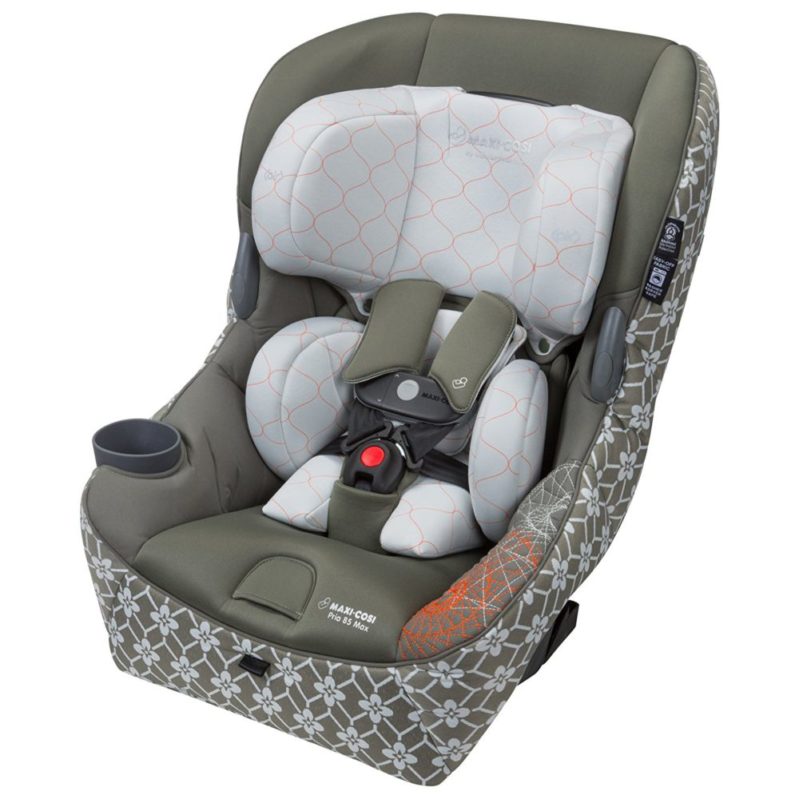 Rear-facing: 4 to 40 pounds. You'll want to keep your child rear-facing as long as possible, since the safest place for a child in a vehicle is  in a rear-facing seat. There is a 40″ absolute height limit on top of the 1″ rule (where your child's head must be below 1″ of the head rest when you've fully extended the head rest).
While the shell height is a generous 26″ at full extension, the 40″ height limit means that, per Center for Disease Control growth charts (which are the same for boys and girls), only children who are at the 50th percentage or lower will be able to rear-face in this seat until 4 years of age. While this does include half of children in the United States, I'd prefer to see higher figures, given the importance of rear-facing. However, it does mean virtually all children should be able to rear-face in the seat well past 3. Of course, the shorter your child is, the more time s/he will be able to spend rear-facing past 4 in the seat.
The 40 pound weight limit by itself would allow 50% of children to rear-face until 5, but it's essential to switch the seat (or any car seat) to the next configuration (or seat, if none further are available) once the weight or height limit is reached, and in the Pria 85 Max, as in nearly all car seats on the market, the height limit is the bottleneck rather than the weight limit.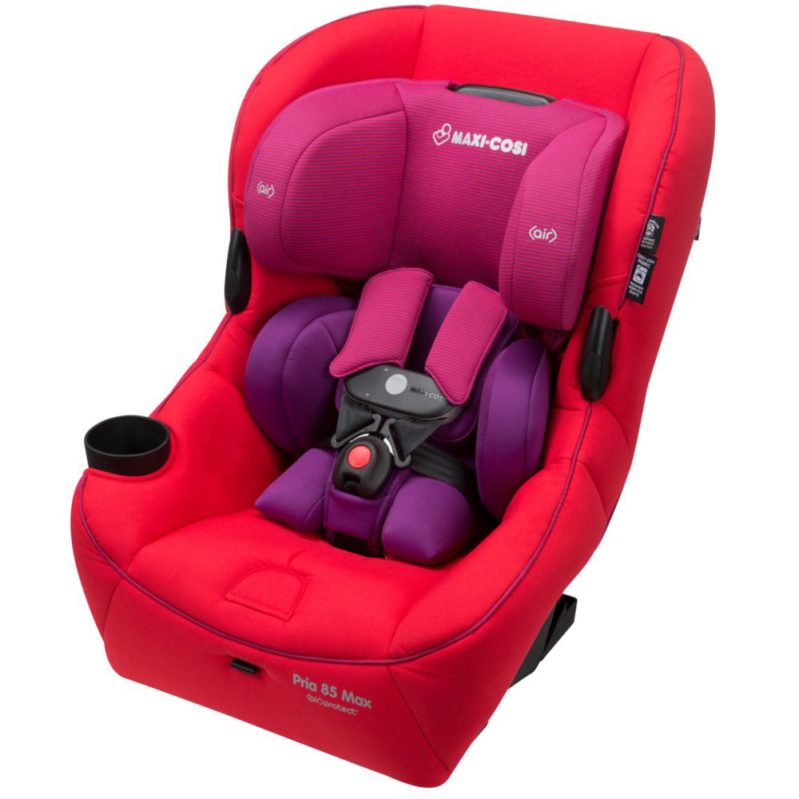 Forward-facing: 22 to 85 pounds. The forward-facing height range is from 29 to 52 inches. The 52″ height limit will be reached by a 50th percentile child slightly before s/he turns 8:5 (8 years, 5 months), while the 85 pound weight limit will be reached by a 50th percentile child at 11:5. As a result, height will again be the bottleneck for the forward-facing life of the seat rather than weight. On top of this, due to the 17″ top harness, most children aren't going to make it all the way to the 52″ height limit before their shoulders start poking above the harness (at which point the seat is no longer usable by such a child). However, by 8, virtually all children are old enough to safely use booster seats, so the height limit is generous enough to make the forward-facing mode fully useful. Remember that preschoolers should never be in boosters and kindergarteners are almost never ready for boosters either.
Buy the Maxi-Cosi Pria 85 Max on Sale at Amazon here.
Dimensions and Key Features of the Maxi-Cosi Pria 85 Max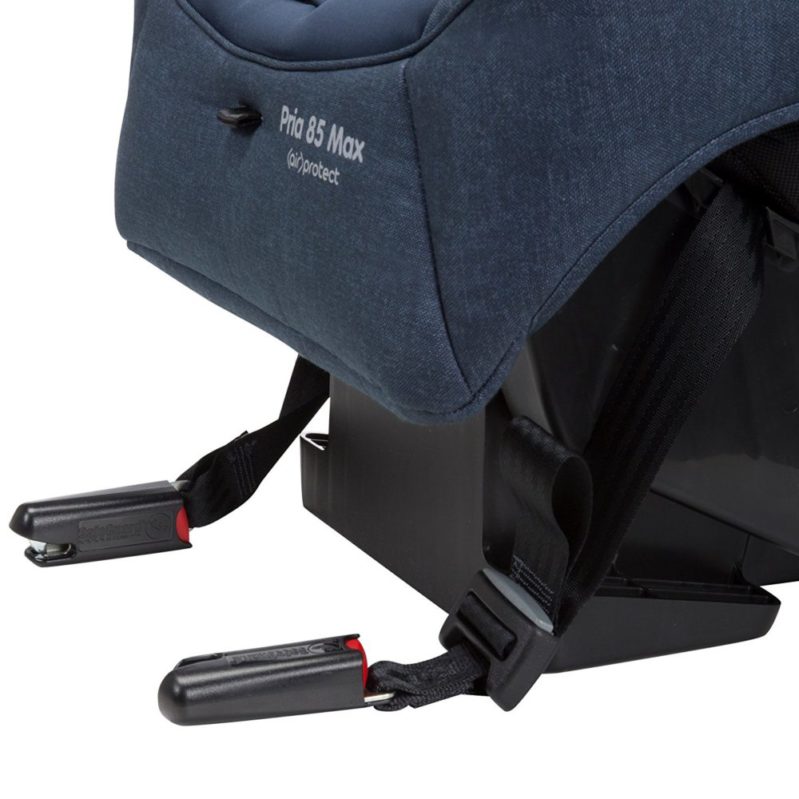 The Pria 85 Max is roughly 20″ wide at its widest points (the cupholder down low and the headwings up high). The seat has a 10 year lifespan from the date of manufacture and it weighs 17.5 pounds. The harness positions range from a lower limit of 6.5 inches when the infant wedge is installed (9 inches when the infant wedge isn't installed) to a top harness limit of 17 inches. The lower anchor (LATCH) weight limit is 40 pounds; this means you're best off using a seat belt for installation once you decide to forward face so you won't need to worry about switching to a belt later. Keep in mind that using a seat belt will also give you better odds for 3 across installations, which will be tough enough from the start given the width of the Pria 85 Max. If you're interested in convertible seats that will give you a good amount of rear- and forward-facing time in a narrow width for 3 across compatibility, I'd recommend one of the Dionos (e.g., the Diono Radian RXT or Diono Radian R120). There are 3 crotch strap positions available at 3.5, 4.5, and 5.5 inches measured from the seat bight.
Using the Maxi-Cosi Pria 85 Max (Installation, Child Fit, and Additional Bonuses)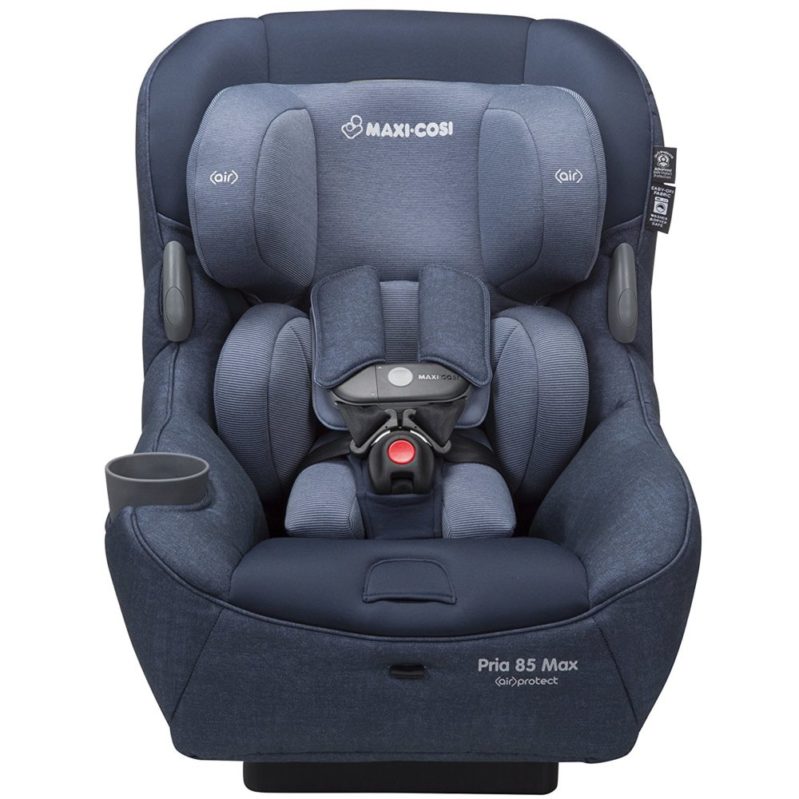 Out of the box, the star feature of the Pria 85 Max is the ClipQuick chest clip. It's a magnetic chest clip that works semi-automatically to fasten itself. Because it's magnetically activated and oriented in a way that makes it hard to activate while seated (you release it by sliding your thumb upward on the grey circle), kids are unlikely to be able to unbuckle themselves, even if they understand how it works. This might be a very handy feature for parents of little escape artists.
The no-rethread harness is a welcome feature, as it means you don't need to uninstall the seat, rethread the harness, and reinstall the seat if you need to safely transport a different child or if your child has a growth sport. The harness adjuster is a red handle above the seat. It was a bit tough to shift, but it will likely loosen over time.
The covers on the Pria 85 Max are designed to be easily removed and easy to wash. You'll want to use the gentle cycle, only cold water, and a gentle or mild detergent. You can also dry it in the dryer once you're done, or line or rack dry if you're so inclined (we do so at home to keep our clothes from shrinking). Removing and reinstalling the cover was thankfully a pain-free process.
Installing the Maxi-Cosi Pria 85 Rear-Facing
When installing the Pria 85 Maxi rear-facing, you shouldn't face any problems as long as your seat was made after 5/1/2017; if it was made before, you'll notice that your LATCH belts are routed for forward-facing instead of rear-facing. You'll need to rethread those if you want to use LATCH. It only takes a few minutes. If you're installing the seat via seat belts, there's nothing extra to do. For rear-facing,  you'll need to refer to a recline line as your recline indicator; it's beside the seat and it's supposed to be level relative to the ground (parallel). You can change your mechanical recline to setting 2 or 3 to achieve the proper recline angle; you can also use rolled towels and pool noodles as necessary. There are 3 recline settings in total.
Child fit was as expected from the dimensions; full term infants should fit without problems. If your baby weighs between 5 and 11 pounds, you'll need to use the infant positioning wedge, and you'll need to remove it once your baby weighs 15 pounds. Keep in mind that you can't use the 5.5″ crotch buckle setting when rear-facing.
Installing the Maxi-Cosi Pria 85 Forward-Facing
Forward-facing installation and child fit were also as expected. Keep in mind that your child's ears must fit within the headrest while the no-rethread harness must either sit at your child's shoulders or above them (which is generally standard for forward-facing seats). There are two recline settings to choose from when forward-facing; you need to use position 2 if your child weighs less than 40 pounds and is under 43 inches tall, while position 1 is to be used once your child is over those limits. Position 2 is the more reclined position. While these restrictions seem rather rigid, Maxi-Cosi notes that weight overrules height in choosing a position; if your child is over 40 pounds, s/he automatically moves to position 1. You can choose between all three crotch buckle settings (depending on which provides a close and snug fit) when forward-facing.
Remember to install a top tether whenever forward-facing; this is specifically noted in the manual and it is also recommended as part of best practices. Reducing forward head excursion can significantly reduce a child's risk of life-altering (or ending) brain damage in a frontal collision.
The Pria 85 Max, like most car seats, is FAA approved for aircraft use; you can find the label on the side of the seat opposite the cupholder by checking beneath the rear-facing seat belt path. The manufacture date is located beneath the cupholder and also beneath the recline foot.
Why Buy the Maxi-Cosi Pria 85 Max?
Overall, I'm happy with the design of the Pria 85 Max. It's thoughtfully designed with parent-friendly seat covers and it's capable of fitting full term newborns straight from the hospital. It will rear-face the average child until 4 and forward-face the average child until s/he's ready for a booster seat. Most interestingly, it features a nifty magnetic chest clip system to keep little Houdinis at bay.
I'd prefer a greater rear-facing height limit, as it's not the best choice for keeping taller children rear-facing. I'd also like to see it slimmed down a bit, as it's going to make 3 across installations a challenge for parents driving all but the largest vehicles. It's also more expensive than I'd like to see. However, it's a solid seat and it does a good job at keeping children who fit it both safe and comfortable.
You can buy the Maxi-Cosi Pria 85 Max in Graphic Flower, Night Black, Nomad Blue, Nomad Green, Nomad Sand, and Red Orchid here. Unfortunately, it's not yet available in Canada, but Canadians can buy a similar seat, the Diono Radian RXT (here).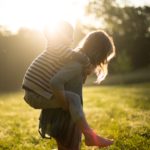 If you find my information on best practices in car and car seat safety helpful, you can do your shopping through this Amazon link. Canadians can  shop here for Canadian purchases. Have a question or want to discuss best practices? Join us in the forums!